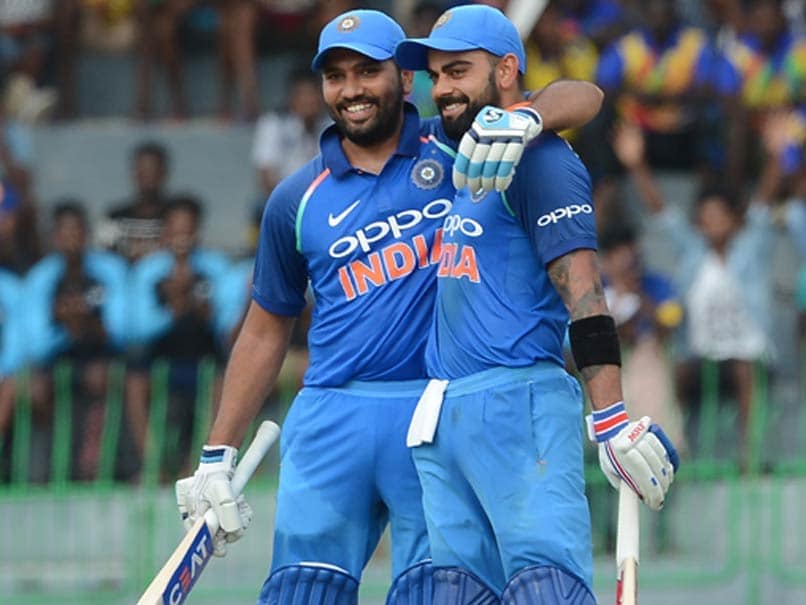 Rohit said that playing as a cohesive unit has been the primary reason for India's winning run.
© AFP
Since the time Virat Kohli has taken over the reins from Mahendra Singh Dhoni, Team India have been on a winning spree. With six ODI and eight Test back-to-back series wins, Indian cricket team's performance on the cricket field is nothing short of astounding. Explaining the reason behind Team India's stupendous success across all formats in recent times, star batsman Rohit Sharma said that playing as a cohesive unit has been the primary reason for India's winning run.
"The way we are playing, credit goes to everyone. Because irrespective of whether you play for a city or country, you have to win a match and it is not an easy task. We have won six back-to-back series because we have played together as a unit," Rohit said during a promotional event.
In the limited overs format, India defeated the West Indies 3-1 in their own backyard, they whitewashed Sri Lanka 5-0 in the island nation and decimated Australia 4-1 at home. On the other hand, India have eight back-to-back Test series wins to their name. India defeated Sri Lanka (2-1), South Africa (3-0), West Indies (2-0), New Zealand (3-0), England (4-0),Bangladesh (1-0), Australia (2-1) and then Sri Lanka (3-0).
"If you (the team) want to win a tournament, it not that that one or two players will perform and you will win. It is essential that everybody contributes as this is a team sport. We are going towards a goal and that I think is good for team.
"The way the team is thinking that is in one direction, which is helping the side and everyone is contributing, not just one or two players," Rohit added.
Rohit also spoke about the team combinations and plans for the 2019 ICC World Cup. The 2011 World Cup champions lost to Australia in the quarter-finals in the 2015 edition.
"See, there is one and half year for the World Cup. Now, it will be too early for me to comment on it. Yes, our aim is the 2019 World Cup and the preparations are on."
"Like our selectors, coach and captain have said the way our team is playing and the combination of the team has been made keeping the World Cup in mind. It is clear that what the team (management) wants from the players."
(With PTI inputs)