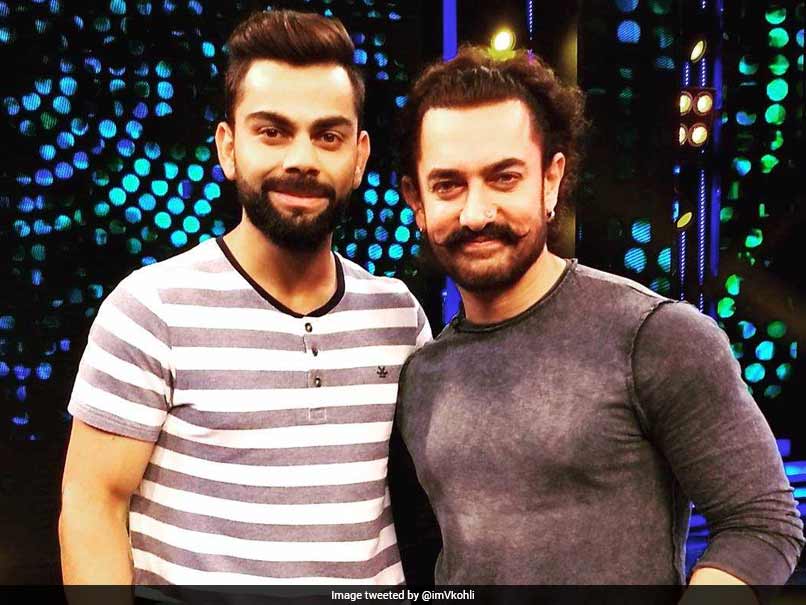 Virat Kohli's rise as a batsman has been quite impressive since his debut in 2008. He is one of the best batsmen in the world currently and his dedication and hunger for wins has taken the Indian cricket to a different level. But, there is one thing skill that Kohli still hasn't conquered - the technique to master the Rubik's Cube. The Indian skipper took to Twitter and posted pictures with Bollywood superstar Aamir Khan and asked the actor to teach him the technique of negotiating the cube.
"Had a great time chatting with @aamir_khan bhai, so humble and genuine. Just need to learn the Rubik's Cube technique from you now!," Kohli's post read.
Aamir's skip with the Rubik's Cube is quite something. Bollywood's Mr. Perfectionist is a pro with it. In a promotional event for his movie PK, Aamir had solved the puzzle in double-quick time.
The Rubik's Cube was invented in 1974 by Erno Rubik, a Hungarian professor of architecture.
Aamir, who will be seen alongside Virat Kohli in a Diwali special show on TV, has also praised the Indian skipper and called him a relaxed and genuine person.
"What fun it was interacting with Virat! He is such a relaxed, straight-forward and genuine person. And what a dancer," Aamir had tweeted on Saturday.
Aamir, during a chat show, asked Kohli who he considered to be the toughest bowler in the world and Kohli said Pakistan speedster Mohammad Amir.
"In recent times, Mohammad Amir of Pakistan.. He is in the top two or three bowlers in the world and one of the toughest bowlers I have played in my career. You have to be on your A game when you're facing him or he will strike. Outstanding! Very good bowler!" said the India skipper.
Kohli had praised Amir earlier too and had last year gifted the 25-year-old pacer a bat before the India-Pakistan contest in the World T20 in 2016.
"I am very happy to see Amir back in action. He understood his mistake and has corrected himself and came back. He has always been an outstanding bowler," Virat had said ahead of the Asia Cup last year.
In his chat with Aamir, Kohli also said that he had not completed school and was more interested to play cricket. "I haven't even done 12th (class). I passed 11th (but) after that I started playing India U-19 when I was 16. You (Aamir) have done 12th, I've not even done school!" he said.