Story Progress
Back to home
Virat Kohli Terms Mohammad Amir As 'One Of The Toughest Bowlers To Play'
Mohammad Amir was instrumental in running through the Indian top-order, including Virat Kohli, in the ICC Champions Trophy.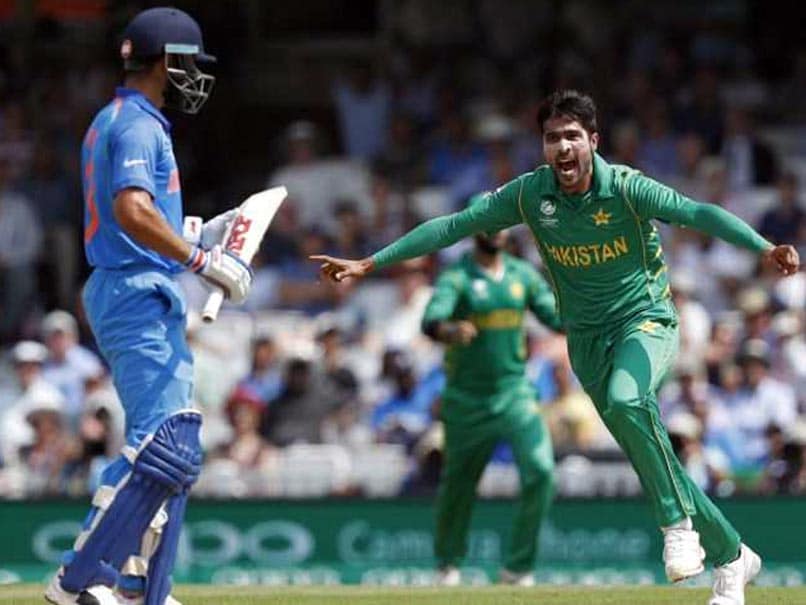 Virat Kohli rated Mohammad Amir as the toughest bowler
© AFP
Highlights
Kohli rated Mohammad Amir as the toughest bowler

He revealed it to Bollywood star Aamir Khan in a chat show

Virat's next assignment will be the ODI series against New Zealand
Indian skipper Virat Kohli is often called the best batsman in world cricket currently and makes even the toughest bowlers look ordinary. So, does any bowler make him nervous? Actor Aamir Khan asked this question during a chat show and Kohlisingled out Pakistan speedster Mohammad Amir, heaping praise on him. "In recent times, Mohammad Amir of Pakistan.. He is in the top two or three bowlers in the world and one of the toughest bowlers I have played in my career. You have to be on your A game when you're facing him or he will strike. Outstanding! Very good bowler!" said the India skipper, when Aamir Khan asked who he considered to be the toughest bowler in the world.
The chat show aired on Sunday.
Muhammad Amir is the toughest bowler i faced, you have to be on your A game against him: Virat Kohli pic.twitter.com/vif349bKUS

— Imran Siddique (@SportsJournoo) October 15, 2017
Kohli and Pakistan have had some memorable encounters on the pitch. The stylish right-hander has come out on top on most occasions but the left-arm pacer won their last battle convincingly in the ICC Champions Trophy final. The Pakistan left-arm quick's brilliant burst of three for 16 in 28 balls saw him snare opener Rohit Sharma lbw for a duck and have Kohli, the world's leading ODI batsman, for just five.
Kohli, 28, has praised Amir earlier too and had last year gifted the 25-year-old pacer a bat before the India-Pakistan contest in the World T20 in 2016.
"I am very happy to see Amir back in action. He understood his mistake and has corrected himself and came back. He has always been an outstanding bowler," Virat had said ahead of the Asia Cup last year.
Amir, along with Salman Butt, the then Pakistan captain and Mohammad Asif, the team's senior paceman, were caught in a spot-fixing scandal in 2010. The three players served bans of varying degree. Amir made a return to international cricket after serving a five-year ban.
He became a household name when he gave the former Australian captain Ricky Ponting a tough time in a Test match played in England in 2010.
Amir has played 30 Test matches for Pakistan, having picked up 95 wickets with a strike rate of 67.5 while in 36 ODIs, the young seamer has picked up 55 wickets with an average of 27.41.
In his chat with Aamir Khan, Virat Kohli also said that he had not completed school and was more interested to play cricket. "I haven't even done 12th (class). I passed 11th (but) after that I started playing India U-19 when I was 16. You (Aamir) have done 12th, I've not even done school!" he said.
Promoted
Kohli also disclosed who had made his nickname, 'Cheeku' famous. "Mr MS Dhoni has made my nickname (Cheeku) famous. Dhoni saab said 'Cheeku' once into the stump mic and it was picked up from then on. Now people just call me Cheeku as if they're my neighbours," he explained.
Kohli and Aamir also shook to popular numbers Rang de Basanti and Dhinka Chika.
Topics mentioned in this article