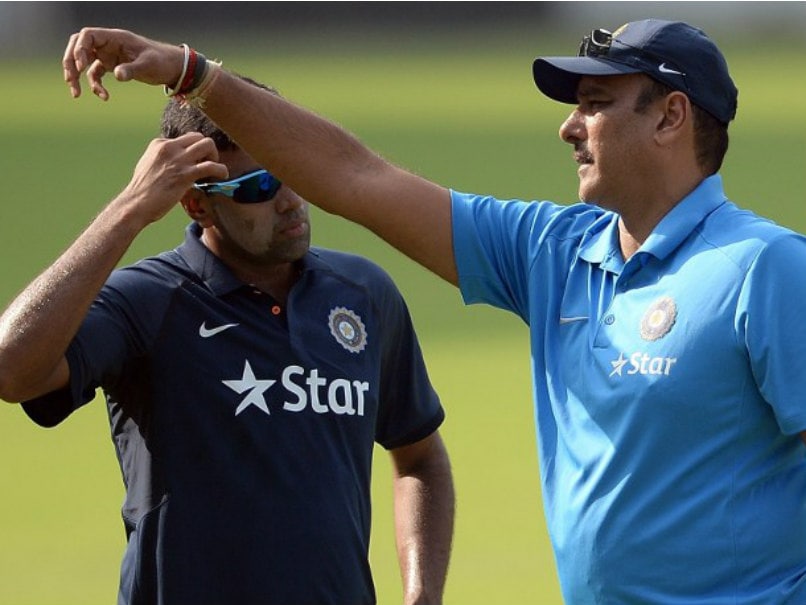 Ravi Shastri formally applied for the post of India's cricket coach on Monday.
© AFP
Ravi Shastri on Monday formally applied for the job of Indian cricket team's head coach. Shastri, the India team director from 2014-16, reportedly applied for the post after Sachin Tendulkar requested him to. According to sources, the Indian team wants Shastri to return which makes him the favourite for the job.
"Ravi (Shastri) actually was the one where the turnaround actually started for the Indian cricket team back in 2014. After India lost in England, the BCCI asked him to come in as a team director... suddenly there was a change in the team's fortunes over a period of time. Now that he's applied, he's probably the man who is going to get the job," former India captain Gavaskar told NDTV.
On social media however, Shastri's formal bid yesterday sparked a hot debate, with some fans contending that the entire episode would cause huge harm to the future of Indian cricket. The post was vacated last month by Anil Kumble, who retired hurt saying his partnership with captain Kohli was untenable as the latter had reservations about his style.
If BCCI succumbs to #Kohli's pressure and appoints Ravi Shastri coach, they will be causing huge harm to the future of Indian Cricket.

— GhoseSpot (@SandipGhose) July 3, 2017
"Ravi Shastri" BCCI and its stooges want to remove Indian Cricket from ICC..cricket in India is coming to an end. ..no one can stop the ROT

— Willy (@willy12555) July 4, 2017
Ravi Shastri applied on confirmed appointment as head coach,No surprise at announcement ,finally it is confirmed @imVkohli is boss of @BCCI

— Mukesh Gupta (@MukeshG2706) July 3, 2017
How does Ravi Shastri have more BCCI clout than a collective comprising Sachin, Laxman and Ganguly ?

— Abhishek Upadhya (@_logik) July 4, 2017
Sachin Saurav & Laxman need to give a very strong justification for selecting Shastri after rejecting him 12 months ago if so happens @BCCI

— Abhijeet Sanyal (@abhi_san21) July 3, 2017
However, some others backed Shastri to do a good job if appointed coach.
I see a lot of Dhoni/Kumble fans pointing fingers at Kohli/Shastri.Why?All four have done great for India! Why can't we appreciate all 4??

— Abhishek Pandey (@AbhiTalkies) July 3, 2017
R u nuts?? Shastri is one of the better cricketing brains we have.. a complete street smart guy..

— SCM Consultant (@oarhtanirs) July 3, 2017
The Board of Control for Cricket in India's (BCCI) Cricket Advisory Committee (CAC) will hold the interviews for the job on July 10 in Mumbai. The deadline for applications is July 9. Apart from Shastri, some of the other applicants are Virender Sehwag, Lalchand Rajput, Tom Moody, Richard Pybus and Dodda Ganesh.