Story Progress
Back to home
Pakistan vs West Indies, Highlights 2nd T20I: Pakistan Thrash Windies By 82 Runs To Win Series
Highlights, Pakistan vs West Indies, 2nd T20I: Pakistan beat West Indies by 82 runs to take unassailable 2-0 lead in three-match T20 series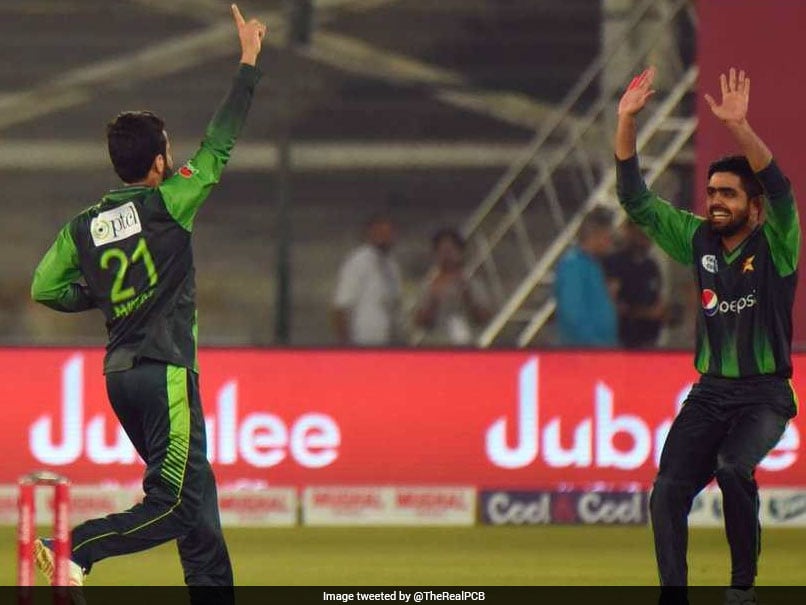 Highlights, Pakistan vs West Indies 2nd T20I: Pakistan thrash Windies to win series
© Twitter
Pakistan won the three-match T20 series in style as they beat West Indies by 82 runs in the second match in Karachi on Monday. West Indies were bowled out for 123 runs in their chase of 206 runs target set by Pakistan. The hosts were rampant in the batting and bowling departments as they outclassed the Windies team to take an unassailable 2-0 lead in the 3-match series. Barring Chadwick Walton, no other visiting batsman crossed the 25-run mark in their chase. Mohammad Amir was the star bowler for the hosts as he ended with figures of 3/22 in his four overs. Shadab Khan (2/23) and Hussain Talat (2/12) took two wickets each to ensure the Windies were bundled out for 123 runs in 19.2 overs. (SCORECARD)
Earlier, Pakistan posted a formidable total of 205/3 in 20 overs in the second T20I against West Indies on Monday. Riding on stellar half-centuries by Babar Azam and Hussain Talat (63), Pakistan ensured they continued their good form after losing Fakhar Zaman (6) early in the second over itself. Babar scored his highest T20I score after remaining unbeaten on 97 runs. He hit 13 fours and one six in his unbeaten knock. Talat was also in fantastic form as he hit his maiden T20I fifty in only 32 balls. Azam, on the other hand, kept on hitting fine boundaries to keep the scoreboard ticking. Talat hit boundaries all over the park but was unlucky to get out courtesy a brilliant catch by Windies skipper Jason Mohammed off Odean Smith's delivery in the 14th over. The next batsman was Asif Ali who continued his fine form from the Pakistan Super League. Samuel Badree dropped Babar in the 16th over on 78 runs. It was an easy catch but the Windies player spilled it over. However, Ali's catch was taken in the 17th over. Asif played a cameo scoring 14 runs off 8 balls hitting one four and a six.
Highlights Between Pakistan vs West Indies, 2nd T20I, straight from National Stadium, Karachi
23:30 IST: And its over. Pakistan thrash West Indies by 82 runs. They take an unassailable 2-0 series in the 3-match tournament.
23:20 IST: Middle stump castled as Windies are nine-down.Pakistan are definitely winning this match and series now. Hasan Ali rips apart the middle stump.
23:18 IST: Run-Out! Rayad Emritdeparts for a single run.Windies 114/8
23:17 IST: OUT!Keemo Paul departs for 17 runs off 10 balls. Windies lose their 7th wicket. Pakistan three wickets away from series win.
23:13 IST: OUT!Easy catch by Babar Azam as Windies lose their sixth wicket. Rovman Powell departs.
23:09 IST: FOUR!Keemo Paul played a terrific pull shot for a boundary. Back-to-back boundaries for the Windies. 100 up for them.
23:05 IST: OUT! Jason Mohammedclean bowled by Mohammad Amir as Windies lose their 5th wicket
23:05 IST: The Windies need at least four sixes every over now if they want to stay in the 3-match series. Look impossible now for them.
23:04 IST: OUT! Denesh Ramdindeparts as Windies lose their fourth wicket.Windies 92/4 in 15 overs
22:59 IST:Back-to-back boundaries for the Windies captain.
22:56 IST: FOUR!Lovely shot by Mohammed. This is what the Windies need. A well crafted shot over cover.
22:53 IST: SIX!Ramdin is dealing in sixes now. Windies showing some kind of urgency now. A good shot over long off. They need 128 more runs to win in 39 balls.Windies 78/3 in 13.3 overs
22:52 IST: SIX!First maximum for Ramdin. What a massive six. Hammered towards the leg side for a maximum.
22:51 IST: FOUR! Slammed through the offside by Ramdin. A welcome boundary for the visitors. Windies 65/3
22:48 IST:The run-rate is climbing at an alarming rate. Windies need  a magical knock from someone now. Windies 60/3 in 12 overs
22:32 IST: Wicket! Chadwick Walton departs for 40 runs.Shadab Khan clean bowled the batsman. West Indies 50/2
22:27 IST: SIX!Walton hits a superb shot. What a shot. Paddle sweep and the ball flies away to the boundary. He made it look so easy. West Indies 48/1 in 7.3 overs
22:27 IST: Faheem Ashrafis the new bowler for Pakistan
22:25 IST: SIX! Over cover.Chadwick is speaking business now. What a fine shot.West Indies 40/1
22:20 IST: FOUR!Over mid on, four runs. Walton hits a good-looking shot. Windies 29/1
22:17 IST: FOUR!Thick edge. Samuels gets a boundary. A welcome boundary.
22:15 IST: Review taken. Lost.Samuels survives. Windies 21/1
22:13 IST:Windies need 187 more runs to win in 16 overs.
22:04 IST: OUT! West Indies lose their first wicket as Andre Fletcher departs for 1. Windies 11/1
22:03 IST: FOUR!Walton drives the ball sweetly.West Indies 11/0
22:00 IST: Mohammad Amirbowls the second over.
21:56 IST: FOUR! A boundary for Chadwick Walton. Opens the face of the bat at the right time. West Indies 4/0
21:56 IST: Chadwick Walton and Andre Fletcherare out in the middle for the Windies chase. Mohammad Nawazbegins the proceedings for the hosts.
Innings Break
21:44 IST: Pakistan post 205/3 in 20 overs
21:44 IST: Babar Azam misses his ton. Remains unbeaten on 97 runs off 58 balls.
21:42 IST: 204/3 -This is Pakistan's highest-ever total in T20Is.
21:40 IST: FOUR!Babar Azam reaches 95 with a four. Pakistan reach 200
21:40 IST:Babar on 91 runs with 5 balls remaining for Pakistan's innings.
21:38 IST: SIX!Shoaib Malik strikes it cleanly over long on. Pakistan194/3
21:37 IST: FOUR! What a good shot by Babar Azam.Nothing wrong with the ball, but the third man was inside the circle. 87 runs off 51 balls is his highest T20I score. Pakistan 188/3
21:33 IST: Babar Azam is now on 83.Will he reach to his hundred?
21:31 IST: FOUR!A good effort. Malik is off the mark with a boundary. He allowed the ball to come close to him. Pakistan 172/3
21:30 IST: Shoaib Malik is the new man in.
21:25 IST: OUT! Asif departs for 14 runs off 8 balls. A quick cameo.
21:22 IST: DROPPED! Badree drops Babar Azam on 78 runs in the 17th over. A top edge but Babar survives.
21:21 IST: SIX!Babar hits his first six of the match. He is now on 78 runs. Pakistan are the number 1 side in this format. Pakistan 162/2
21:18 IST: SIX!Asif Ali continues his fine form from the recently-concluded PSL. A maximum over the bowler's head.
21:20 IST:West Indies bowlers were good in the early overs but they gave too much room especially to Babar.
21:15 IST: FOUR!Asif Ali hits a sublime shot. Makes use of the width. A beautiful uppercut shot. Pakistan 139/2
21:10 IST: OUT!Hussain Talat departs for 63 runs. Pakistan lose their second wicket. Pakistan 130/2
21:06 IST: FOUR!Timing, placement. The shot had got everything on it. A sweet cover drive by Talat. Perfect shot.Pakistan 130/1
21:04 IST:Good fielding by Andre Fletcher at point. A rare sight in this match.Pakistan 122/1 in 12.4 overs
21:00 IST: FOUR!Babar finds the gap. A lot of power and muscle on that shot. Good shot at the short mid-wicket. Pakistan 119/1
20:57 IST: Hussain Talat hits maiden T20I fifty.Took 32 balls to reach his milestone.Pakistan 108/1 in 11.3 overs
20:55 IST:Awful fielding by the Windies players. Giving away free runs to the hosts.
20:55 IST: Fifty up for Babar Azam in 30 balls, his 4th T20I fifty.
20:50 IST: FOUR!Length delivery and punished by Babar. Fine leg up the circle and the bowler bowls it to the pads.
20:46 IST: FOUR!Third in the over for Babar. Poor fielding by the Windies. Easy picking for Babar. Pakistan 90/1 after 10 overs
20:45 IST: FOUR!Babar Azam opens the face of the bat and guides it to the boundary. Already 10 runs off the first four balls. Pakistan 85/1
20:45 IST: FOUR!Short ball. Talat plays it well over third man. Had enough time to place it as the third man was wide. Pakistan 81/1
20:42 IST: Keemo Paul is mixing it well really nice. Good bowling by the Windies. Unlucky to have hit for a four in the last ball.Pakistan 75/1 in 9 overs
20:34 IST: Odean Smithbowls a good first over. Just allowed the Pakistan batsmen singles. Six runs off the over. Pakistan 69/1 in 8 overs
20:33 IST:50-run partnership up between Babar and Talat. A boundary to bring up the fifty-run partnership. Pakistan 63/1 in 7 overs
20:32 IST:A good recovery by Pakistan after losing Fakhar Zaman early in the second over.
20:27 IST: FOUR!What a shot. Talat is growing in confidence. Punches it over mid-on for a boundary. Pakistan 50/1 after 5.5 overs
20:25 IST: Kesrick Williamsis the new bowler for the Windies.
20:22 IST: SIX!First of the night. A maximum on the mid off region by Talat. A flat six. Good use of the feet.Pakistan 40/1 in 4.4 overs
20:21 IST: FOUR!Delicate, sensible shot played at the side of the wicket. Hussain Talat is taking over the boundaries now.
20:19 IST: FOUR!The third boundary in four balls. A graceful drive by Azam. He looks on fire. Poor bowling by Emrit. 14 runs off the over. Good partnership building up between these two. Pakistan 30/1 in 4 overs
20:18 IST: FOUR!Poor bowling. Two boundaries already in this over. Easy soft ball on the pads and the ball races towards the leg side boundary.
20:17 IST: FOUR!Babar Azam finds the gap and a front foot cut shot for him. He stands and delivers. Wasn't a bad delivery but it was impeccably timed by Azam.
20:15 IST:Excellent over from Badree. Pakistan 16/1 after 3 overs
20:12 IST: Samuel Badreebowls the third over for the visitors.
20:10 IST: OUT!Fakhar departs for 6 runs. Good catch by Denesh Ramdin. He departs for 6 runs. A bouncer and Fakhar edges it to the keeper. Pakistan 11/1 in 1.4 overs
20:08 IST:This is a developing competition between Zaman and Azam. Both batsmen pleasing on the eye.
20:07 IST: TRIVIA!Last 18 T20Is for Pakistan, Won 15, Lost 3
20:05 IST: Rayad Emritbowls the second over for the Windies. He is very experienced at the domestic level. Opportunity for him to shine with the ball.
20:04 IST: FOUR!Through that point region for a boundary for Fakhar Zaman. Front foot goes right in the pitch of the ball. Sweet timing. Pakistan 7/0 in 1 over
20:00 IST:Pakistan openers Fakhar Zamanand Babar Azamare out in the middle. Keemo Paul begins the proceedings for West Indies.
19:58 IST: Fans thronging the stadium every passing hour.
19:53 IST:Pitch looks tailor-made for the batsmen. One can expect a lot of fours and sixes.
19:52 IST: Windies (Playing XI):Chadwick Walton, Andre Fletcher, Marlon Samuels, Jason Mohammed(c), Denesh Ramdin(w), Rovman Powell, Keemo Paul, Rayad Emrit, Kesrick Williams, Samuel Badree, Odean Smith
Pakistan (Playing XI):Fakhar Zaman, Babar Azam, Hussain Talat, Sarfraz Ahmed(w/c), Shoaib Malik, Asif Ali, Faheem Ashraf, Mohammad Nawaz, Shadab Khan, Mohammad Amir, Hasan Ali
19:39 IST: Pakistan have won the toss and decided to bat.
19:24 IST:We are moments away from the toss.
Promoted
19:18 IST: Hello and welcome to the live updates of the second T20I straight from Karachi.
The visitors just couldn't recover as they lost the plot and it was a mere formality for Pakistan from there in wiping off the innings. Earlier, put in to bat, Fakhar Zaman, Hussain Talat and Sarfraz Ahmed played vital cameos before the country's most experienced T20 campaigner Shoaib Malik's late charge ensured that Pakistan posted 203/5, equalling their highest-ever score in the format. Pakistan now lead the series 1-0 and the second T20I will be played at the same venue on April 2.
Topics mentioned in this article