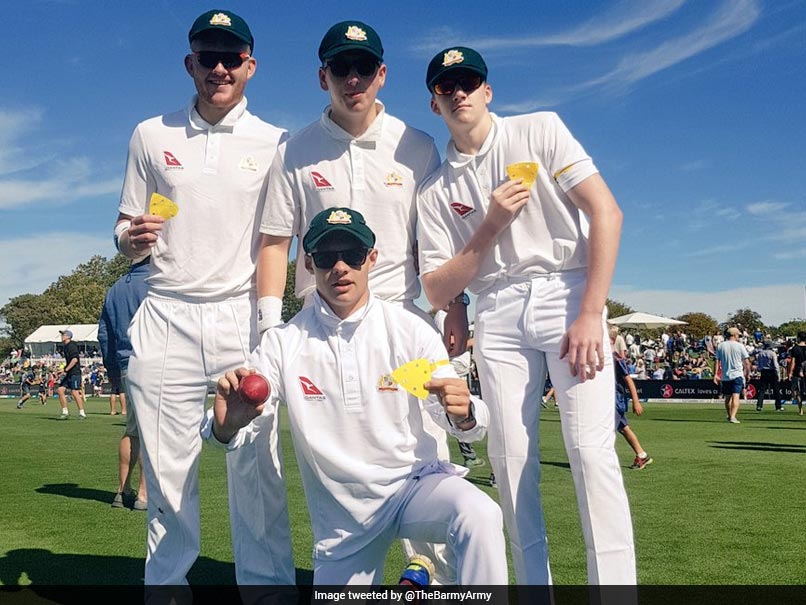 A group of Barry Army was dressed as Australian cricket's 'leadership group'.
© Twitter
In the wake of Australia's ball-tampering scandal, Kiwi batsman Ross Taylor signed a sandpaper for the fans on the first day of the second Test between New Zealand and England at the Hagley Oval on Friday. It looked like an attempt by England fan group Barmy Army to troll their arch-rivals, who have been hit by the worst ball-tampering scandal in the history of the game that took place in the Newlands Test match between South Africa and Australia. Cameron Bancroft admitted to using a sandpaper to alter the condition of the ball in order to aid his team's bowlers with some reverse-swing. 
Ross Taylor signs a piece of sandpaper. pic.twitter.com/2JGPjmON5r

— England's Barmy Army (@TheBarmyArmy) March 30, 2018
England Cricket's die-hard fan group 'Barmy Army' posted a video on their Twitter handle where Tayor can be hurriedly seen giving autographs to the fans between overs. He is then seen signing the paper before dropping it, and a pen, over the fence, possibly in a hurry to return to his fielding position just inside the boundary.
It is difficult to tell if Taylor realised that he was signing a sandpaper or if he had unknowingly taken part in an ugly joke against his Trans Tasman rivals. A group of Barry Army was also dressed in the Australian Test kit and called themselves the 'leadership group'.
The Australian leadership group has arrived. pic.twitter.com/T363zZgrWP

— England's Barmy Army (@TheBarmyArmy) March 30, 2018
Last Saturday, Cameron Bancroft was caught on camera, using yellow sticky tape laden with dirt to alter the condition of the ball.
Steve Smith and Bancroft fronted the press, and in the most stunning revelation, admitted to cheating in an explosive press conference.
Consequently, Cricket Australia handed Smith and David Warner with one-year bans, while Bancroft isn't allowed to play for nine months.