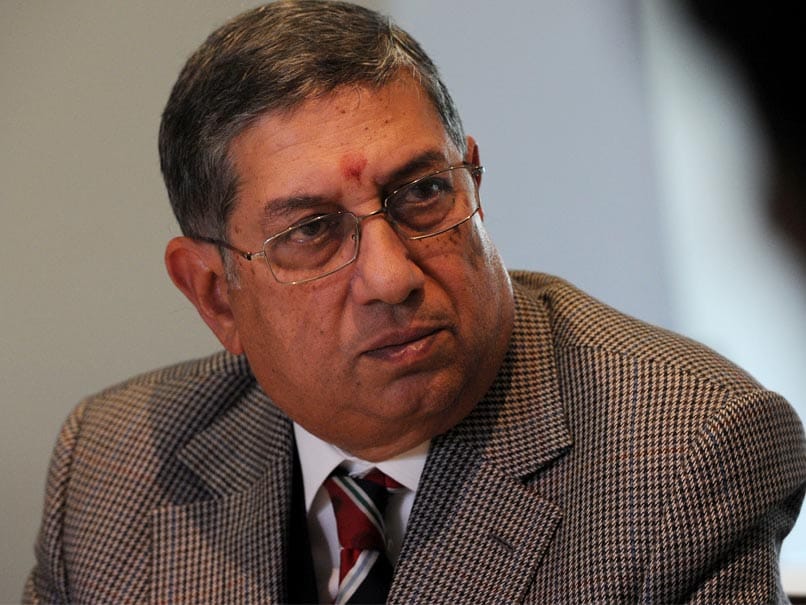 N Srinivasan is a former BCCI President
© AFP
Just when it looked like that the Indian cricket board would toe the line marked out by the Lodha Committee, the Board of Control for Cricket in India (BCCI), with none other than former president N Srinivasan in the thick of things, made it clear that the reforms would not be accepted to be implemented forthwith. While the Supreme Court appointed Committee of Administrators (CoA) had made it clear on Sunday that the BCCI needed to act on the reforms, the board had a different take on it.
The BCCI on Monday decided to form a committee for analysing how "best and quickly" the principal Supreme Court order can be executed. The two hour and 45-minute long Special General Meeting (SGM), which had Srinivasan in attendance, did not take any decisive call as requested by the CoA during a meeting with state units on Sunday.
Behind the defiance was Srinivasan. While Jyotiradiya Scindia wanted the BCCI to implement the recommendations in toto, Srinivasan and his group went back on that.
In fact, the meeting on Monday was chaired by a known Srinivasan man, TC Mathews of the Kerala Cricket Association.
"The house deliberated (the issues) in detail and with a view to completing the process, constituted a committee to examine how best to implement (the Lodha recommendations)," BCCI acting secretary Amitabh Choudhary told reporters.
"The committee will be constituted tomorrow and will submit its report in a fortnight's time. The committee will go into each and every action point necessitated by the judgement," he added.
NDTV learns that 19 associations have asked for the recall of the July 18, 2016, Supreme Court order regarding the changes in the BCCI and understands that this was a plan carefully crafted by the BCCI office bearers with N Srinivasan, whose presence in the meeting wasn't objected to by the acting secretary.
"A notice for a meeting is a notice and it says all member units of the BCCI are invited to attend. Who comes or not from state associations, I did not have to examine," Choudhary said when asked about Srinivasan's presence.
While the BCCI interpreted the SC order in a way that suggested Srinivasan and Niranjan Shah were eligible to attend the meetings, there may be repercussions when the attendance register for the meeting is presented to the Supreme Court.
(With Inputs from Rica Roy and PTI)