Story Progress
Back to home
Highlights, India vs Bangladesh, Day 2, Hyderabad Test: Bangladesh Finish Day 2 At 41/1, Trail India By 646 Runs
Riding on Virat Kohli's double ton, India posted a huge total and declared at 687/6 in 166 overs. In reply, Bangladesh finished the day with 41/1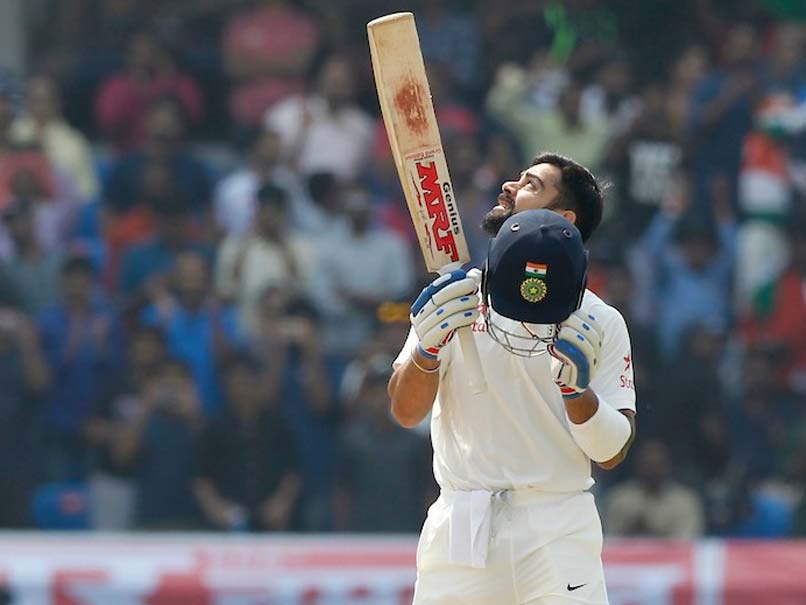 India vs Bangladesh: Hosts in complete control after Virat Kohli's historic knock
© BCCI
Riding on Virat Kohli's double ton, India posted a huge total and declared at 687/6 in 166 overs. By playing a historic knock, Kohli became the first batsman to score double hundreds in four consecutive series surpassing Don Bradman and Rahul Dravid. Wriddhiman Saha also hit his second Test hundred, while Ravindra Jadeja remained unbeaten on 60. In reply, Bangladesh finished the day with 41/1 with Tamim Iqbal (24*) and Mominul Haque (1*) at the crease. They trail India by 646 runs. (SCORECARD)
Get highlights of India vs Bangladesh Test here.
16:56 IST: That's it from us!!! Hope you enjoyed our coverage, Adios!!
16:50 IST: Wriddhiman Saha after the match:My confidence is high after the Irani trophy. My coach and captain asked me to keep playing my natural game. I was also lucky enough to get a chance first up after the keeper (Mushfiqur) missed out on the chance. In the Irani final, Pujara was batting at the other end and there was no scope of him getting out there. I tried to play positive because they were bowling fuller lengths and it worked out well. When I came out to bat there was no thought of the declaration and in the last half an hour when we got the message Jaddu and me went after it. I honestly did not hear the nick on the catch that I took. I was in a good position to take the catch and that is the reason I was able to take it well. I think if we just carry on tomorrow the way we did today and bowl in tight lines, we should be able to restrict them to a low score.
16:45 IST:India are in complete control of this Test, thanks to the outstanding performance by the Indian batsmen. All eyes will be on bowlers tomorrow and the hosts will look to put pressure on the visitors right from the start.
16:31 IST: End of day's play!!! Bangladesh 41/1 in 14 overs, trail India by 646 runs, Tamim Iqbal 24*, Mominul Haque 1*
16:30 IST:Excellent bowling by Umesh Yadav and he is troubling the Bangladesh batsmen
16:28 IST:It should be the last over of the day.
16:21 IST: OUT!! Umesh Yadav gets the wicket on review and Soumya Sarkar goes on 15 off 21 balls
16:16 IST:Ravichandran Ashwin into the attack now.
16:15 IST: Another testing over from Ishant. Iqbal does well to negotiate it.
16:05 IST: Bangladesh 30/0 after 8 overs, trail India by 657 runs
16:03 IST: FOUR!Tamim Iqbal slashes hard and takes the aerial root
15:53 IST: FOUR!Upper-cut by Soumya Sarkar and puts it away for a boundary
15:51 IST: Bangladesh are 20/0 after 5 overs. Tamim Iqbal 11, Soumya Sarkar 9
15:46 IST: FOUR!Ishant straying on the pads again and Soumya Sarkar flicked it through backward square leg
15:40 IST: FOUR! Poor delivery by Ishant Sharma and Soumya Sarkar caressed it nicely through the extra cover region. 9 runs off Ishant Sharma's over
15:38 IST: FOUR!Just before this ball Ishant asked Kohli to move to extra cover from third slip and that is exactly where this ball goes.
15:34 IST:First runs for Bangladesh and Tamim Iqbal
15:30 IST:Bangladesh have 12 overs to play in the day
15:28 IST: Bangladesh openers, Tamim Iqbal and Soumya Sarkar, are at the ground!!Bhuvneshwar Kumar to start the proceedings for India
15:18 IST: India declare at 687/6 in 166 overs. Wriddhiman Saha 106*, Ravindra Jadeja 60*
15:17 IST: FOUR!Marginally short by Shakib and Jadeja punches it on backfoot
15:16 IST:This is the fifth highest total by India in Test matches, the highest being 759/7 decl. in Chennai vs England in 2017
15:15 IST: FOUR!Jadeja hits it between extra cover and long off and gets the boundary
15:12 IST: SIX! That's it !!!Saha completes his 2nd Test ton with a maximum
15:10 IST: Fifty!Jadeja completes his 5th Test fifty
15:08 IST: SIX!Jadeja reaches on 49 with that huge six
15:05 IST: FOUR!Saha reaches on 98 with the inside out shot.
15:03 IST: DROPPED! Jadeja goes for a big one and put down by Tamim Iqbal. What a let-off for the left-hander
15:00 IST: SIX!Ravindra Jadeja goes big and hits a huge one off Taijul Islam
14:55 IST: India 639/6 after 160 overs. Saha 88*, Jadeja 30*
14:45 IST:Taijul Islam has bowled well for Bangladesh. He has been the pick of the bowlers.
14:38 IST:All eyes will be on Wriddhiman Saha as he nears his 2nd Test ton. India 627/6 (Saha 85*, Jadeja 21*)
14:36 IST: We have entered the last session now!
14:15 IST: TEA!India in commanding position after the second session, they are 620/6 after 153 overs. The hosts scored 143 runs in 32 overs.
14:12 IST: Mahmudullahcomes into the attack. He gets a slip and a short leg
FIFTY! @Wriddhipops brings up his 5th Test fifty @Paytm Test Cricket #INDvBAN pic.twitter.com/FwhzcQuJ2U

— BCCI (@BCCI) February 10, 2017
Virat Kohli dismissed by left arm spinners in 85 inns
Monty Panesar in Nov 2012
Rangana Herath in Aug 2015
Taijul Islam in Feb 2017#IndvBan

— Mohandas Menon (@mohanstatsman) February 10, 2017
14:05 IST: India go past their highest total versus Bangladesh in Tests. They had scored 610/3 dec. in 2007 at Dhaka
13:55 IST:India cross 600!! Saha and Jadeja look good at the crease now. How much should India target before declaration?
13:44 IST: India nears 600 now. All forms of the sweep on display. Jadeja deliberately gets himself well inside the line and just taps the ball on its head as he darts it very fine.
13:37 IST: Fifty!Wriddhiman Saha scores his fifth half-century. India 573/6 in 142.1 overs
13:32 IST: OUT!!Ashwin playing the wrong line and gets caught in the first slip off Mehedi Hasan. He falls on 34
13:31 IST:Missed opportunity again by Bangladesh. How many times are they going to do that?
13:30 IST:India have scored 91 runs in the session so far in 19 overs
13:26 IST: SIX!Saha uses the crease well, the bowler drops it short and he hits it for a maximum
13:25 IST: FOUR!Saha steps out and hits it over mid-on for a boundary
13:20 IST: India 554/5 in 139 overs. Ashwin 31*, Saha 36*
13:12 IST: FOUR! Saha dances down the track and hits a lofted shot for a boundary. The wicket keeper batsman reaches on 32
13:03 IST: FOUR!Some problem with the field for Bangladesh. Taskin not bowling to his field
13:00 IST: FOUR!Short outside the off-stump again by Taskin and easy picking for Ashwin
12:57 IST: India 528/5 after 134 overs. Saha 27*, Ashwin 15*
12:56 IST:More runs for Saha, he is on a move now. India 527/5
12:53 IST: FOUR!!Lovely shot by Wriddhiman Saha and again poor bowling from Taskin. It was too full and wide.
12:45 IST:  FOUR!!Ashwin gets the juicy full-toss, he leans forward and hits it for a boundary. Taskin has been all over the radar today.
Four double centuries in less than a year by @imVkohli. How's that for Bradmensque batting?

— Cricketwallah (@cricketwallah) February 10, 2017
12:35 IST:India goes past 500 now. Ashwin and Saha at the crease
Taijul Islam gets his man. Virat Kohli departs after scoring a magnificent double ton. India are on 495/5.#BANvIND pic.twitter.com/CBeVoRs8G0

— Bangladesh Cricket (@BCBtigers) February 10, 2017
Hail King Kohli! @imVkohli #INDvBAN pic.twitter.com/DYt62iw20K

— BCCI (@BCCI) February 10, 2017
12:30 IST: OUT!!Virat Kohli falls after double ton. The Indian captain doesn't even bother to review, off he goes on 204. He knew it was pad first, the impact was just around off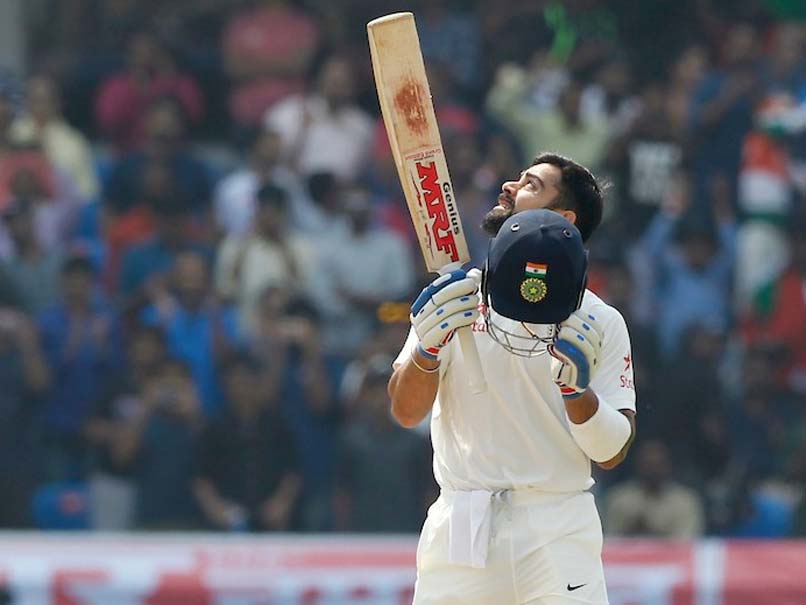 Live Cricket Score, India vs Bangladesh: Virat Kohli, after a brilliant double ton, fell on 204. 
Photo Credit: BCCI
Only Test. 123.1: T Islam to V Kohli (203), 4 runs, 493/4 https://t.co/Ne2IQxxVKm #IndvBan @Paytm

— BCCI (@BCCI) February 10, 2017
12:19 IST: That's it!!! He smashes his 4th double century off 239 balls. Four double-centuries in four consecutive series for Virat Kohli, the first batsman to do so!
12:18 IST:Virat Kohli goes to 198 with a cheeky shot
12:17 IST: Kohli had 10 boundaries in the first 100 and 13 boundaries in his next 96 runs.
12:16 IST: India 484/4, Virat Kohli 195*, Wriddhiman Saha 7*
12:15 IST:Kohli nudges it towards the third man area. He is on 194 now.
At Lunch on Day 2 of the one-off Test, #TeamIndia are 477/4 (Virat 191*, Rahane 82). Follow the game here - https://t.co/Ne2IQxPwBU #INDvBAN pic.twitter.com/sWZPIpwOCb

— BCCI (@BCCI) February 10, 2017
12:10 IST:We are back!! Yet another masterclass from the master batsman and he is just 9 runs short of his 4th double ton
11:30 IST: It's LUNCH! India 477/4 in 121 overs, Kohli 191*, Saha 4*. The hosts scored 121 runs in the session
11:27 IST: DROPPED!Kohli tries to hammer it through the mid-wicket and the fielder drops him again. Well, Bangladesh are really struggling here
11:26 IST: FOUR!!Clever shot by Kohli towards the third-man area off Taijul Islam. He is nearing his double ton now
11:23 IST: FOUR!!Kohli is back in the groove after a tough half an hour. Cracking shot by the Indian skipper
11:20 IST:Oh dear!!! What a poor cricket by the Bangladesh skipper. Saha was way ahead of the crease and he missed a clear stumping opportunity.
11:18 IST:There is a sudden turn around in the past half an hour or so. Bangladesh have really made a surprising comeback
11:17 IST: NOT OUT!!Lucky Kohli. Third umpire turns down the decision. The ball spun a mile hitting his pads.
11:15 IST: REVIEW! Kohli given out by the umpire and India go for a review
11:12 IST: FOUR!Wriddhiman Saha gets off-the mark with a cover drive
11:03 IST: OUT!! First wicket for Bangladesh this morning.Rash shot by him and a brilliant catch by Mehedi Hasan at point
11:02 IST:Rahane is on 82 and he desperately needs a hundred here. He had a bad series against England and with Karun Nair being dropped for him, he needs to prove and justify his place.
10:53 IST:Ajinkya Rahane tries to glance it down the leg side and misses. Huge appeal for a caught behind but the umpire turns it down.
10:52 IST:Beautiful delivery by Taijul Islam to square Kohli up.
10:51 IST: 83 runs from 17 overs with 4.83 runs per over in this session for India
Most Test runs in an Indian season
Virat Kohli 1108* runs in 2016/17
Virender Sehwag 1105 runs in 2004/05#IndvBan

— Mohandas Menon (@mohanstatsman) February 10, 2017
10:50 IST:Bangladesh bowlers have been poor this morning, bowling short and wide deliveries. And, the captain has looked without any vision and plan.
10:47 IST:If it goes on like this then Bangladesh will be under serious trouble. More carnage from India is expected for sure!
10:43 IST:Kohli and Rahane have certainly given a lot of headache to Bangladesh captain Mushfiqur Rahim. India have the visitors at their mercy.
10:42 IST: FOUR! Kohli cuts and hits it for a boundary.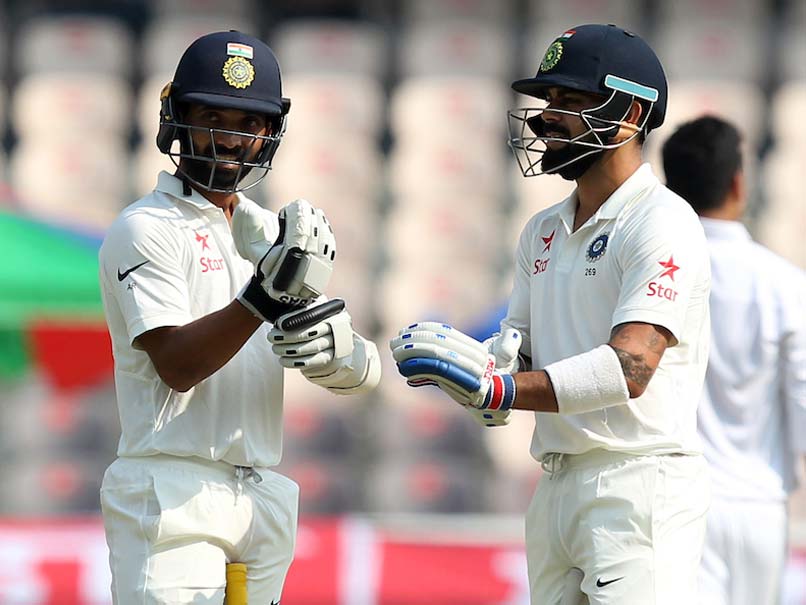 10:25 IST: FOUR!Rahane smashes it over mid-wicket. This is scintillating stuff from both the Indian batsmen
10:21 IST:DROPPED! It was a difficult chance though in the square boundary region and Sabbir did well to go for it. Rahane gets life
10:19 IST: India have scored 55 runs in 10.2 overs today with 5.32 runs per over
150 runs for #TeamIndia Captain @imVkohli @Paytm Test Cricket #INDvBAN pic.twitter.com/tBJ6K07Fz1

— BCCI (@BCCI) February 10, 2017
10:17 IST:Nine boundaries already in the 45-minutes of play today. India are 411/3 after 100 overs
10:16 IST:Kohli definitely knows how to make big-hundreds now. This is his record- First 11 100s: One score above 150 (169 v Aus, MCG, 2014) Last 5 100s: 200, 211, 167, 235, 150*
#TeamIndia's @ajinkyarahane88 completes his 10th Test fifty #INDvBAN pic.twitter.com/eQ64SfwBPb

— BCCI (@BCCI) February 10, 2017
10:12 IST: FOUR!Rahane joins the party this time!! a freebie from Taskin Ahmed
Live Cricket Score, India vs Bangladesh: Virat Kohli holds the fort. 
Photo Credit: BCCI
10:11 IST: 150!Kohli takes the single and in no-time reaches to 150
10:10 IST: FOUR!It's surreal!! Kohli picks the gap again to reach to 149. India cross 400
10:06 IST:The run-rate is relentless today. If India goes with the same pace, many records will be made and broken for sure
10:04 IST: FOUR!Kohli hits the lofted shot off Shakib-Al-Hasan and gets the boundary again
10:03 IST:More players are on the boundary than in the catching areas.
10:02 IST: India are 392/3 after 97 overs. They have already scored 36 runs in 7 overs. Virat Kohli 140*, Ajinkya Rahane 52*
10:01 IST: FOUR!The upper cut now!! Just opened the face of the bat to pick his point
09:58 IST: FOUR!Kohli is unstoppable and just toying with Bangladesh attack. They both complete 150-run partnership too
09:55 IST: FOUR!!Oh!! steps out and hits it towards the mid-wicket. He completes his 10th half-century
09:51 IST: FOUR!Kohli shuffles across and plays the on-drive for a boundary.Nobody moved except the scoreboard
09:49 IST: Kohli is looking good and has not taken any time settle. Superb drive again by the skipper and well saved by Sabbir Rahman. Sheer elegance!
09:42 IST: FOUR!Poor delivery by Taskin again and free gift for Kohli
09:41 IST: FOUR!Short-pitch delivery by Taskin and Kohli goes for it and gets a boundary
09:40 IST:Kohli glances down the leg-side for 2 runs. India 362/3 in 92 overs. Virat Kohli 114*, Ajinkya Rahane 47*
09:33 IST: Appeal for a run-out!! The short leg is into the act but Rahane gets the bat down in time and safe
09:31 IST:As Sunil Gavaskar says, the pitch is a beauty to bat on today and we can see flurry of runs
09:30 IST:Taskin Ahmed to start the proceedings from Bangladesh. Virat Kohli let's the ball go away
The action on Day 2 of the @Paytm #INDvBAN Test will commence shortly. This is what the pitch looks like. #TeamIndia will resume on 356/3. pic.twitter.com/TUMpjqMEUn

— BCCI (@BCCI) February 10, 2017
09:11 IST:The Day 2 of India vs Bangladesh one-off Test is about to start. India are 356/3 with Virat Kohli batting on 111 and Ajinkya Rahane on 45
09:10 IST: Hello and welcome to the live blog
Vijay made 108 before getting dismissed while trying to play a paddle sweep off Taijul Islam. Indian captain Kohli looked in glorious touch and reached his 16th ton without any problems. Kohli (111*) made batting look easy as he piled on the runs with utmost ease. Giving him company was Ajinkya Rahane, who looked comfortable during his knock and remained unbeaten on 45 at the end of the first day's play.
For Bangladesh, there was little to show as the bowlers failed to make an impact in any of the three sessions. Taijul Islam was the pick of the bowlers for them and returned with figures of 1 for 50 at the end of Day 1. Taskin Ahmed and Mehedi Hasan Miraz were the other two wicket takers for the visitors.
On Day 2, the visitors will look to dismiss Kohli early and apply pressure on the Indians. The Hyderabad crowd, however, will be hoping that the star batsman goes on to get another double hundred.
Topics mentioned in this article