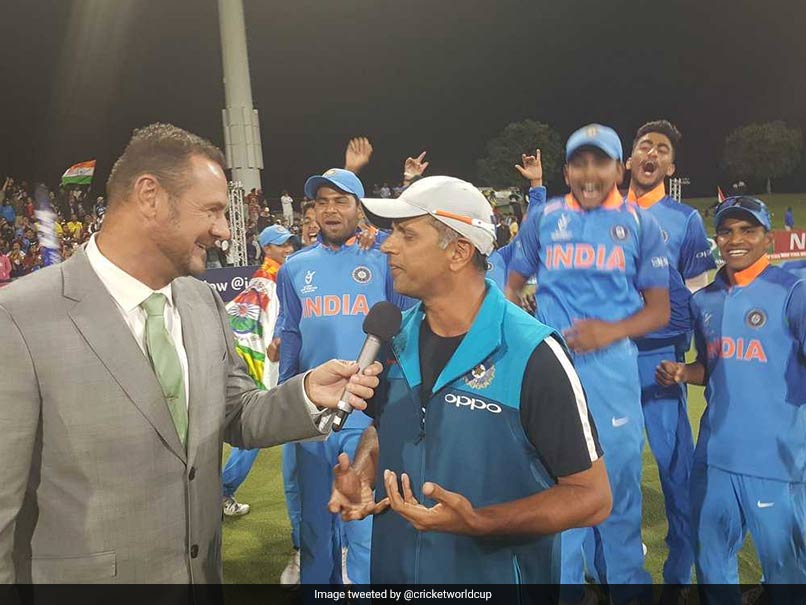 Team India celebrate after winning the 2018 ICC U-19 World Cup Title.
© Twitter
The Under-19 Indian cricket team scripted history as India became the first nation to win the World Cup title for a record fourth time. Under the able guidance of India great Rahul Dravid, a very disciplined and skilful Indian side hardly broke a sweat on their path to World Cup glory. The Dravid-coached team not only produced batsmen but also bowlers, who soon stole the limelight for regularly clocking 145 kmph-plus in the tournament. In a country like India where pacers are a rarity, the U-19 crop found new gems in the likes of Kamlesh Nagarkoti, Shivam Mavi and Ishan Porel.
Days after winning the title, Nagarkoti shed some light on how wonderful it was to visit New Zealand, play under Dravid and win the coveted title hand down. The young pacer said that the team was scared of Dravid and they would not go against his word.
"Actually we were a bit scared of sir. And we thought we should not break the curfew, so we never did it. (smiles) Honestly we didn't. Well, we did think about it a few times but then we reasoned that nahin yaar, sir would have had something in mind when putting a curfew in place, so let's follow it," Nagarkoti was quoted by Mumbai Mirror as saying.
Reiterating his point, the 18-year-old pacer stated an instance where Dravid prevented him, Manjot Kalra and Mavi to go for adventure sports.
"Queenstown. A few of us players were interviewed by the ICC there at the top of the cableway (up a mountain). So that place only three of us saw, maybe some of the coaches could have seen it, but among players, it was only I, Manjot Kalra and Shivam Mavi. We were there on the top for quite some time, about a couple of hours. We had thought of going for some of the adventure activities there, but sir (Dravid) refused. He said the tournament was going on, and there was no point in taking any risk. He would allow us to do a few things here and there, but we had to be back in our hotel by a certain time," the pacer recalled.
However, Nagarkoti did not fail to mention the kind of respect the team developed for the Indian great.
"We have become quite frank with him but the respect is intact," Nagarkoti remarked.
While Dravid shared an intimate relation with the budding cricketers, he maintained the sanctity of the team. Talking about the WhatsApp group, which they shared during the tournament Nagarkoti said, "There was only one group during the World Cup. Ulta seedha ho jaata hai kabhi kabhi. But sir is also part of that group so no one can speak too much."