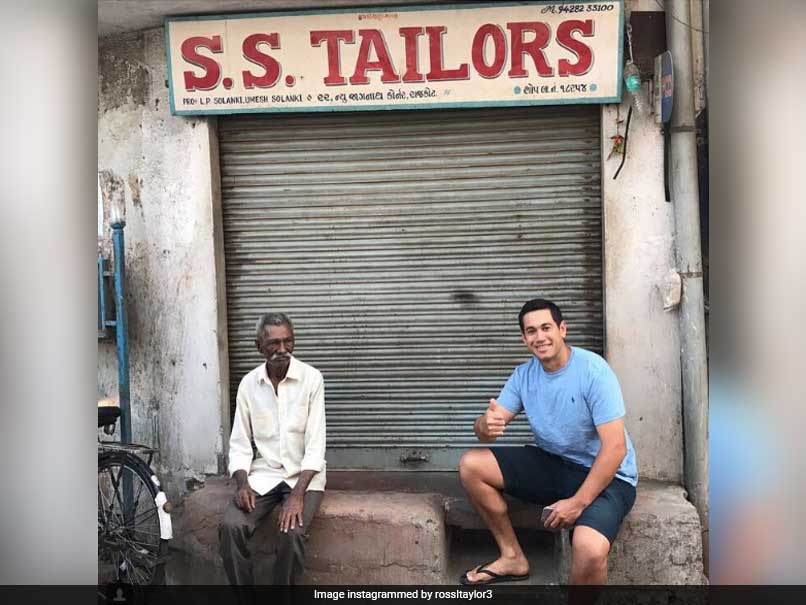 Ross Taylor posted this picture on his Instagram account.
© Instagram
New Zealand cricketer Ross Taylor is not only fond of Hindi but has taken up the job of using it to good use, especially in his Twitter exchanges with Virender Sehwag. A fortnight ago, Taylor had replied to Sehwag's 'Darji' comment with a twist. To everyone's surprise, Taylor's reply to Sehwag was in perfect Hindi. Continuing the banter with the former India opener, the New Zealander took to Instagram on Sunday to share a picture of him sitting in front of a shut tailor shop and captioned it,"@virendersehwag #Rajkot mein match k baad, #darji (Tailor) Ki dukaan band. Agli silai #Trivandrum mein hogi... Zaroor Aana. #India #IndvNZ."
He directly tagged Sehwag to let everyone know that he wanted to continue the banter they started in the ODI series, a couple of weeks back.
There is no denying that Taylor has impressed Sehwag and everyone else with his Hindi and the former India opener, in his reply to the New Zealander, admitted that fact.
Taylor was in the thick of things in the first One-day International against India in Mumbai on October 22, when he got together with Tom Latham to carve up a 200-run stand which won the Kiwis the match after they looked in a fair bit of trouble while chasing the 281-run target.
While Taylor missed out on a century by five runs, his contribution to the victory was immense. Sehwag took to Twitter to congratulate the Taylor. "Well played @RossLTaylor Darji ji . Great effort after handling the pressure of Diwali orders," wrote Sehwag's tweet.
While the former India opener would have assumed that this would stump Taylor, the Kiwi turned the tables with a response in Hindi that left Viru shell-shocked.
Thanks @virendersehwag bhai agli Baar Apna order time pe Bhej dena so Mai Apko agli Diwali ke pehle deliver  kardunga ....happy Diwali

— Ross Taylor (@RossLTaylor) October 23, 2017
Sehwag was pleasantly surprised but played the bouncer well.
Hahaha Masterji , is saal waali patloon hi ek bilaang choti karke dena next diwali pe. Ross the Boss, most sporting :) https://t.co/FNpAwrWCB4

— Virender Sehwag (@virendersehwag) October 23, 2017
Has your Darji not done a good job this Diwali ???

— Ross Taylor (@RossLTaylor) October 23, 2017
After winning the first T20I, India were outclassed in the second T20I in Rajkot. With the series level at 1-1, the third and final T20I will be held at the Greenfield International Stadium, Thiruvananthapuram.