Story Progress
Back to home
India vs New Zealand 2nd T20, Highlights: New Zealand Beat India By 40 Runs To Level Series 1-1
Highlights, India vs New Zealand, 2nd T20: The visitors bounced back and beat the Men in Blue by 40 runs to level series 1-1.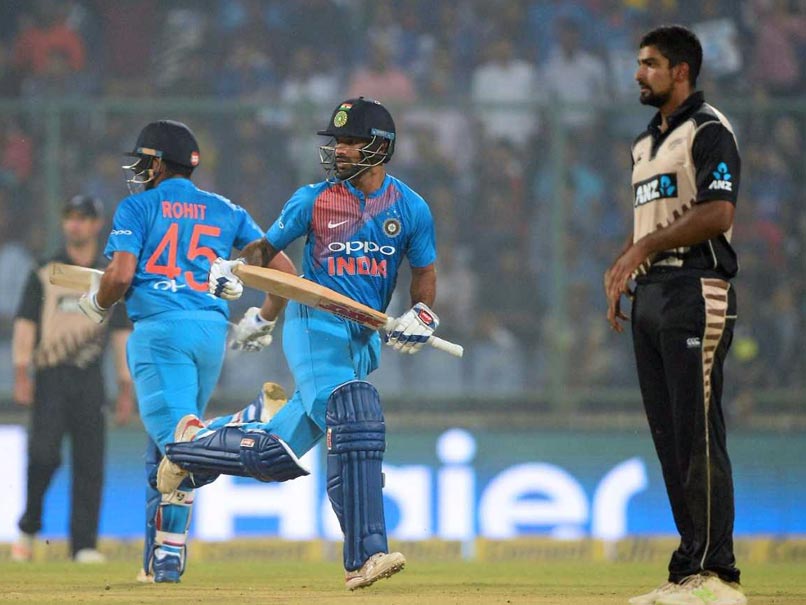 India lose to New Zealand by 40 runs at Rajkot, three-match series tied at 1-1.
© AFP
Riding on Colin Munro's brilliant unbeaten 109 and Trent Boult's disciplined bowling, New Zealand strolled to a 40-run victory against India on Saturday to level the T20I series 1-1. Batting first, New Zealand helped by Munro's century and Martin Guptill's 45, posted a competitive 196/2 in 20 overs. In reply, India could only muster 156/7 in 20 overs. The Kiwis started brilliantly with the ball as Boult removed both the openers cheaply to give his team an upper-hand in the game. India could not gather any momentum as the Kiwi bowlers kept up the pressure on the famed Indian batting line-up. For India, Kohli (65) was the highest scorer. For New Zealand, Boult finished with the figures of four for 34. The third and final match, a virtual final, will be held at Thiruvananthapuram on November 7. (scorecard)
Catch highlights of the the second T20I match between India and New Zealand at Rajkot
22:36 IST: Thank you for joining us for the live blog. Do tune back when India face New Zealand for the third and final T20 match on November 7.
22:25 IST: And it is done! Kiwis script a beautiful victory to level the three-match series 1-1. India lose by 40 runs at Rajkot.
22:23 IST: OUT! Boult gets his fourth, short delivery from Boult, Dhoni pulls it straight to Santner, departs for 49.
22:21 IST: Six!Dhoni starts the last over with a huge maximum on the leg-side, big swing of the bat.
22:19 IST: Last over of the match. India need 49 runs in six balls.
22:16 IST: Four!Dhoni slams Milne for a boundary through the off-side, a little too late for a fightback.
22:13 IST: Out!Trent Boult gets his third wicket of the night, dismisses Axar Patel for five.
22:11 IST: Four!Boult attempting a yorker strays on the pads and Axar guides the ball fine for a boundary.
22:09 IST: India need 72 runs in 18 balls.
22:08 IST: Out!Flighted delivery from Santner, Kohli comes down the track, edges the ball back to the keeper, brilliant collected by Phillips. India staring at defeat.
22:04 IST: India need 75 runs in 24 balls.
22:03 IST: Six!Dhoni clobbers Sodhi for a mammoth maximum on the leg-side.
22:02 IST:This run-chase is getting tougher by every ball, the required run-rate is over 19 at the moment.
22:00 IST: Four!Kohli comes down the tracks and slams Milne through covers.
21:55 IST: India need 91 runs from 36 balls. Can Kohli and Dhoni conjure up a miracle chase?
21:53 IST: SIX!Dhoni comes down the track and launches Sodhi over long-on into the stands.
21:49 IST: Four!Bottom hand comes in play for Kohli as he hammers the ball through mid-wicket.
21:47 IST: FIFTY!Virat Kohli scores his 18th T20I half-century against New Zealand off 32 balls.
21:44 IST: Four! Virat Kohli smacks Munro for a boundary, edging closer to his fifty.
21:42 IST:India need to up the ante as the required run-rate is above 12.
21:41 IST: India 71/4 after 10 overs (Kohli 38*, Dhoni 2*)
21:38 IST: OUT!Ish Sodhi yet again gets the better of Hardik Pandya, castles him with a googly for one. New Zealand have gained back control of the game.
21:36 IST:Hardik Pandya is the new man in.
21:35 IST: WICKET!Knuckle ball from Munro, Shreyas going for the big hit, miscues and Munro takes a great catch running backward. India lose their third in big run chase.
21:31 IST: Six!Kohli comes down the track and hammers Santner for a huge maximum. Beautiful swing of the bat.
21:29 IST: Four!Back to back boundaries for Kohli off Santner.
21:28 IST: Four!Kohli guides the ball through the point region.
21:26 IST:Sodhi concedes only five runs in his first over. The spinners have cut down the flow of runs.
21:24 IST: Virat Kohli 1890* runs - now 2nd highest run-getter in T20Is. Only Brendon McCullum 2140 has more.
21:23 IST:Ish Sodhi introduced in the attack.
21:22 IST:Mitchell Santner concedes only three runs in his first over, brilliantly bowled.
21:18 IST: India 37/2 after five overs (Kohli 11*, Iyer 20*)
21:14 IST: Four!Kohli comes down the track and hammers Boult staright over the umpire's head. India picking up momentum after early jolt.
21:13 IST: Four!Width outside off, Iyer slams the ball for the second boundary of the over.
21:12 IST: Four!Kohli chips Trent Boult over mid-on for a boundary, bottom hand comes into play for the right-handed batsman.
21:11 IST: Four!Shreyas Iyer makes room for himself and slaps the ball over point for a boundary. India 21/2 in 3 overs.
21:10 IST: FOUR!Shreyas Iyer cuts the ball towards third man. Second boundary for him.
21:09 IST:Captain Virat Kohli is the new man at the crease.
21:08 IST: WICKET!Trent Boult strikes again, Rohit Sharma departs for 5. India 11/2 in 2 overs.
21:05 IST:Shreyas Iyer is the new man at the crease.
21:04 IST: WICKET!Trent Boult strikes, Shikhar Dhawan departs for 1. India 6/1 in 1.2 overs
21:00 IST: FOUR!First boundary of India innings. Rohit sends Adam Milne towards mid-on for a boundary. India 4/0 in 0.2 over.
20:58 IST: Hello and welcome to the chase. India need 197 to win in 20 overs.
20:28 IST: Stay tuned for the second innings!
20:26 IST: New Zealand post 196/2 in 20 overs against India at Rajkot. Colin Munro starred with the bat with an unbeaten 109.
20:25 IST: Four!Munro scoops the ball over the short fine-leg for a boundary.
20:23 IST: One over left in New Zealand's innings, can Munro power them over the 200-run mark?
20:21 IST:Colin Munro scores his second T20I century against India off 54 balls. Solid batting from the opener.
20:19 IST: Colin Munro is slowly edging closer to his 2nd T20I century, brilliant batting form the left-hander.
20:15 IST: New Zealand 174/2 in 17 overs.
20:14 IST: Four!Siraj is not having a dream debut, Tom Bruce scoops him over the wicket-keeper's head for a boundary.
20:13 IST:New Zealand currently are treading at over 10 run per over.
20:11 IST: Six!Munro is clobbering the Indian bowling attack, goes straight down the ground, Kohli at long-on watched the ball sail over him.
20:10 IST: Four!Munro, this time, guides the ball towards fine-leg.
20:09 IST: Four!Munro plays the ball late as the ball rolls away to third-man boundary.
20:06 IST: Dropped!Bhuvneshwar bowls wide, Munro goes for a big hit, miscues and Chahal running back at covers drops the catch.
20:05 IST: Four!On the pads from Siraj, Munro guides it to fine-leg boundary. Visitors head towards big total.
20:02 IST: OUT!Mohammed Siraj picks his maiden international wicket. Bowls on the pads, Williamson flicks it straight to Rohit at deep mid-wicket.
19:59 IST: Six! Magnificent hitting from Munro, picks up the slower ball and hammers Pandya for a huge maximum on the leg-side.
19:57 IST: Six! Munro welcomes Hardik Pandya with a flat maximum straight down the ground.
19:55 IST: Four!Now Williamson gets in the act, hits Axar for a boundary.
19:53 IST: Six!Pitched up delivery from Axar,Munro slams it for a maximum.
19:50 IST: India lose a review!The ball went off Williamson's fore-arm, it's a fair delivery and there's nothing on the snicko when it went past the bat.
19:45 IST: OUT!Yuzvendra Chahal gets his man, dismisses Martin Guptill for 45. New Zealand 105/1 in 11.1 overs.
19:44 IST: Six!Length ball from Axar, Munro hammers him for a huge maximum.
19:40 IST: New Zealand 83/0 (Guptill 43*, Munro 37*) after 10 overs.
19:39 IST:In the slot from Chahal, Munro slog sweeps with power as Bhuvneshwar jumps and pushes the ball back in the field, saves a certain maximum. Great effort from the pacer.
19:38 IST: Six!Chahal back in the attack and Guptill clobbers him into the stands, again.
19:36 IST:Great start from the left-hander, concedes only four runs in his first over.
19:34 IST: Axar Patel, left-arm orthodox, comes into the attack.
19:33 IST: Six! Short from Siraj, Munro dispatches the ball over mid-wicket for a huge maximum.
19:32 IST: Six!Right in the slot from Siraj, Munro flat-bats the ball straight down the ground.
19:30 IST:New Zealand openers are batting with intent out in the middle. Great start by the visitors.New Zealand 52/0 after seven overs.
19:25 IST: Four!Width outside off, Munro frees his arms and sends Bumrah towards deep backward point.
19:22 IST: 17 runs off Chahal's over. New Zealand 41/0 in 5 overs.
19:20 IST: SIX! This is colossal. Guptill slogs this over deep mid wicket region. Powerful shot from the right-hander. New Zealand 40/4 in 4.4 overs.
19:19 IST: Six and a four!Guptill leans forwards and sends Chahal towards long off for consecutive boundaries.
19:15 IST:Jasprit Bumrah introduced in the bowling attack.
19:13 IST: Four! Short delivery from Bhuvneshwar, Munro times and pulls it well for his second boundary. New Zealand 21/0 after three overs.
19:07 IST: Four!Guptill makes room and drives Siraj straight down the ground.
19:05 IST: Four!Little bit of width outside off, Colin Munro welcomes Mohammed Siraj with a boundary.
19:04 IST: New Zealand 5/0 after the first over.
19:02 IST: Four!Bhuvneshwar Kumar strays on the pads, Guptill advances down the pitch and slams the first boundary of the innings over square leg.
19:00 IST: First ball,Bhuvneshwar bowls on a good length and Guptill fins the middle of the bat as he defends.
18:59 IST:Bhuvneshwar Kumar is opening the bowling for India.
18:58 IST:Martin Guptill and Colin Munro are opening the batting for New Zealand.
18:54 IST: Alright, then!Both teams have lined-up for national anthems.
18:44 IST: Trivia:New Zealand have never lost a bilateral T20I series since 2014.
18:43 IST:Team India gearing up for the match:
Covering all bases #TeamIndia gears up for the 2nd T20I against New Zealand #INDvNZ pic.twitter.com/B2HsGTXQYr

— BCCI (@BCCI) November 4, 2017
18:40 IST: Playing XI for both teams:
IND XI: R Sharma, S Dhawan, V Kohli (C), S Iyer, M Dhoni (W), H Pandya, A Patel, B Kumar, M Siraj, J Bumrah, Y Chahal #INDvNZ

— NDTV Live Scores (@CricketNDTVLive) November 4, 2017
NZ XI: M Guptill, C Munro, K Williamson (C), G Phillips (W), T Bruce, C de Grandhomme, H Nicholls, M Santner, A Milne, I Sodhi, T Boult

— NDTV Live Scores (@CricketNDTVLive) November 4, 2017
18:35 IST: Team changes:For New Zealand, Adam Milne comes in for Tim Southee. Glenn Philips replaces Tom Latham.
18:30 IST: New Zealand captain Kane Williamson wins toss, elects to bat.
New Zealand wins the toss. Elects to bat first in the 2nd T20I #INDvNZ pic.twitter.com/dWkmG3DX8g

— BCCI (@BCCI) November 4, 2017
18:25 IST:Big day for Mohammed Siraj as he makes his debut.
A moment to cherish for young Mohammed Siraj as he makes his debut for India today #INDvNZ pic.twitter.com/0ttCZpLeoo

— BCCI (@BCCI) November 4, 2017
18:23 IST:We are minutes away from the toss. Please stay tuned!
18:00 IST: Hello and welcome to the live blog of the second T20 match between India and New Zealand.
The Indian top order batting, with superb stroke-makers in Dhawan, Rohit and skipper Virat Kohli, has to be tamed early if New Zealand hope to carry on the fight till the series-ending game. The Black Caps' new ball attack of Trent Boult and Tim Southee will have to bounce back to give momentum to the visitors. "We were outplayed in all the areas, fielding included, which is something we pride ourselves on and something we need to be much better at in Twenty20 cricket," Williamson had said after the Delhi loss.
Topics mentioned in this article