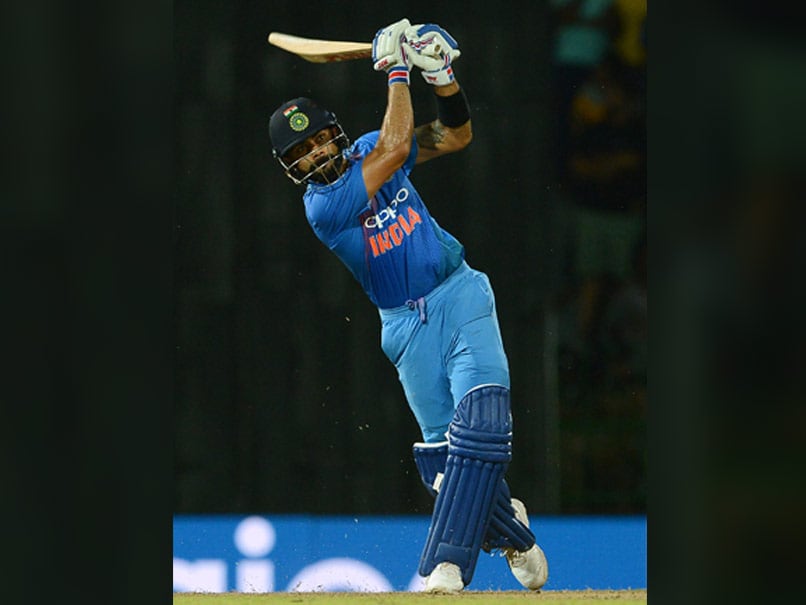 Highlights: India beat Australia by nine wickets to take 1-0 lead in series.
© AFP
Virat Kohli-led India beat Australia by nine wickets (DLS) in a rain-curtailed match on Saturday to take 1-0 lead in a three-match T20I series at Ranchi. Opting to field first, Indian bowlers restricted the David Warner-led side to a meager 118/8 in 18.4 over before rain stopped play. India, chasing a revised target of 48 in 6 overs, won the match by nine wickets with three balls to spare. For the hosts, Kohli top-scored (22*) and Kuldeep Yadav was the pick of the bowlers as he finished with figures of 2/16. For Australia, Aaron Finch scored 42. The second T20I will be played in Guwahati on October 10. (Scorecard)
Catch highlights of the 1st T20 between India and Australia straight from Ranchi.
23:00 IST: Thank you for joining us. Do tune back for the second T20I on October 10 in Guwahati.
22:41 IST: And, Kohli wins it for Team India. Full delivery from Christian, Kohli lofts the ball over covers to take the Men in Blue over the line.
22:40 IST: India need 3 runs off 4 balls.
22:39 IST: India need 5 runs off 5 balls.
22:38 IST: Dan Christian is bowling the last over.
22:37 IST: India need 6 runs off 6 balls. Kohli and Dhawan out in the middle.
22:34 IST: Four! Kohli welcomes Adam Zampa with a boundary on the on-side. India closing in on victory.
22:33 IST: India need 12 runs to win off 12 balls.
22:31 IST: Four! Short, slower delivery from Coulter-Nile, Dhawan pulls for a boundary. 
22:30 IST: Three overs gone, India need 21 runs in 18 balls​.
22:26 IST: Four! Slower ball from Tye, Dhawan pulls and pulls handsomely. 
22:25 IST: Four! Virat Kohli welcomes Andrew Tye with a boundary at long-off.
22:24 IST: Four! Dhawan slams Coulter-Nile straight down the ground for a boundary.
22:21 IST: Out! Nathan Coulter-Nile castles Rohit Sharma for 11.
22:20 IST: Six! Rohit Sharma welcomes Nathan Coulter-Nile with a maximum. 
22:16 IST: Four! Full delivery on the pads, Rohit flicks and gets off the mark with a boundary.
22:15 IST: Jason Behrendorff, debutant, opening the bowling for Australia.
22:14 IST: Rohit Sharma and Shikhar Dhawan opening the batting for India.
22:13 IST: Game resumes after rain. India come out to bat.
22:10 IST: Revised target -- India need 48 runs to win in 6 overs (DLS)
22:09 IST: Play to resume at 22:15 IST.
21:58 IST: Two super soppers are out on the field as rest of the covers are coming off.
21:42 IST: Inspection at 22:05 IST.
21:38 IST: Heartening news! Covers are coming off. It looks like we have a game on our hands.
21:20 IST: We have started losing overs now. India's chase will not be for 20 overs. And the cut-off time for a five-over game is 22:18 IST.
21:15 IST: While we wait for some official information, take a look at Kohli's bullet throw which dismissed Dan Christian.
21:00 IST: Covers are still on! We wait.
20:45 IST: Australia's innings has ended at 18.4 overs amid the rain.
20:34 IST: The umpires have called for the groundsmen to cover the pitch as the rain keeps falling. And they've done well considering it started as only a drizzle but now has picked up properly. Covers are on every part of the outfield.
20:20 IST: Rain halts play. Australia 118/8 in 18.4 overs (Zampa 4*, Andrew Tye 0*)
20:19 IST: Four! Adam Zampa swings hard, inside edges the ball past the wicket-keeper for a much needed boundary.
20:18 IST: Out! Full delivery, Christian whips it wide of long-on and pushes for the second, Kohli is onto the ball in a flash and fires a direct-hit at the striker's end.
20:14 IST: Out! Brilliant bowling from Bumrah, castles Nathan Coulter-Nile for one.
20:12 IST: Out! Jasprit Bumrah gets his first wicket of the night, sends Tim Paine packing for 17.
20:08 IST: Six! Short delivery from Bhuvneshwar, Paine pulls the ball for a maximum.
20:07 IST: Four! Length ball outside off-stump from Bhuvneshwar, Tim Pain slams the ball for a boundary.
20:05 IST: 100 comes up for Australia in the 17th over.
19:57 IST: Out! Hardik Pandya gets his first. Back of a length ball, Head wanted to whip it into the leg-side and all he could manage was an inside edge onto the off-bail. Middle-order is collapsing.
19:53 IST: Dan Christian is the new man in.
19:52 IST: Out! Slower delivery from Kuldeep, Henriques steps out, misses and the ball crashes straight into the stumps. Australia four down.
19:49 IST: Four! Short delivery from Pandya and Henriques slams the ball for a boundary over mid-wicket.
19:42 IST: Australia 77/3 (Henriques 1*, Head 6*) after 10 overs.
​19:40 IST: Out! Kuldeep Yadav cleans up Aaron Finch for 42. Australia three down.
19:35 IST: Six! Tossed up delivery from Chahal, Finch clobbers him a maximum.
19:27 IST: Out!! Chahal gets Maxwell yet again. Short delivery form Chahal, Maxwell (17) pulls straight to Bumrah at mid-wicket.
19:25 IST: Yuzvendra Chahal, right-arm leg break, comes into the attack
19:24 IST: Four! Full from Pandya, Finch dispatches him straight down the ground for a boundary.
19:23 IST: Four! Pandya straying on the pads, Maxwell flicks him for a boundary.
19:20 IST: Australia 36/1 (Finch 22*, Maxwell 5*) after five overs.
19:13 IST: Four! Consecutive boundaries for Finch off Pandya.
19:11 IST: Four! Slower delivery from Pandya, Finch reads the ball early and hits it for a boundary.  
19:09 IST: Hardik Pandya, right-arm medium, comes into the attack.
19:06 IST: Four! Full from Jasprit, Finch extends his arms and drives the ball beautifully.
19:05 IST: Jasprit Bumrah, right-arm medium, comes into the attack.
19:04 IST: After first over, Australia 8/1. Glenn Maxwell is the new man in.
19:03 IST: Out! Brilliant bowling. Bhuvneshwar angles the ball in, cramps Warner for space as he drags the ball in.
19:02 IST: Four! Back-to-back boundaries for Warner off Bhuvneshwar.
19:00 IST: First ball, Warner comes down the track and guides the ball towards square-leg umpire but takes no run.
18:59 IST: Bhuvneshwar Kumar opening the bowling for India.
18:58 IST: Aaron Finch and David Warner opening the batting for Australia.
18:50 IST: Stay tuned! We are minutes away from the start of play.
18:41 IST: Team India playing XI:
IND XI: R Sharma, S Dhawan, V Kohli (C), K Jadhav, M Pandey, M Dhoni (W), H Pandya, B Kumar, K Yadav, J Bumrah, Y Chahal #INDvAUS

— NDTV Live Scores (@CricketNDTVLive) October 7, 2017
18:40 IST: Australia playing XI:
AUS XI: D Warner (C), A Finch, G Maxwell, T Head, M Henriques, D Christian, T Paine (W), N Coulter-Nile, A Tye, A Zampa, J Behrendorff

— NDTV Live Scores (@CricketNDTVLive) October 7, 2017
18:33 IST: Team changes: For India, Axar Patel makes way for Kuldeep Yadav and Shikhar Dhawan replaces Ajinkya Rahane. For Australia, Glenn Maxwell comes back and Jason Behrendorff's makes his debut.
18:30 IST: India captain Virat Kohli wins toss toss and elects to field against Australia. 
18:20 IST: Team India practicing before the start of play.
18:15 IST: Stay tuned folks! We are minutes away from toss.
17:41 IST: Fans welcoming the Australian team bus.
17:40 IST: Hello and welcome to the live blog of the 1st T20 between India and Australia. 
However, the visitors was dealt a massive blow as captain Steve Smith was ruled out of the Twenty20 series against India due to a shoulder injury. Cricket Australia confirmed that vice-captain David Warner will stand in as captain for the three-match series. Marcus Stoinis will replace Smith in the squad for the remainder of the series. Smith will return home and is expected to be fit for next month's Ashes. "Smith landed awkwardly on his right shoulder while diving in the field during the fifth ODI against India last Sunday," team doctor Richard Saw stated in a Cricket Australia release.