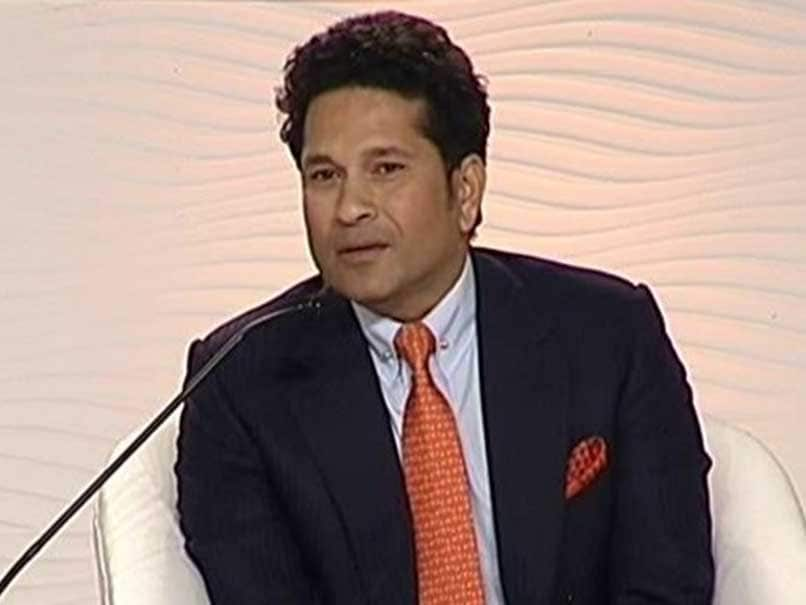 Sachin Tendulkar recalled India's famous victory against South Africa in 1993
© NDTV
Cricket legend Sachin Tendulkar on Saturday recalled how a 'mongoose' proved to be a good omen and contributed to India's memorable victory against South Africa in the Hero Cup semi-final in 1993."I don't know how many of you have noticed this but because it was the first day and night match, there was a mongoose which kept coming in the second half of the match," Tendulkar said. South Africa buckled under pressure as Tendulkar, bowling the final over with only six runs needed, scripted a victory for his side at the Eden Gardens.
"We got some wickets when it came. Then there were some runs and again the mongoose came and we got wickets. So I was waiting for the mongoose to keep coming. The match got rather close and I ended up bowling the last over."
Surprisingly, Tendulkar had failed with the bat in that match but then skipper Mohammad Azharuddin gave him the task to bowl the penultimate over.
It was a gamble that paid off and still remembered fondly as he bowled three dot balls to Allan Donald preceded by a run-out and Brian McMillan failed to get a boundary off the last delivery with the crowd buzzing from behind.
"When in Kolkata we used to have a joke running around --'Pehle do wicket lelo, baki ke aath wickets crowd le leta hai' (first take the first two wickets, the crowd will look after the rest)."
Singling out the Hero Cup semi-final on November 24, 1993 as one of his best moments at Eden Gardens, he said: "It was quite memorable and completely different, the first day-and-night match where I ended up bowling the last over. "The experience to see the entire stadium lit with torches was truly out of this world. They stay with you for the rest of your life."
'Indian Team's Fielding A Joy To watch'
Sachin Tendulkar also heaped a praise on Indian team's fielding and said that the team was now one of the best fielding sides in the world. Talking about the importance of fitness in sports in today's world and the advanced fitness regime that the cricketers follow now, the former batting superstar said the way the present Indian cricket team fields, is a "joy to watch".
"I think we have possibly one of the best fielding sides in the world. It is a joy to watch all these guys fielding the way they do. Even when fielding they are extremely aggressive and attacking," Tendulkar said.
"Our fitness routine was slightly different. There was less awareness. More and more things were discovered with time and eventually those things added more value to the fitness," the 43-year-old added.
He also pointed out that for fielding well, both mind and body need to be sync to achive the goal. "It is one thing to be mentally attacking but the fact that you also make your body to go to that dimension where your mind goes and that is only possible when you are fit, when you practice.
"Nothing happens without practice. The team has to be practising hard and also conscious of their fitness," he said.
Highlighting the importance of fitness in his own life, Tendulkar pointed out the necessity of adopting a "different lifestyle" for the present generation to stay fit and healthy.
"When I was growing up my grandma told me, your health is your wealth. That is the same message I want to share with our entire nation. Stay healthy and adopt a different lifestyle," the record run-scorer, who enjoyed a lengthy international cricket career from 1989 to 2013.
"We sometimes prefer to sit at a place and watch others play. We should all participate. Fitness is not just from outside it is about how you feel from within.It is not for the looks it is for a quality lifestyle," he added.
(With inputs from PTI and IANS)