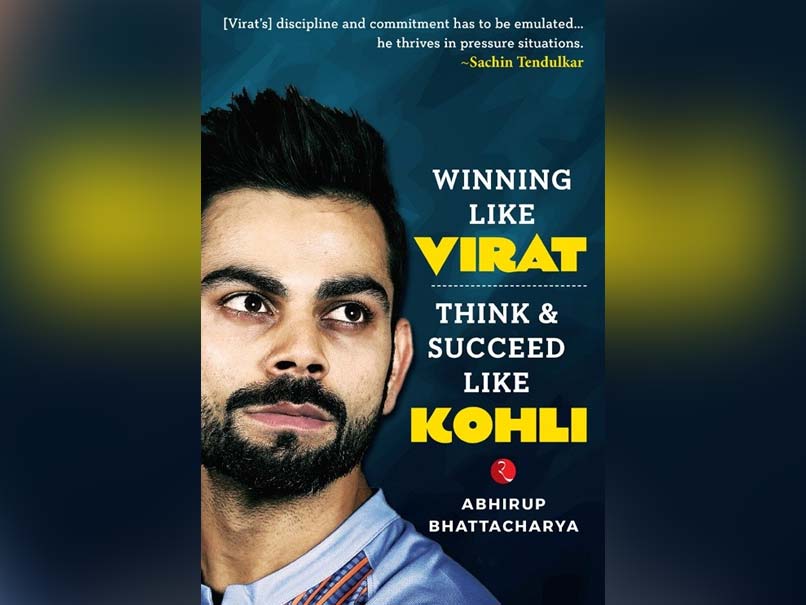 Cover of Abhirup Bhattacharya's book 'Winning Like Virat: Think And Succeed Like Kohli'.
Often we are struck in the midst of a situation where we are unable to accept change and move ahead in our lives. Whether it is our personal life or the professional one, change is the only aspect of our life that stays consistent. As a CEO, one often needs to take tough decisions like selling off a factory or firing employees to cut costs. It is even possible that as the CEO, one might be asked to leave the firm in the wake of an acquisition or hostile takeover. In fact, as the CEO, as glamorous as it may sound, one is indirectly a servant leader where he has to satisfy not just shareholders but also internal stakeholders. This role involves a lot of mental strength and also often involves spoiling friendships and personal relationships. It might also require sacrificing family life to ensure that results are delivered on time.
Virat too has a similar set of challenges. There had been instances of spectators hurling verbal abuses; for example, in Australia during his first tour in 2012. 
Under these circumstances, he has to act in a calm manner and accept the change while ensuring that relations are maintained in a proper manner. Virat responded in the most apt manner by scoring his maiden century unfazed by the verbal abuse at the Adelaide Oval. After scoring his maiden test century, he had the following to say 'To give it back verbally and then score a hundred is even better.'
Performance alone should do the talking. There can be times when the umpire gives an unfair decision; as a player Virat has to accept the decision and move ahead in the innings. In those circumstances, just like a CEO, Virat has to create a vision and instil confidence in the side to win the match with the same vigour. For a strategy to be successful, it is important to understand and define the accountability of all those who are involved. Just like a sales officer is responsible for generating the sales, a cricketer too should understand his role within the team. Virat takes responsibilities for his actions. He believes that it is important to bear the consequences of his action. If we look at the press conferences, he is always the first person to admit his mistakes in case of defeat and owns up to them.
Virat definitely understands the science of branding. He has positioned himself in a way in the consumer's mind that automatically assumes dependability and trust. In fact, quite a few cricketers have a certain image associated with them such as Dhoni (Mr Cool), Dravid (Mr Dependable) and Ganguly (Mr aggressive). Virat captures the consumer's mind by being the single brand that has all the qualities. The growth of Virat as a brand at times is reminiscent of the growth of Facebook. Facebook operates and grows on a domino effect which means that if my friends are there in Facebook, then I too will be joining the platform. Virat too creates a cycle of performance and enhances brand equity in an exponential manner. He is today competing directly not only with cricketers but also with Bollywood celebrities when it comes to advertising revenues.
Virat understands that if his performance dips, the same audience will no longer appreciate his branding instincts. Virat experienced the same after the loss in the semi-finals of the World Cup 2015 against Australia when he and Anushka Sharma faced the ire of the fans. Virat was deeply hurt by the incident and remarked:
To see those reactions after just one match was very disappointing for me personally. It makes you lose faith in a lot of people.
After Virat's poor performance in T20s in March 2016, many fans trolled the actress and blamed her for the team's defeat. Virat stood up for her and tweeted: 'Shame on people for trolling @AnushkaSharma non-stop. Have some compassion. She has always only given me positivity.' The tweet was voted as the most influential tweet of 2016 and received over 39,000 re-tweets with Virat being lauded for standing by her.
However, Virat understands the importance of social media quite well. He has a dedicated team that manages the social media presence for this star cricketer. Let us consider his presence in social media in major networks:
Facebook: 33 million+ fans
Twitter: 13 million followers
LEARNING TIP 
It is important to manage your presence in social media and connect directly with your users.
As a national icon for sports in India, Virat also understands his social responsibilities. He feels that the recognition that has been given to him can be used to promote social causes. As a responsible citizen, he feels it is his right to express himself for the betterment of the society, whether it is women empowerment or pollution in Delhi.
Virat's performance in IPL and captaining a side that comprises players like A.B.de Villiers speak volumes about his skill sets. Though he has not yet been able to win the IPL trophy, he finished IPL Season 9 in 2016 as the highest scorer with four centuries in the season and was awarded the orange cap.
If we consider his approach of leading from the front, there is a lot to be learnt here. In his first Test match as captain against Australia, Virat scored 141 in the second innings (his second century of the match) and though India lost the match chasing a target of 364, he had already proved his mettle. Equally important is the fact that despite knowing that the target was stiff and the match could be lost, he gave it his best effort. He understands that as the captain he needs to lead with his performance. Similarly, as a leader in the corporate boardroom, one needs to understand that unless we ourselves perform, the team will not be able to deliver results. Great leaders always strive to win.
Excerpted with permission of Rupa Publications India from Winning like Virat: Think and Succeed like Kohli by Abhirup Bhattacharya available in bookstores and online.