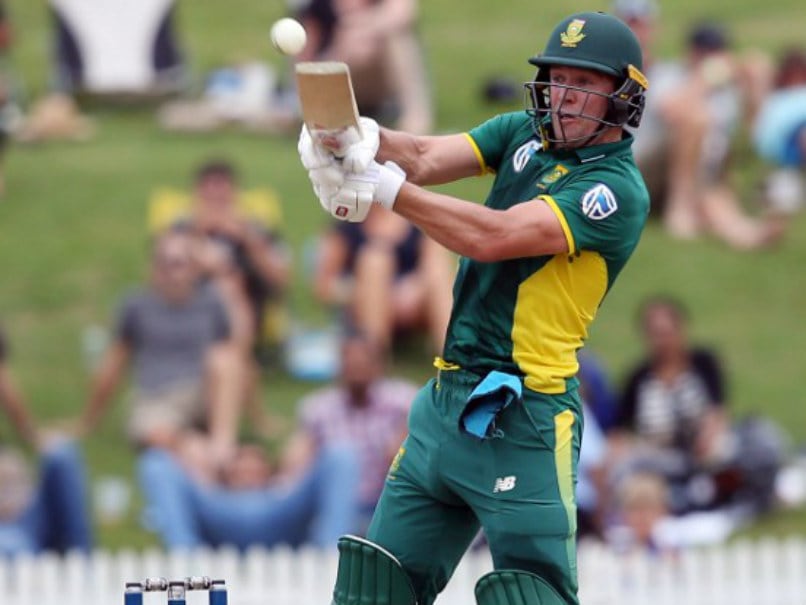 AB de Villiers plays the reverse scoop during the fourth ODI between South Africa and New Zealand.
© AFP
AB de Villiers' calling card in international cricket is 'Superman', thanks to some superhuman things he does on the field. Besides being the holder of some batting records, the South African is known for pulling off outrageous shots and till the time he is on the crease, expect the unexpected. You might have frequently heard of shots like the reverse sweep, upper cut - well, AB de Villiers has now added another never-seen-before shot to his arsenal -- the reverse scoop. During the fourth one-day international between South Africa and New Zealand, fans witnessed the stunning shot and took to Twitter to praise the genius of AB.
What is even more amazing is that De Villiers pulled off impossible shot against one of the best pacers going around the world today -- Trent Boult.
The South African was setting himself to play the reverse sweep but Boult pulled the length back. De Villiers adjusted brilliantly and went through with the shot, which left fans and commentators amazed.
This shot from @ABdeVilliers17 ?? pic.twitter.com/UBN3G0VVaZ

— Jasveer Singh Kharra (@imjsk27) March 6, 2017
This is why De Villiers goes by another name -- Mr. 360. His ability to manufacture a shot and find the gap in any part of the field is unparalleled.
Fans were left in awe of the South African's stunning shot and took to Twitter.
No One Can Do This Better Than AB de Villiers..#REVERSEPULL pic.twitter.com/40HyZwfCjm

— (@Aisha_shabbir) March 6, 2017
Reverse Upper Cut@ABdeVilliers17pic.twitter.com/nXCLrNjSDY

— Arjun !! (@IamArjuun) March 2, 2017
New Zealand went on to beat South Africa by seven wickets with Martin Guptill outshining De Villiers with an unbeaten 180. The South African captain was the Proteas best batsman with an undefeated 72.