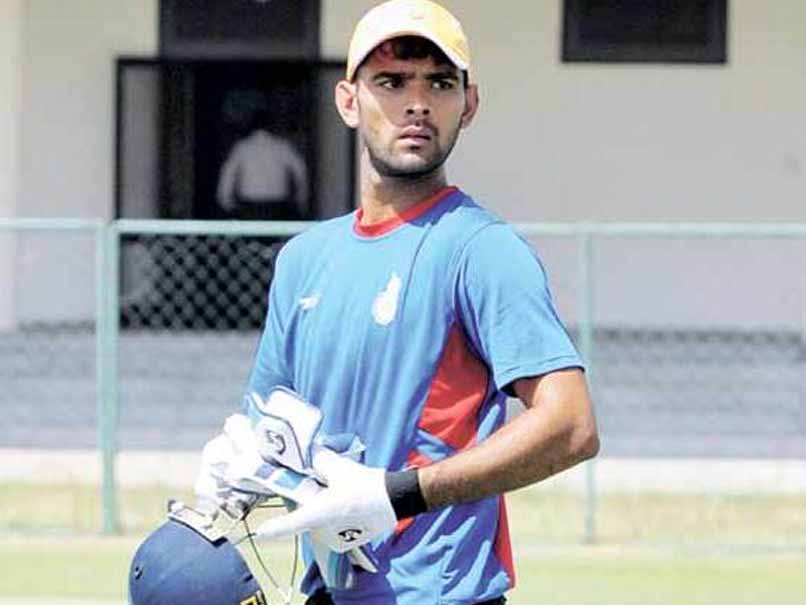 Mohit Ahlawat made history by becoming 1st batsman to score a triple-ton in a T20 match at any level.
© KK Senthil Kumar/Twitter
Mohit Ahlawat, the man who breached the 300-run landmark in a Twenty20 match on Tuesday, said that he has tried to duplicate the batting style of South African batting star AB de Villiers. The Delhi cricketer, who is a wicketkeeper-batsman, revealed that former India captain Mahendra Singh Dhoni is his role model too. Ahlawat smashed an incredible 300 not out off just 72 balls, hitting an unbelievable 39 sixes, in a Twenty20 match at Lalita Park in New Delhi. The 21-year-old has played three first class matches for Delhi.
Ahlawat was playing for Maavi XI against Friends XI in the Friends Premier League when he achieved the astonishing feat. He punished the rival bowlers with 14 fours as his side put 416 for two in 20 overs on the board and won the match by 216 runs.
"I do try to copy AB De Villiers, but naturally one can't. MS Dhoni is also my role model," Ahlawat was quoted as saying by ANI news agency.
"I did not play any different or extraordinary shots, I played my natural game," he added.
With the record innings, Ahlawat created history by becoming the first batsman to score a triple-century in a Twenty20 match at any level.
He was batting on 250 at the end of 18 overs and went to score his last 50 runs in the remaining two overs of the match, including 34 off the last one. He hit five consecutive sixes off the last five balls of the innings.
Apart from Ahlawat his teammate Gaurav went on score 86 runs for Maavi XI.
While Ahlawat debuted in first class cricket against Rajasthan, he also went on to play two more games against Vidarbha and Haryana.
The highest score of Twenty20 cricket, not including club cricket, belongs to West Indies great Chris Gayle who had hit 175 not out in an Indian Premier League (IPL) match for the Royal Challengers Bangalore in 2013. In Twenty20 Internationals, Australia's Aaron Finch holds the record most runs in an innings when he scored 156 against England in 2013.