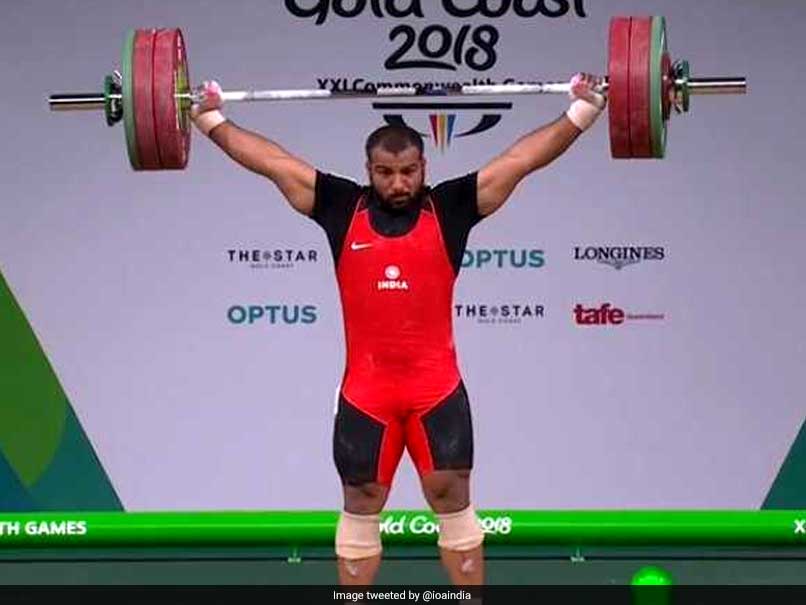 Pardeep Singh won the silver medal in men's 105kg weightlifting event.
© Twitter
India's weightlifting contingent's dream run in the 2018 Commonwealth Games continued as Pardeep Singh clinched the silver medal in the men's 105kg event on Monday. The Indian weightlifter lifted a total of 352kg in Snatch, and Clean and Jerk (152+200) to finish behind gold medallist Sanele Mao of Samoa who lifted a combined weight of 360kg. Owen Boxall took home the bronze medal, lifting a total weight of 351kg. This was India's third silver medal and 13th medal overall at the 2018 CWG in Gold Coast, Australia.
Pardeep, who is the reigning Commonwealth Championships gold-medallist, was involved in an exciting contest with the Samoan weightlifter that had the crowd in Carrara Sports Arena 1 on their feet.
Pardeep failed to lift 148kg in his first attempt but achieved the mark in his second attempt. He then went on to lift 152kg in his third attempt to be among the top contenders in the event. 
Only Mao lifted higher than the Indian weightlifter, successfully registering a lift of 154kg in his final Snatch attempt. 
After the first attempt for both lifters in Clean and Jerk, the Samoan held a 2kg advantage over the Indian.
While Mao managed a successful lift of 206kg in his second attempt, Pardeep failed to lifted 209kg, meaning the Samoan had an advantage of 8kgs.
Pardeep had chance to win gold after Mao failed to lift 211kg in his third and final attempt but the Indian failed to lift the same weight in his third and final Clean and Jerk attempt to settle for the silver medal.