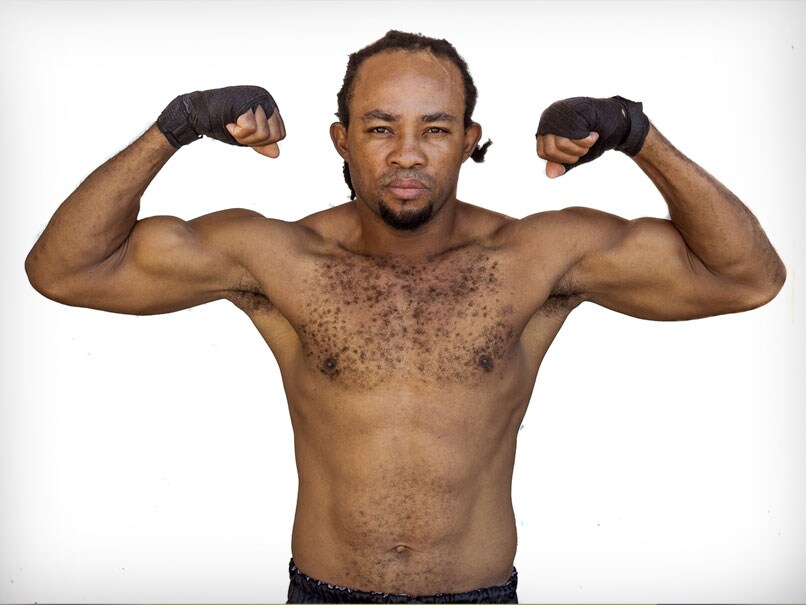 The match between Vijender Singh and Ernest Amuzu will be held on December 23.
© NDTV
Indian boxing star Vijender Singh is all set to defend his WBO Oriental and Asia Pacific super-middleweight titles against Ghana's Ernest Amuzu in the 'Rajasthan Rumble' at the Sawai Man Singh Indoor Stadium in Jaipur on December 23. Unbeaten in nine fights so far, Vijender was last seen in action in August when he defeated China's No.1 boxer Zulpikar Maimaitiali to claim the WBO Oriental title. However, on the other hand, Amuzu enjoys a record of 23 wins (21 knockouts) and two losses from 25 fights. With just a week to go to the mega-event, Amuzu has said that he will take great delight in handing Vijender his first loss and leave him beaten and broken in front of his home crowd.
"I am training very hard daily for 8-10 hours for this fight. I've had good notice of the fight so I'll be prepared for Vijender and whatever he brings into the ring for the fight. I have just heard his name and have never seen him fight. I will take great delight in handing Vijender Singh his first loss and left him beaten and broken in front of his home crowd," Amuzu threatened.
"In fact, I will tell you what I will do to him, I will smash him to the body to loosen him up and then a right hand to knock him out, just watch me on 23rd December," Amuzu asserted.
Vijender, an Olympic bronze medallist, had earlier said that he is really excited about his 10th fight in India and is looking to win his third title in a row.
"I am really excited about having my 10th fight in India in the Pink City of Jaipur. I am training hard in the ring for the last two months and still have three weeks to go for my next fight, so looking forward to winning the third title fight in a row," the Olympic bronze medallist said.
Amuzu, who will be looking to win the 26th pro fight of his career, said that he is an experienced fighter in professional circuit and he will make the Indian realise what it is like to face a real professional boxer.
"I am an experienced fighter in the professional circuit than Vijender. He has never, never met any experienced and tough boxer like me and he will realise what it is like facing a real professional boxer in Jaipur. I know he has an Olympic medal but I have boxed as a successful amateur in Africa winning many tournaments, I also believe I have plenty of good experience in my 25 fights to give a hard time to Vijender Singh," said Amuzu.
"I know that Vijender is a hero there. But I am going to knock your hero out. He doesn't belong in a boxing ring with me. I am insulted that he thinks he can just walk over me and beat me easily. When he is lying on the canvas and I am standing with my hands raised above him he will realise he has made a huge mistake fighting me. He should stick to acting in films as he is just an actor in boxing," Amuzu further added.
The 34-year-old boxer from Ghana reiterated, "So far Vijender has not faced any tough and experienced opponent like me, I am sure that after facing me in the ring he will realise how tough pro boxing is.
"I am ready and fully prepared to defeat Vijender Singh in the early 3-4 rounds knockout win," he added.
(With PTI inputs)