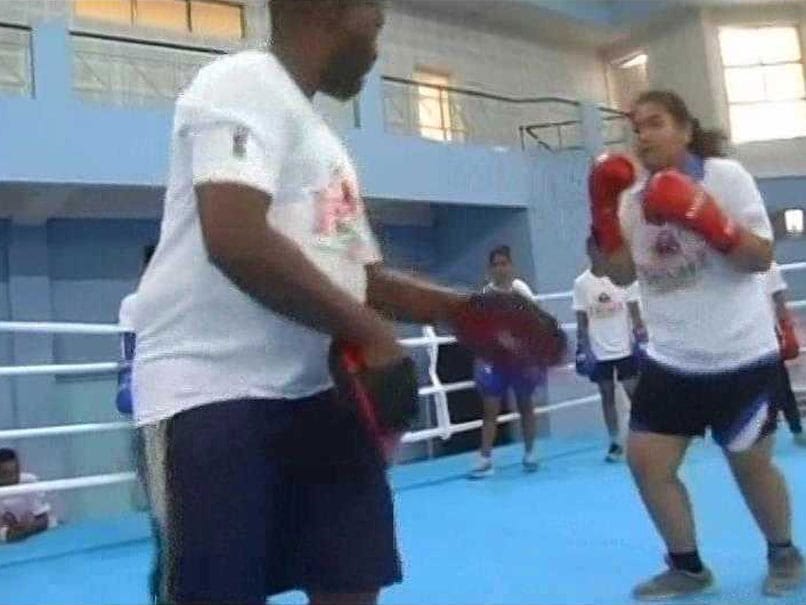 Around 30 coaches have been picked to learn updated coaching methods from Mofu.
© NDTV
Coaching the coaches. That's what Andile Mofu has been up to off late. The 52-year boxing coach is a certified instructor with AIBA, world boxing's governing body, and coached South African pugilists between 1997-2012. Currently in Guwahati for the AIBA Youth Women's World Championships, the man from Port Elizabeth, is sharing tricks of the trade with local coaches. It's a part of AIBA's Gloves Up programme, that aims at grassroot level boxing coaches, rather than elite ones.
"Coaching from grassroots is important," Mofu tells NDTV in Guwahati. "Where did Mary Kom come from? From the grassroot. That's where the talent has to be unearthed from, and for that coaches need special skills. The way you train a 9-12 year old who probably knows nothing about boxing is different from the way you'd teach a medium or elite level boxer," says Mofu.
As a pilot project, around 30 coaches from Assam have been picked to learn updated coaching methods from Mofu at a 3-day long clinic. Many of them, like Tejpur's Shahida Khatun, are still boxers themselves. "I still compete at the district level, but I also teach around 30 girls in my area," she says. " have not attended any course like this before. What they are telling us is that when you teach children from the bottom, you can't jump into advanced methods, because that's what you are used to. Also it's important to become friends with the children while teaching them. If you're very strict, they will be scared of asking you questions and may even stop coming for practice."
The 3-day programme includes theory and practical classes, and has been started at just the right time, says local coaches. "There was no boxing federation for more than 3 years, and many people lost their way," says local coach Abhishek Sah. "They have started this programme with Assam, and will slowly take it to other states too."
AIBA definitely sees India as a potential boxing powerhouse. Within the next few months, India will also host the senior men's and women's boxing world championships. And programmes like this one, will certainly help in honing the talent of many more young boxers across the country.
Topics mentioned in this article
Boxing