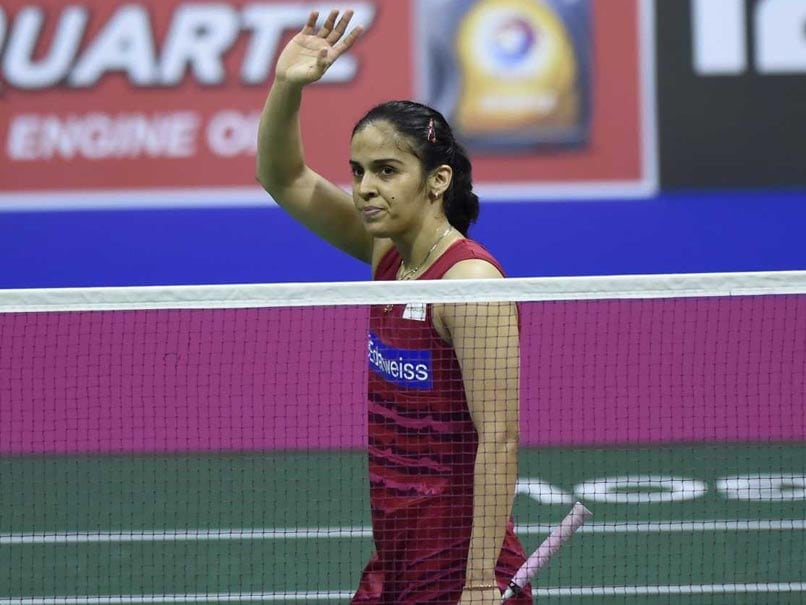 Saina Nehwal put in an inspirational performance but lost 21-12, 17-21, 10-21 to Nozomi Okuhara.
© AFP
Saina Nehwal on Saturday took home a bronze medal as her impressive run at the World Badminton Championship came to an end after a heart-breaking loss against Rio Olympics bronze medallist Nozomi Okuhara of Japan in the women's singles semi-final at Glasgow. Saina, who had won a silver medal two years ago at Jakarta, gave everything in a battle of attrition but Okuhara's never-say-die attitude helped her to outmanoeuvre the Indian in an energy-sapping semifinal clash at the Emirates Arena.
2015 -
2017 -

Saina Nehwal shines at the Worlds again. Her #2017BWC campaign comes to an end but not before she earns a medal for pic.twitter.com/YuTFToFeyR

— BAI Media (@BAI_Media) August 26, 2017
After battling for an hour and 14 minutes, it was the World No. 12 Japanese who managed to eke out a come-from-behind 12-21, 21-17, 21-10 win over the Indian to become the first shuttler from her country to reach the finals of World Championship.
Olympic silver medallist PV Sindhu is the only remaining hope for India at the World Championship. She will take on ninth seed Chinese Chen Yufei in another semifinal later in the day.
It turned out to be a battle of attrition between Saina and Okuhara. The two players have met seven times so far in international badminton with Saina having an upper hand in six of those battles.
The Japanese tried to engage Saina in fast-paced rallies, which were mixed with down-the-line smashes and cross-court angled returns, sandwiched by deceptive drops. A pumped up Saina returned everything thrown at her and came up with the perfect clears to close out the rallies.
The Indian tried to put her rival out of position with her deceptive returns and it helped as she led 9-3 in the opening game, before entering the interval at 11-5 when Okuhara could not return her angled smash and found the net.
Okuhara's fast-paced game did not yield much result early on as Saina fortified her defence and continued to dominate the rallies to lead 17-10. Okuhara lost a video referral next as Saina led 18-10. The Japanese displayed a good net game to grab two points but Saina's small deception took a toil on her rival.
Another electrifying rally ended with Okuhara finding the net as Saina reached eight game points. The Indian then unleashed a body smash to close out the opening game.
After the change of sides, Saina failed to reach for a couple of forecourt returns, helping Okuhara opened up a 4-0 lead early on. The Japanese extended the advantage to 8-4 but she had a few wide strokes and Saina exploited the opportunity to unleash her trademark cross court smashes to claw her way back to 9-9.
However, Okuhara managed to grab a slender 11-10 lead with a cross court net flick which Saina failed to negotiate.
After the break, Okuhara seemed to vary the pace and Saina too faltered with a forehand and backhand return which helped the Japanese take a 14-11 lead.
Saina, however, kept breathing down Okuhara's neck, making it 15-15 when the Japanese found the net and also hit long. Okuhara conceded a point with a service error but a judgement error from Saina at the baseline again gave the Japanese a slender 17-16 lead.
Saina produced a down-the-line smash to level par, while Okuhara unleashed an onrushing backhand flick to lead 18-17 and then an overhead return took her to 19-17.
Saina's smash then missed the sideline to hand over three game points to the Japanese, who sealed it with a cross court return which found the Indian napping.
In the decider, Saina grabbed an early 3-1 lead but Okuhara soon started dominating the rallies. It resulted in five straight points and the Japanese took a 6-3 lead. Two wide shots and a low lift getting buried at net from Saina ensured that Okuhara continued to gather points, reaching 10-3.
Saina's trademark down-the-line smash then once again came to her rescue as she snapped the run of points but Okuhara had a seven-point advantage at the break when the Indian faltered with her net dribble.
Okuhara continued to accumulate points, sometimes using her disguise at the net. Saina periodically managed to win a point here and there but she could not stop the Japanese who led 16-7 at one stage.
Saina kept fighting but she looked a tad sluggish with her movements and lacked precision in final moments as Okuhara managed to move to 19-9.
Saina hit wide again to hand over 11 match point opportunities to Okuhara. The Indian saved one with a drop but the Japanese sealed the issue with another precise return at the baseline.