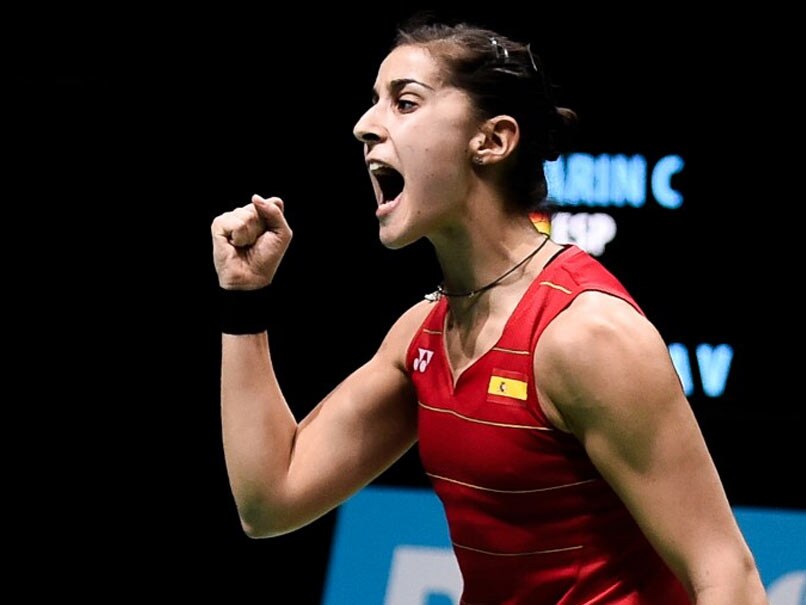 A lot will be expected from Carolina Marin at PBL 2017.
© AFP
Hyderabad Hunters might have finished fifth in the Premier Badminton League 2016 but for the 2017 edition they have gone out and bagged the top women's singles shuttler in the world -- Carolina Marin. The Hunters shelled out a whopping Rs. 61.5 lakh for the Spanish star and a lot will be expected from her after her Rio Olympics heroics.  Besides the Spaniard, Hyderabad Hunters also have two of the upcoming stars of Indian badminton -- Sameer Verma and B Sai Praneeth, both of whom will be joined by the experienced Rajiv Ouseph in the men's singles events.
 
Hyderabad Hunters start their PBL 2017 campaign against Awadhe Warriors on January 2.
 
TEAM OWNERS:
 
Agile Security Force Pvt. Ltd
 
HOST STADIUM:
 
Gachibowli Indoor Stadium
 
PLAYERS:
 
B Sai Praneeth, Sameer Verma, Rajiv Ouseph - men's singles; Carolina Marin, Sree Krishna Priya - women's singles;  Satwik Sai Raj, Tan Boon Heong, Tan Wee Kiong - men's/mixed doubles; Chau Hoi Wah, Meghana J  - women's/mixed doubles.
 
PROSPECTS:
Carolina Marin will surely bring class and success to the Hyderabad Hunters team but the Spaniard is not the only player that the franchise will be relying on. In B Sai Praneeth, Rajiv Ouseph and Sameer Verma they have three strong men's singles shuttlers who will bring a lot to the table. In doubles too, they have a strong line-up. The presence of the current World No. 1 Tan Wee Kiong and the former World No. 1 Tan Boon Heong make the Hunters a very dangerous outfit. India's fast-rising doubles star Satwiksairaj Rankireddy is also a part of this team.