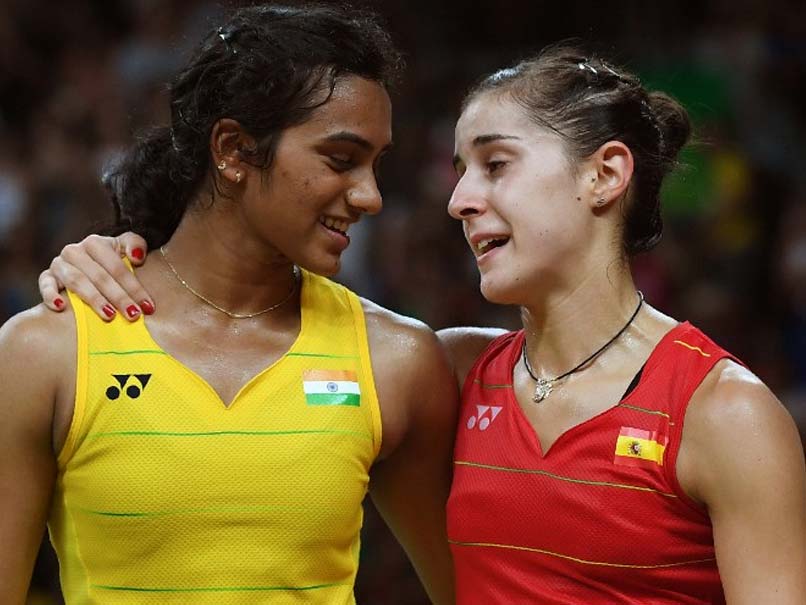 PV Sindhu and Carolina Marin will be some of the big names in action at PBL 2017.
© AFP
This will be the third edition of the tournament, and following PV Sindhu's exploits at the Rio Olympic Games, is going to be followed keenly in India.
The event was first launched in 2013 as the Indian Badminton League. After a hiatus of over two years, the tournament was rechristened to Premier Badminton League in 2016.
The third season will see Hyderabad hosting the opening round, with Mumbai, Lucknow, Bangalore and Chennai holding the next few legs, before the final is held in Delhi.
 
Here is a look at the previous two seasons of the Premier Badminton League:
 
Indian Badminton League 2013: Hyderabad Hotshots lift title
 
The first edition saw featured six teams: Mumbai Marathas, Pune Pistons, Banga Beats, Hyderabad Hotshots, Delhi Smashers and Awadhe Warriors. Barring Delhi Smashers and Banga Beats, the other four teams made it to the knockout stages, with Hyderabad Hotshots topping the league phase.
Captained by Saina Nehwal, the Hyderabad side dominated the semifinals against Pune Pistons and defeated Awadhe Warriors, which was led by PV Sindhu, in the final to become the first ever champions of the tournament.
The Mumbai Marathas team, which was captained by Malaysian star Lee Chong Wei and featured a strong line-up, failed to make it to the final, losing to Awadhe Warriors in the semis.
 
Premier Badminton League 2016: Delhi Acers come out on top
 
After a couple of postponements to the second season, the tournament returned as the Premier Badminton League in 2016, with some major changes in the teams featuring in the event.
 
Awadhe Warriors, Bangaluru Topgun, Chennai Smashers, Delhi Acers, Hyderabad Hunters and Mumbai Rockets were the six participating teams, with Hyderabad and Bengaluru getting knocked out in the league phase of the event.
 
Delhi Acers, which featured India's Ajay Jayaram, among others, edged out Chennai 4-3 in the semis, before beating Mumbai by a similar scoreline in a closely-fought final.
 
Hyderabad Hunters, which boasted of some famous names like Lee Chong Wei and Carolina Marin, failed to match expectations during the season, and finished the league phase in the fifth place with 11 points.