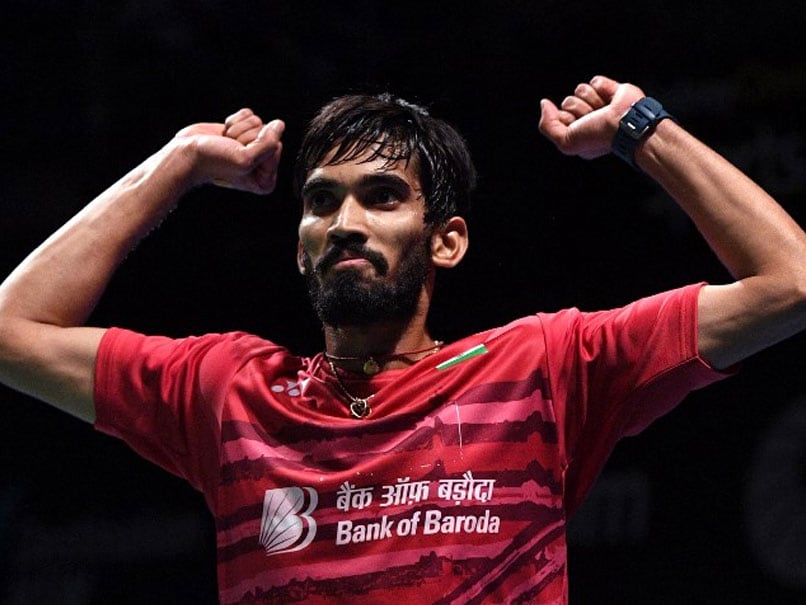 Kidambi Srikanth became the first Indian to win a French Open Superseries title.
© AFP
Kidambi Srikanth made history by becoming the first Indian male to win a French Open Superseries title by beating Kenta Nishimoto in straight games in the final of tournament on Sunday. Not just that, Srikanth, seeded eighth in the tournament, joined an elite group of male shuttlers to win four Superseries titles in a calendar year. Previously, superstars Lin Dan, Lee Chong Wei and Chen Long were the only three players to have accomplished this feat. Srikanth, who had won the Denmark Open Superseries title last week, thrashed his French Open final opponent 21-14, 21-13 in a match lasting just 34 minutes.
Srikanth, who had beaten compatriot HS Prannoy in the semi-final, was in a clinical mood and completely dominated the lop-sided final from start to finish.
The Japanese shuttler had no answer to Srikanth's powerful smashes and deft net play. Nishimoto was just the seventh qualifier to reach a men's singles Superseries final in 11 years but found himself completely outclassed by the rampaging Indian.
Srikanth, who had defeated the Japanese in the first round of this year's Singapore Open Superseries, took his head-to-head against Nishimoto to 2-0.
The 24-year-old Indian had dished out a similar performance in the Denmark Open Superseries final against Lee Hyun Il.
Going by Srikanth's current form, it was expected to be a one-sided summit clash and it turned out to be one, except for the first few points of the opening game which was a neck-and-neck fight between the two shuttlers.
It was Nishimoto, who started brightly to race to a 9-5 lead before Srikanth fought back to draw level at 9-9. From there on it was no looking back as the Indian used his court coverage and superior technique to take a 14-10 lead.
Nishimoto did manage to take some points to reduce the margin to 15-14 before Srikanth used his experience at the highest level to pocket six straight points and win the first game.
Srikanth continued his good form in the second game and won five straight points to take a commanding 10-2 lead. Nishimoto tried his best to force a comeback and managed to reduce the margin to 13-8 but the Indian showed his class and superiority in crunch situations to keep his lead intact and win the game 21-13 and claim his second consecutive title in as many weeks.
(With PTI inputs)