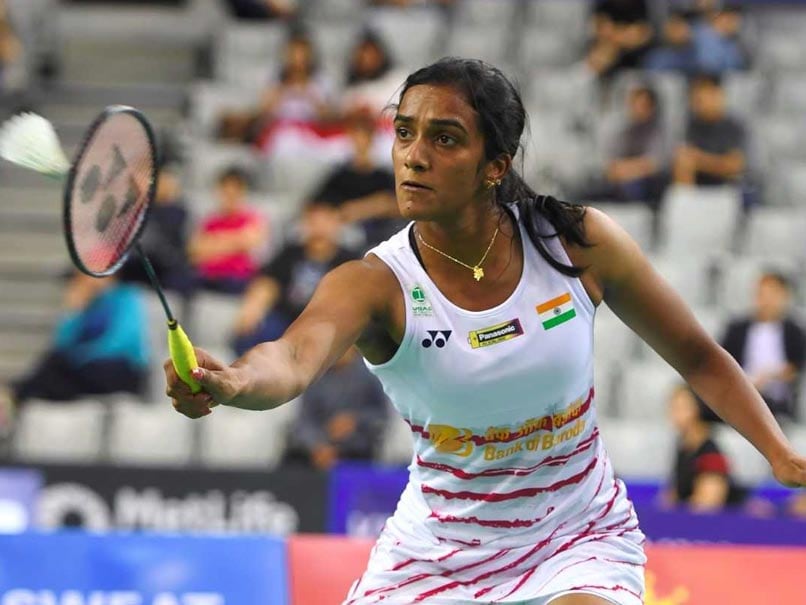 PV Sindhu won in straight games in the semi-finals against China's Chen Yufei.
© AFP
World No.3 PV Sindhu kept the Indian challenge alive in the Dubai Super Series Finals as she beat China's Chen Yufei in the semi-final on Saturday to set up a summit clash with top seed Akane Yamaguchi. In a match that lasted 58 minutes, Sindhu beat Yufei 21-15, 21-18 with pure aggression and skillful play and also remained unbeaten in the tournament. From the word go, Sindhu was in her element as she maintained a healthy lead throughout the game and denied her opponent's ploy to throw her off her game. In the first game, Yufei tried clawing back in the contest with beautiful net play mixed with her agility but Sindhu had other plans as she continued to break the Chinese star's momentum.
Congratulations to PV Sindhu for advancing into the final of #DubaiSSF. Keep making India proud and go for gold tomorrow! ??

— BAI Media (@BAI_Media) December 16, 2017
In the first set that lasted 24 minutes, Sindhu displayed pure aggression as she breezed through with clean and crisp smashes down the line. At all times in the first game, Sindhu maintained a solid points gap and did not let Yufei gather her momentum. At the break, Sindhu led Yufei 11-10 following which she accelerated and did not look back. China's Yufei despite her beautiful placements and net play could not counter the Indian shuttler's reach as the latter picked up the shuttle with ease.
INTO THE FINAL!??

A resounding win for PV Sindhu over Chen Yufei makes her only the second Indian singles player to reach the last stage of #DubaiSSF ????

She wins 2?1?-1?5?, 2?1?-1?8? pic.twitter.com/GVjAjEEmAh

— PBL India (@PBLIndiaLive) December 16, 2017
After wrapping up the first game quickly, Sindhu was confident at the beginning of the second game but her Chinese opponent kept her on her toe by equalling every point of the game. Like the first game, the second too consisted of long rallies which drained the energy out of both the players. Sindhu led her opponent 7-3 for the first time in the second game with a vicious body smash but Yufei took control of the game kept picking points at crucial junctures. Sindhu, on the other hand, kept her calm and led the second game 11-8 with a three-point advantage.
However, Chen Yufei equalled the score at 15-15 with a powerful smash down the line. The World No.8 continued to fight but could not counter Sindhu's anticipation and drop shots. The second game of the match saw the longest rally of 57 shots which Yufei won to trail 17-19. Yufei fought valiantly but went down fighting 18-21 in the second game which lasted 34 minutes.