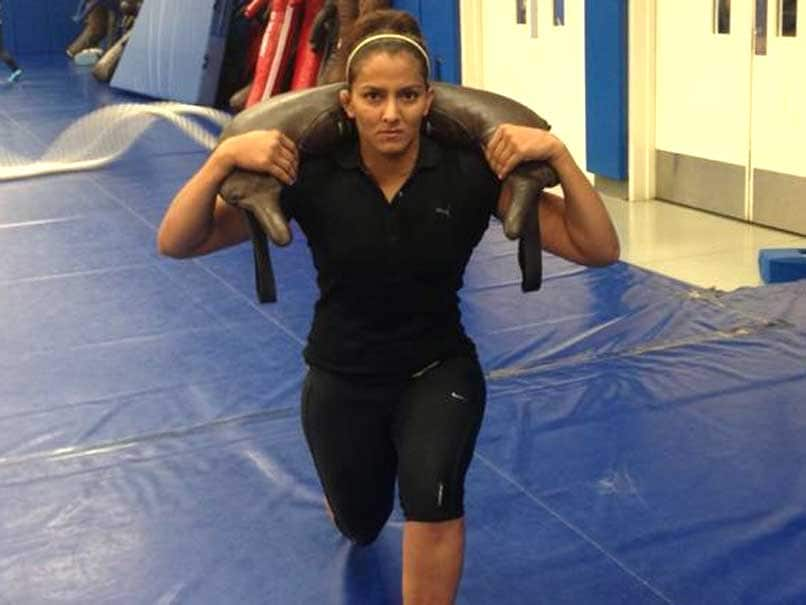 Geeta Phogat will come back to Wrestling after a long injury lay-off
© Facebook
Wrestler Geeta Phogat, who is again in the limelight for the film 'Dangal', on Tuesday said that she doesn't want to go through the hard days again she had gone through in the childhood days.
"We had a very hard training during our childhood and I don't want to live it again. There were so many times when I felt like running away from the 'akhada', she said in New Delhi.
But now that we are bearing the fruits of all the hard work, we understand its value," recollected Geeta after the unveiling of the new logo and squad of the Uttar Pradesh franchise -- UP Dangal -- for PWL season 2.
Phogat, who will make a comeback in the Pro Wrestling League after a long injury lay-off, said that the pressure of coming back is nothing compared to the "tough training" she and her siblings went through during their formative days.
"I am under a little pressure as I am making a comeback after a long time but I am confident as I have a very strong base and never shy away from my training."
Inspired by the story of Phogat sisters -- Geeta and Babita -- and their hard taskmaster father Mahavir Singh, Aamir Khan-starrer 'Dangal' has set the cash registers ringing at the the box office.
Asked if she felt bad about being recognised more after the release of the movie than when they brought laurels to the country, Geeta confessed: "What I did in 2012 (won a bronze at the World Championship) or 2010 (gold in Commonwealth Games), I am getting recognised for it today.
"Obviously, it feels a little bad that we are not being recognised for our wrestling but more now that a movie is made on our lives."
Geeta will be facing the Rio Olympics bronze-medallist Sakshi Malik, representing the Delhi franchise at the PWL-2, but the 28-year-old said she was all prepared to take on anyone in her weight category -- 58kg.
"Be it Sakshi or Tunisia's Marwa Amri (also Rio Games bronze medallist), I am prepared. I have been training. Sometimes it boils down to a move or two and that makes all the difference. One never knows how a bout is going to pan out and even in last 2-3 seconds things can change. It's all about applying a technique. And I am working on it," she explained.
With the release of Dangal, Geeta and Babita are being seen at a number of places along with the cast of the movie but both Geeta and Babita insisted that they were still taking out time for their training.
"Yes, we have been busy with the interviews and all the promotion of the movie but still we make sure to train at least once everyday. Ideally we train twice a day. We cannot ignore our wrestling as whatever we are today is because of that. We have to give time to training no matter what," Babita, who is also a part of the UP Dangal team, said.
Babita said she was looking forward to learning new techniques from foreign wrestlers and also gain valuable experience from the PWL, starting January 2.
"I think we have a strong team this season. We have some good foreign wrestlers in our side and we are looking at learning a few tricks of the trade from them," said Babita.
(With inputs from PTI)