Story Progress
Back to home
Pakistan vs India Live Score, Over 1 to 5 Latest Cricket Score, Updates
Live Updates of Today Match between India vs Pakistan from Old Trafford, Manchester. Check commentary and full scoreboard of the match.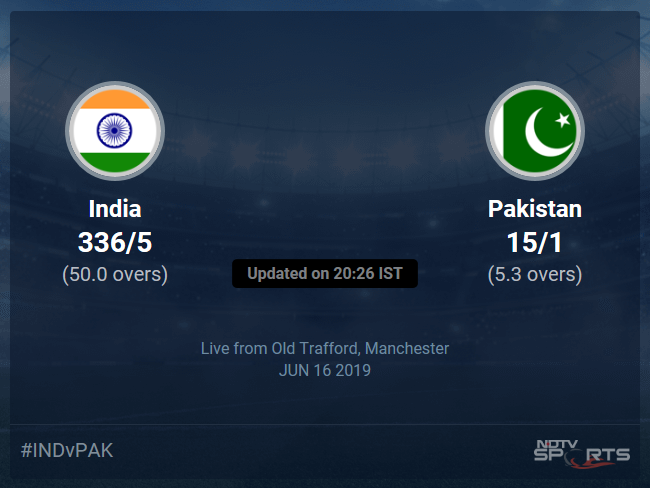 PAK vs IND Latest Score
4.6 overs (1 Run) Some movement again off the deck. It's on a good length around off and shapes back in a shade, Babar stays back to defend but it takes the inside half and rolls on the leg side. A single to get off the mark. Eventful over, one run, one wicket and some injury concern for India in it.
4.5 overs (0 Run) OUT! Trapped right in front! Bhuvi going off has not hurt India much, in fact Shankar has hit the jackpot with his very first delivery in the World Cup! Nothing extraordinary about this delivery. It's full and around leg, quite straight but there is a drastic drop in pace. Imam, who was used to playing faster ones until this one, fails to adjust and is late into his shot. He tries to flick but misses and is rapped on the pads. The appeal goes up and so does the finger. The Indian players are ecstatic. Vijay draws first blood and Pakistan lose their reliable opener. The Ball Tracker later on confirms that it's a fair decision from the umpire and Imam was right in not taking the DRS.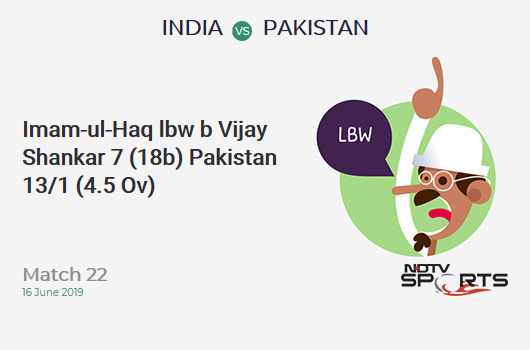 4.4 overs (0 Run) Another outswinger gets Imam in all sorts of trouble. This one is pitched on and around off at 137 kph and nips away, Imam just plays the line and doesn't follow it. Bhuvi is showing exceptional control over his art.
4.3 overs (0 Run) Lands it on middle and off, Imam has defended it by getting right behind the line of the delivery.
4.2 overs (0 Run) That's a real beauty by Kumar! He gets closer to the line of off stump and takes the ball away with a great seam position. Imam can do nothing about it and ends up missing it again. Outstanding bowling from both the Indian pacers.
4.1 overs (0 Run) Kumar speeds in with the sunshine on his back. He angles across a good length delivery outside off, Imam without any footwork pushes inside the line and misses.
3.6 overs (0 Run) Landed outside off, this is left alone.
3.5 overs (0 Run) Through him! Missed the bat, missed the pad, missed the stumps! Jasprit Bumrah is a class act, isn't he? This was pitched outside leg and Zaman looked to flick it through the leg side. But the ball pitched and zipped off the surface, to beat everything.
3.4 overs (1 Run) Nicely done again. Waits for the ball to come to him, taps it towards cover, sees there is a small gap and calls his partner through for a quick single.
3.3 overs (0 Run) Well played again, good stride forward, to meet the full ball and stroking it towards mid off.
3.2 overs (0 Run) On middle and leg, defended to the leg side.
3.1 overs (0 Run) On a good length around middle, Imam jumps with the bounce and looks to tuck but gets a thick inside edge onto his pads.
2.6 overs (1 Run) Shortish and around leg, Imam goes on the back foot and pulls it behind towards long leg for one. 6 from this over in spite of a boundary in it!
2.5 overs (4 Runs) FOUR! Shot! Kumar overpitches a bit on this occasion. He was trying an inswinger but the line turns out to be too straight and Imam flicks it firmly to the deep mid-wicket fence.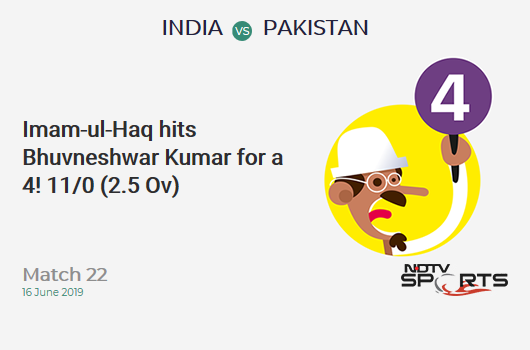 2.4 overs (0 Run) Nicely covers the line and defends it off his front foot.
2.3 overs (0 Run) Hurries up the southpaw with his extra pace again. It's delivered in the line of the stumps, angling in, Imam tries working it around but misses to get hit high on the front leg.
2.2 overs (0 Run) Play and a miss! Kumar this time clocks 144 kph and delivers it short outside off. Imam flashes his bat at it but fails to make any connection. Beaten for pace!
2.2 overs (1 Run) Wide! Wrong line on this occasion. Kumar goes for extra pace and loses his line. Clocks in the 140s kph but it's down the leg side. Imam tries flicking but misses. There was some movement after it went past the batsman.
2.1 overs (0 Run) Good length ball close to off, Imam plays it close to his body and plays it out from the crease to covers.
1.6 overs (0 Run) Landed outside leg, nicely played with a still bat towards mid-wicket.
1.5 overs (0 Run) Landed outside off, left alone.
1.4 overs (0 Run) Beats the outside edge this time. 139 kph, on a length, outside off, zipping away off the pitch, Fakhar flirts with it but without any feet movement and misses. Replays show that the ball landed on the deck and then moved away.
1.3 overs (4 Runs) FOUR! That is a gift and it gives Pakistan their first boundary. A full toss, wide outside off, Zaman reaches out and drives it through the covers.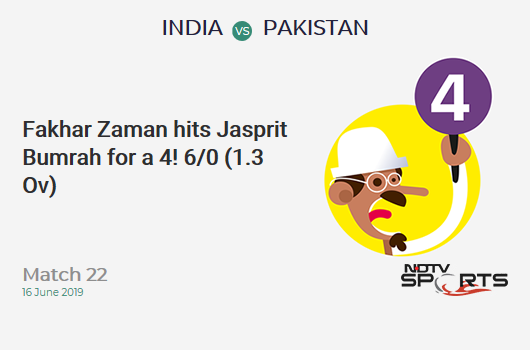 1.2 overs (0 Run) Very full, missing the batsman's flick, hitting the pads but pitched outside leg.
1.1 overs (0 Run) Bumrah too, starts off on the pads, Zaman tucks it towards mid-wicket.
0.6 over (0 Run) Beauty of a delivery. Considerable movement off the surface this time. Kumar lands it on a good length close to off stump, Imam pushes inside the line and gets beaten by the away shape. Fine first over by Bhuvi!
0.5 over (0 Run) Better line and length from Kumar. Keeps it on a length and just outside off, Imam punches from the crease but finds the cover fielder.
0.4 over (1 Run) Fakhar also gets off the mark with a gentle nudge off his hips behind square leg. One more run added to the total.
0.3 over (0 Run) Kumar goes closer to the off stump line and delivers it on a fuller length, Fakhar covers the line and keeps it out to the off side.
0.2 over (0 Run) Back of a length delivery in the channel outside off, angling away from the batsman at 134 kph, Zaman watches it closely and shoulders arms.
0.1 over (1 Run) Starts with a good length delivery around leg, Imam turns it off his pads behind square leg and gets off the mark with a run. Pakistan are underway!
Topics mentioned in this article