Story Progress
Back to home
West Indies vs Australia Live Score, Over 46 to 50 Latest Cricket Score, Updates
Live Updates of Today Match between Australia vs West Indies from Trent Bridge, Nottingham. Check commentary and full scoreboard of the match.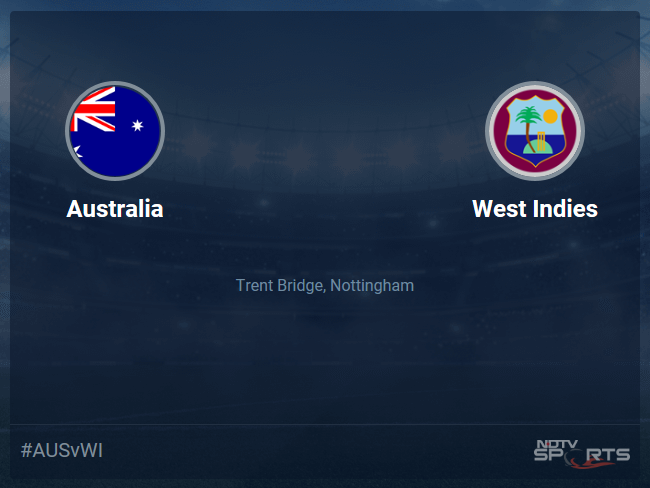 WI vs AUS Latest Score
49.6 overs (4 Runs) FOUR.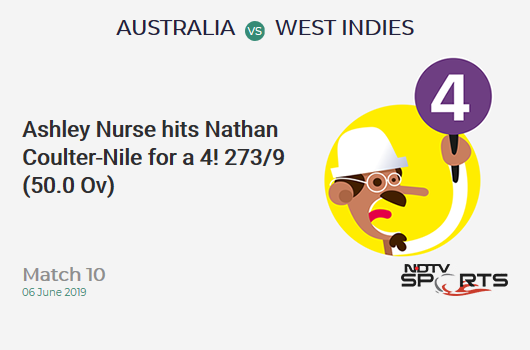 49.5 overs (4 Runs) FOUR.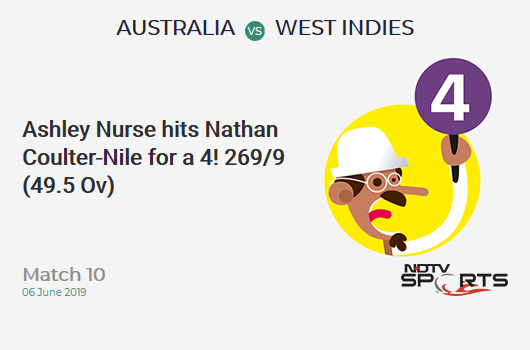 49.4 overs (4 Runs) FOUR! Fuller in length and outside off, Nurse drives this time and finds the gap at covers for a good-looking boundary.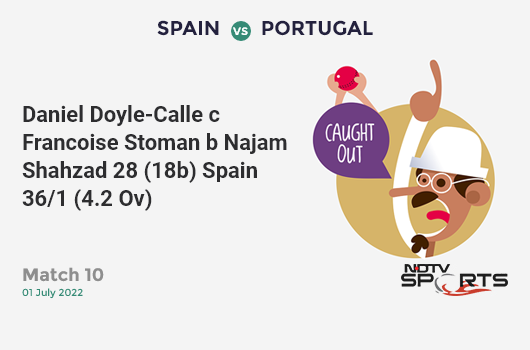 49.3 overs (4 Runs) FOUR! Too little too late. Short and on middle, pulled behind square leg and it raced away to the fence.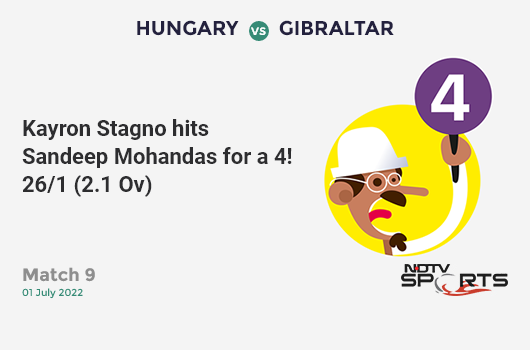 49.2 overs (0 Run) Short and going down the leg side, Ashley tries to pull but misses and it deflects off his arm-guard to thigh pad before looping to the keeper. Carey collects and appeals but the umpire has shut his shop for the day.
49.1 overs (0 Run) Fullish and outside off, Nurse drives it off his front foot to mid off.
48.6 overs (0 Run) Defended off the front foot by the batsman presenting the full face of the bat.
48.5 overs (1 Run) Brilliant effort and awareness shown by Maxwell! Short in length on middle, Nurse somehow gets on top of the bounce and pulls it to deep square leg. Stoinis in the deep runs across to his left and puts in a premature dive. Still gets a hand to it but ends up parrying towards the rope. Now, the brilliance of Glenn comes into play. He speeds across to his right from deep mid-wicket, gets down low at the right time and flicks it inside. Saves three runs for his team.
48.4 overs (0 Run) Gets forward to a full ball and drives it back to the bowler.
48.3 overs (0 Run) Fuller in length on middle, Nurse drives it off the inside half towards wide mid on.
48.2 overs (0 Run) A yorker this time, around off, Ashley digs it out back to the bowler.
48.1 overs (0 Run) Good length ball on off, Nurse defends it off his back foot. 33 needed off 11 balls.
47.6 overs (0 Run) A yorker on middle at 147 kph, Oshane does well there to have his bat down in time. End of an exemplary spell by Mitchell Starc - 10-1-46-5!
47.5 overs (0 Run) Slants in a full ball on off at 147 kph, Thomas is forward and defends it solidly.
47.4 overs (0 Run) A corker of a yorker around leg, angling down, Thomas fails to dig it out and it goes behind to the keeper.
47.3 overs (0 Run) OUT! Stumps are shattered! Starc gets his 6th ODI fifer and is all pumped up. What an impact bowler he is when he gets it right! Cottrell exposes all his stumps even before the bowler has delivered. Starc keeps it in line at 143 kph, Sheldon swings and misses to find his stumps rattled. No Sheldon, you cannot do that against this bowler.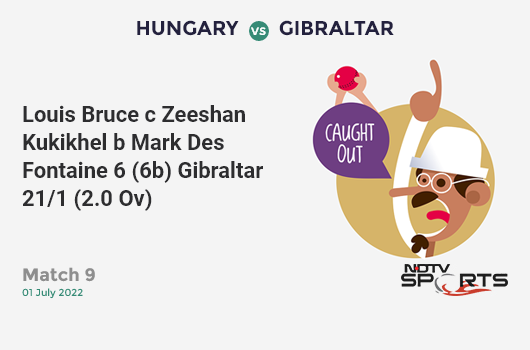 47.2 overs (1 Run) Full and fast it is. Angling down the leg side, Nurse fails to flick and it goes off his pads. They cross for a leg bye.
47.1 overs (0 Run) Starc speeds in from 'round the wicket and hurls a full toss outside off, Nurse swishes and misses.
46.6 overs (1 Run) Knocks a full ball down through mid on for a run.
46.5 overs (1 Run) The batsman works it down the leg side. They pick up a single.
46.4 overs (1 Run) Shout for an lbw! Not given. Stoinis wanted but Finch is not taking it. A full toss on off, Nurse tries hitting across the line but misses. He is hit on the pads, the bowler appeals but the umpire shakes his head. The replays detect a big inside edge. Good call by Finch who also got some help there from Smith, we feel as they were seen having a word. The batsmen for the record crossed.
46.3 overs (0 Run) Beaten! Stoinis smartly follows the batsman down the leg side with a fuller length ball. Nurse gives the charge and tries to hoist it over the bowler's head but fails to make any connection.
46.2 overs (0 Run) Stoinis goes short this time, around middle and leg, Nurse allows it through hoping for a wide. Not given.
46.1 overs (0 Run) A yorker outside off, Ashley tries his best to dig it out but fails to connect.
45.6 overs (0 Run) OUT! Starc, you beast! Two wickets in the over and this match has completely turned in the favour of the Aussies. He hurls in a short delivery around the rib cage, Holder stands tall to pull but the bounce gets big on him and he ends up gloving it towards short fine leg. Adam Zampa takes an easy catch and this is wicket number 150 in ODIs for Mitch - fastest to reach this mark. Meanwhile, a disappointed Holder walks back leaving his team sinking.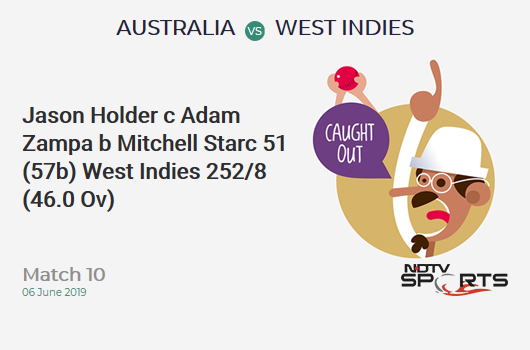 45.5 overs (0 Run) Full toss again, on the slower side, Holder swishes and misses.
45.4 overs (0 Run) Nearly a yorker on middle, Holder digs it out at the last moment.
45.3 overs (0 Run) OUT! Brathwaite holes out! Starc outsmarts the big guy with a slower one. Looks for a yorker but it turns out to be a low full toss on middle. Carlos though has not picked the variation in pace and is early into the swing of his bat. It catches the toe end and flies straight down to Finch at long on who makes no mistake. The Aussies won't go down without a fight. 37 needed off 27 balls.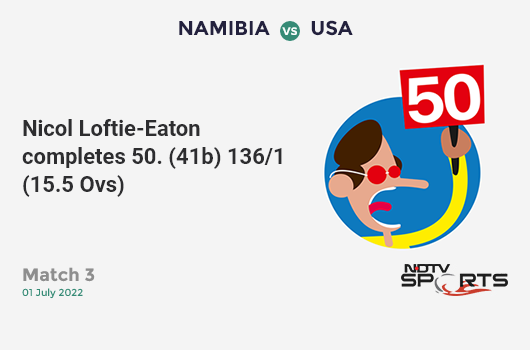 45.2 overs (0 Run) Played to the point region by the batsman. No run.
45.1 overs (1 Run) Lands a length ball on middle and off, Holder brings down an angled bat and pushes it to the right of the point fielder for a single.
Topics mentioned in this article