Story Progress
Back to home
West Indies vs Australia Live Score, Over 36 to 40 Latest Cricket Score, Updates
Live Updates of Today Match between Australia vs West Indies from Trent Bridge, Nottingham. Check commentary and full scoreboard of the match.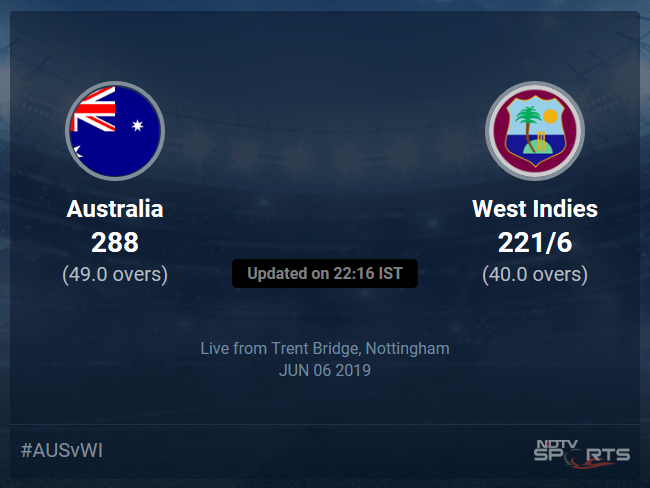 WI vs AUS Latest Score
39.6 overs (0 Run) Play and a miss on the last ball to complete the 40th over.
39.5 overs (4 Runs) FOUR! Gets one on the middle of the bat and sends it over mid-wicket. A length ball has been angled into him around off, Holder swings his bat and fetches a boundary for himself.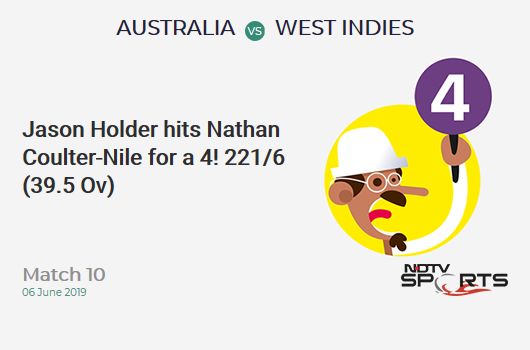 39.4 overs (0 Run) Lands it on a length around off, Jason stays back and defends it to the off side.
39.3 overs (0 Run) Too full in length around off, Jason pushes it down off the inner half to mid on.
39.2 overs (0 Run) Back of a length ball on middle, Holder tries to pull it but misses and is hit on the body.
39.1 overs (0 Run) Good length delivery outside off, Holder pushes inside the line and misses.
38.6 overs (1 Run) On middle and leg, worked through square leg for a single.
38.5 overs (0 Run) OUT! Where is the ball? Where is the ball? It is Maxi who has quietened all! The entire stadium has been silenced. Dre Russ has come. Dre Russ has gone. The game opens up again. This is the way he plays - if it comes off, it is great. Else, it looks bad. One might argue there was no need for this. But on the flip side, with the off side up, Russell thought I will go over the off side. Starc smartly changed the pace, bowled a slower one but Russell was already through his shot. Looked to go inside out but all he managed was a top edge. Now here is where Glenn Maxwell came into play. He raced behind from point, ran after it, kept his eyes on the ball, circled under it, lost it for a while but then eventually took it. The Australians are pumped up. They will feel they are on top now. But the match is not over yet. 73 more needed from 67 balls.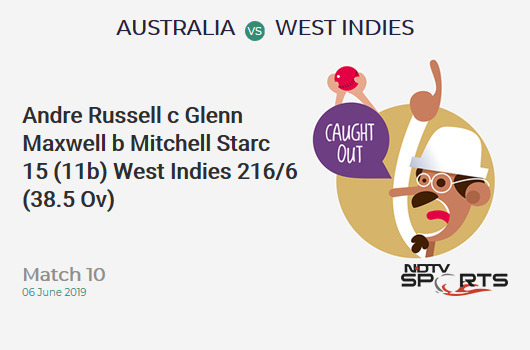 38.4 overs (4 Runs) FOUR! Starc overpitches around off, Russell goes hard at it and spanks it down the ground through mid off for a cracking boundary.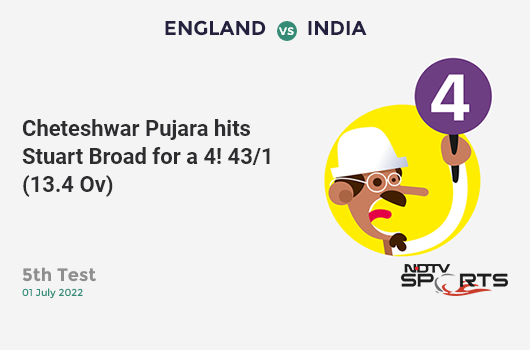 38.3 overs (2 Runs) Two leg byes! Starc smartly follows the batsman down the leg side with a shortish ball. Russell tries working it around but misses. It clips his thigh pad and speeds behind. Coulter-Nile in the deep dives to stop two runs for his side. Good effort.
38.2 overs (0 Run) Starc alters his length to go short this time. Around leg, Russell hops back again to play the pull shot but fails to connect.
38.1 overs (0 Run) Swing and a miss! Starc delivers it fuller and just outside off, Russell backs away and tries to force it through the line but misses.
37.6 overs (1 Run) Tossed up ball around leg, Russell makes space and drills it down to long on for a run. 12 from the over, 79 needed off 72 balls.
37.5 overs (0 Run) Very full and on middle, Russell digs it out back to the bowler.
37.4 overs (4 Runs) FOUR! Russell goes again, this time straight over the bowler's head and it's a one bounce boundary. Flatter and fuller on middle, Andre clears his front leg and clobbers it down the ground. It falls just before the fence and the umpire after getting confirmation from the third umpire, signals four.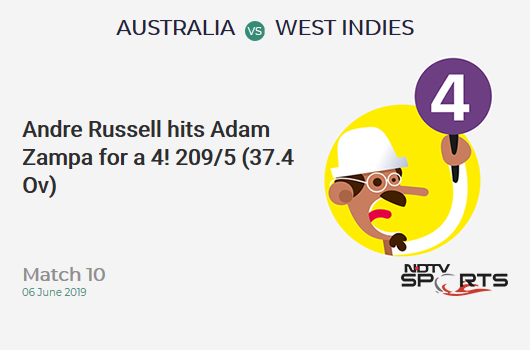 37.3 overs (0 Run) Quicker one, fuller and on off at 100 kph, Russell blocks it from the back foot.
37.2 overs (6 Runs) SIX! Russell has sent this out of the stadium! This is what the crowd has come to watch! Zampa delivers a full ball around off, Andre latches onto it and launches it over long on. Onto the roof and out of the park. 1000 ODI runs for Andre Russell as well.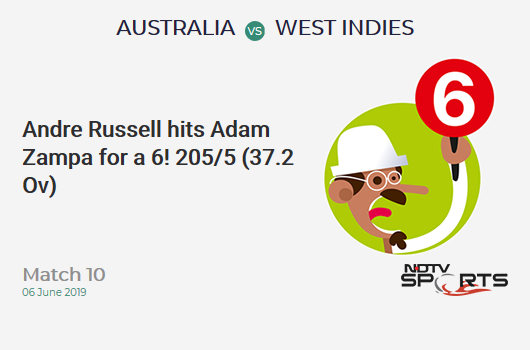 37.1 overs (1 Run) Flighted delivery, too full and too wide outside off, Holder reaches out for it and forces it down to sweeper cover for a single.
36.6 overs (1 Run) Brings down a straight bat to a full ball and pushes it back past the bowler for a single. 7 from the over, 91 needed off 78 balls.
36.5 overs (0 Run) Starc invites the West Indian skipper again to have a go at the pull shot. This time Holder decides to duck under the bouncer.
36.4 overs (6 Runs) SIX! Big top edge and it has gone all the way! Starc bangs in a short ball on middle and leg, Holder takes the challenge to pull it across the line but fails to middle his shot. It flies off the top edge and clears fine leg with ease.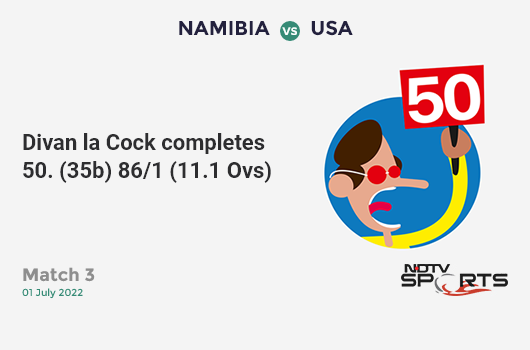 36.3 overs (0 Run) Beaten again, this time on the drive! Starc once again takes it away with the angle, the length is fuller and Jason tries to drive. Misses completely.
36.2 overs (0 Run) Beaten! Starc angles across a back of a length ball around off, Holder sticks back to push inside the line and misses. Almost edged it behind.
36.1 overs (0 Run) Lands it on a length around middle, Holder defends it back to the bowler.
35.6 overs (0 Run) On middle, punched back to the bowler.
35.5 overs (1 Run) The googly, on middle, skids through after pitching, Jason is a bit late on his flick and mistimes it through square leg. A run taken. Had he missed this, even a review would not have saved him from being adjudged LBW.
35.4 overs (0 Run) Tossed up outside off, Holder drives it sweetly but finds Aaron Finch at cover.
35.3 overs (0 Run) NOT OUT! Zampa lets out a well tossed up delivery and lands it full around leg, Holder goes down to sweep but misses and is hit on the back leg. They appeal and the umpire agrees after thinking for a while. Holder has a chat with his partner before taking the referral. The replays roll in and they find that it's going down to miss the leg stump. The pitching was fine and there was no inside edge but the most important part wasn't with Australia. Jason survives.
35.2 overs (0 Run) Flatter and shorter on off, Holder gets back and punches it to covers.
35.1 overs (0 Run) Defended off the front foot by the batsman presenting the full face of the bat.
Topics mentioned in this article