Story Progress
Back to home
Australia vs West Indies Live Score, Over 1 to 5 Latest Cricket Score, Updates
Live Updates of Today Match between Australia vs West Indies from Trent Bridge, Nottingham. Check commentary and full scoreboard of the match.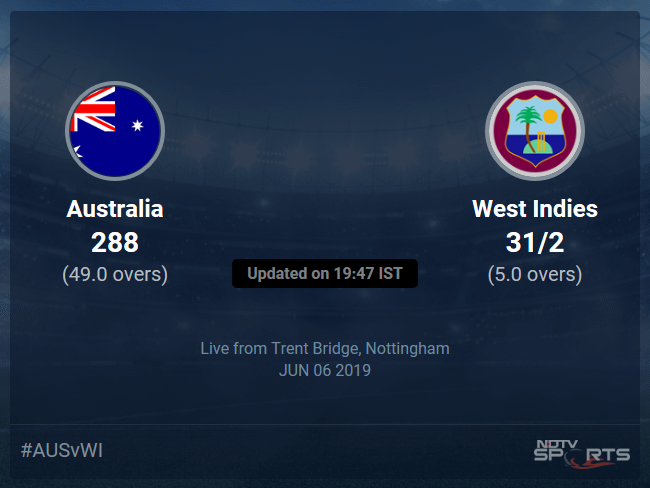 AUS vs WI Latest Score
4.6 overs (0 Run) Pooran has defended it by getting right behind the line of the delivery. End of an eventful over, 4 runs and a wicket from it!
4.5 overs (0 Run) OUT! It's clipping leg! Umpire's call stays. Chris Gaffaney is right this time but this decision could have gone either way. Gayle returns and the crowd is not too happy. They wanted the big man to stay and light up the stadium with some big shots. This one is a slower delivery. Although it's 138 kph, it's still 14 kph slower than the previous one. Starc dishes it on a on fuller length around middle and it skids back in with the angle. Gayle tries his best to put bat on ball after getting half forward but misses. He is struck on the pads, the appeal is made and the finger goes up. Chris hesitantly takes the DRS, the replays roll in and they confirm that the leg stump is getting tickled. Australia rejoice, Gayle is disappointed.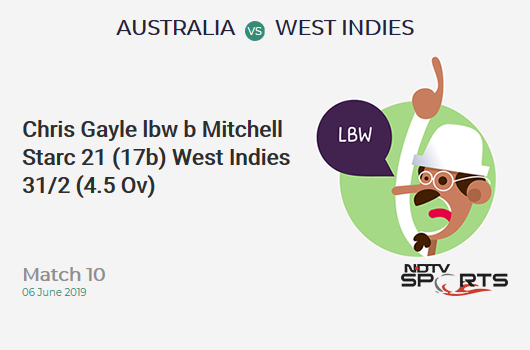 4.4 overs (2 Runs) A rip-roaring yorker by Starc. He spears it in at 152 kph, right in the blockhole, Gayle is lucky that his bat comes down quickly. It takes the inner half and rolls behind square leg. Two taken.
4.3 overs (1 Run) Starc is bowling with a good pace but his line is too straight at the moment. Hope clips it behind square leg and picks up a run.
4.3 overs (1 Run) Wide! Loses his line this time and slips a back of a length ball down the leg side. Shai allows it through.
4.2 overs (0 Run) Full in length and on middle, Hope is on the front foot as he pushes it back to the bowler.
4.1 overs (0 Run) Starts with a fuller length ball on the pads at 151 kph, Hope flicks but finds square leg.
3.6 overs (4 Runs) FOUR! Boom! Back of a length ball on off, Gayle rocks back, goes deep inside the crease and pummels it to the deep mid-wicket fence. 15 from the over!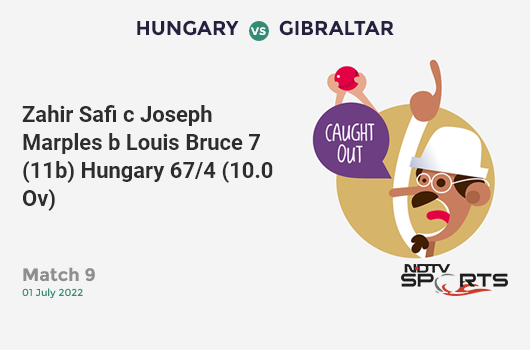 3.5 overs (2 Runs) In the air... SAFE! The length is not quite short this time but still Gayle attempts to play the horizontal bat shot. Fails to middle it and the ball flies in the air. Just clears mid on and they take a couple of runs.
3.4 overs (4 Runs) FOUR! Thumped! Gayle is on the attack here. Cummins digs it short but it sits up nicely for the batsman, Gayle stands back and muscles his pull in front of square leg.
3.3 overs (4 Runs) FOUR! Gayle has decided to pack a punch. He gets some width outside off and powers it over mid off for a boundary.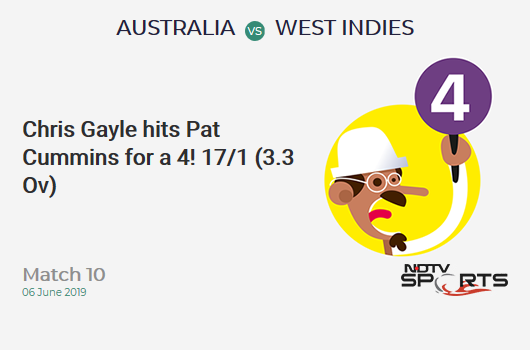 3.2 overs (1 Run) The batsman has flicked the ball off his pads. One run added to the total.
3.1 overs (0 Run) Outside off on a length, Hope plays it down from the crease to the off side.
2.6 overs (0 Run) MISSING LEG! By a fair margin also. Boos around the stadium. The technology has saved Gayle here. Drama aplenty here at Trent Bridge. Starc spears in a low full toss, angling down, Gayle is beaten for sheer pace there, 148 kph it's bowled at, and he is rapped low on the pads. They appeal and the finger goes up. Gayle opts for the DRS and the replays show that it's easily missing leg. In fact, the impact itself is outside leg!
2.6 overs (1 Run) Wide! This one is too wide outside off, Chris shoulders arms.
2.5 overs (0 Run) NOT OUT! There is noise, definitely there is some noise. What happened then? Oh dear, it's not from the bat, it's from the ball brushing the off pole. The bails didn't come off. A length ball close to off, Gayle tries to heave it over the leg side but misses. The ball goes behind and Carey appeals after collecting the ball. Gayle takes the referral and gets the decision overturned. Not for the first time we have seen those bails not coming off. Believe me, Starc bowled that at 147 kph. Still, the bails stayed in their grooves.
2.4 overs (4 Runs) SNORTER! Gayle survives here. Starc smiles again. It's all happening here. Effort delivery by Mitch. He bends his back and lets out a 141 kph shorter delivery on off. Gayle is taken aback by the extra bounce there. Tries fending it off but it takes his gloves and flies over the leaping keeper for a boundary. Lucky, very lucky for the big man!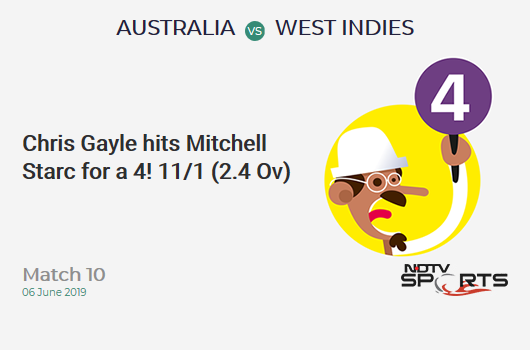 2.3 overs (0 Run) Play and a miss! Starc digs in a short delivery outside off, Gayle winds up for a big pull shot but fails to connect. Starc stares and smiles!
2.2 overs (0 Run) Aerial but safe! Short in length and outside off, Gayle moves back to slap it through the line but fails to keep it down. Stoinis at cover-point goes down low to his right but it falls just ahead of him.
2.1 overs (0 Run) Full in length and angling in on off, Gayle defends it solidly by getting forward.
1.6 overs (0 Run) Beauty to end the over! Cummins serves it on a good length close to off stump, staying low, Hope pushes inside the line but it keeps low, beats the outside edge and travels over the sticks. Close! Fantastic first over by Cummins, a wicket maiden!
1.5 overs (0 Run) A gift for the new batsman but Shai fails to put it away. The line is very straight, Hope works it off his pads but finds square leg.
1.4 overs (0 Run) OUT! Edged and taken! Cummins draws first blood! He persists with a good line here. Lands it on a length and outside off, going away with the angle, Lewis with a stationary footwork pushes inside the line and gets a thick outside edge behind to second slip. Smith reacts quickly to his right and snaps it safely. That's the line you should be bowling on this pitch. Pat has wasted no time in finding it, unlike Starc and has reaped the rewards almost immediately.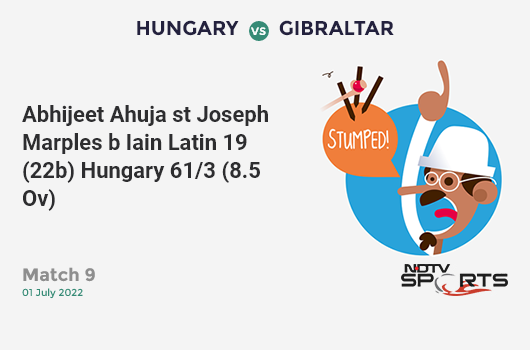 1.3 overs (0 Run) Goes very full on this occasion, on middle and Evin digs it out in the direction of mid on.
1.2 overs (0 Run) Brilliant this time. Cummins bowls it closer to the off stump this time and takes it away with the angle, Lewis is forced to push inside the line and misses.
1.1 overs (0 Run) Begins his spell with a good length delivery in the zone outside off, Lewis makes a watchful leave.
0.6 over (0 Run) Pitches it up and outside off, on the driving length, it holds its line as well, Gayle covers his stumps and shoulders arms.
0.5 over (0 Run) Better line this time. On and around off, shaping back in sharply, Gayle presents a straight bat in defense.
0.4 over (0 Run) Starc bangs in a short delivery wide outside off, Gayle watches the line closely and then allows it through.
0.3 over (0 Run) Back of a length ball on off, Gayle stays on the back foot and defends it back.
0.2 over (1 Run) Starc has not found his line here. Another delivery sliding down the leg side and Lewis clips it behind square and is off the mark with a run.
0.1 over (1 Run) Gayle opens his account this time. A delivery angling down the leg side, Chris nudges it through square leg and picks up a run.
0.1 over (5 Runs) FIVE WIDES! West Indies open their account in the exact manner Australia did. With extras. Starc slips a good length ball outside leg, Gayle fails to flick and Carey also fails to gather it. It bursts behind off his gloves and races to the fence, beating the diving effort of Cummins in the deep.
Topics mentioned in this article