Story Progress
Back to home
Australia vs Pakistan Live Score, Over 46 to 50 Latest Cricket Score, Updates
Live Updates of Today Match between Australia vs Pakistan from The Cooper Associates County Ground, Taunton. Check commentary and full scoreboard of the match.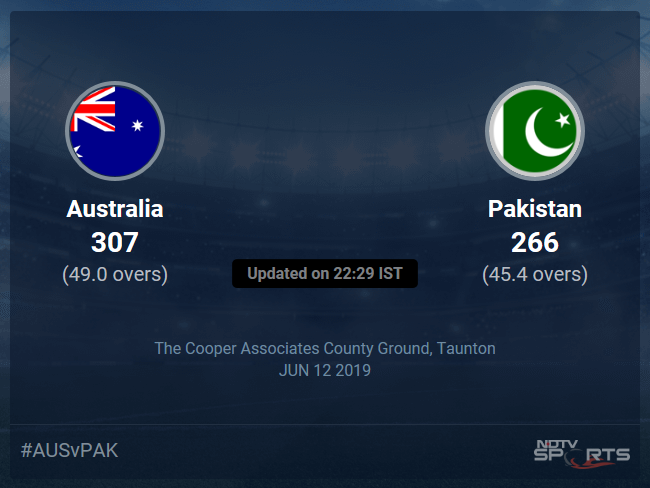 AUS vs PAK Latest Score
45.4 overs (0 Run) OUT! RUN OUT! Brilliance by Maxwell has given Australia the last wicket. Full and on off, Afridi jams it out towards cover and it goes on one bounce to the fielder inside the ring. Sarfaraz is off for a run but then realizes that Maxwell has jumped and collected the ball with one hand over his head. The Pakistan skipper tries to return but before that the Big Show hits the bull's eye at the non-striker's end. One stump to aim at and boom... Ahmed is well short. The Australian players are ecstatic as they hug each other. AUSTRALIA WIN BY 41 RUNS!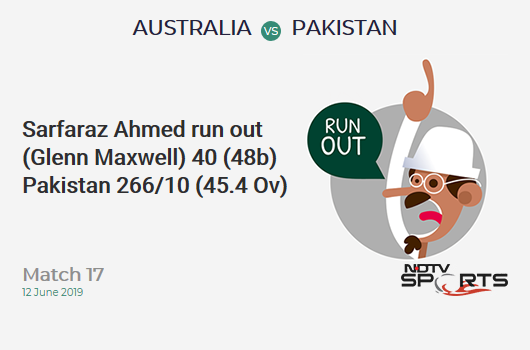 45.3 overs (0 Run) Short and on middle, Shaheen looks to defend but it goes off the top portion towards mid off.
45.2 overs (0 Run) Full and outside off, Afridi plays inside the line and gets beaten.
45.1 overs (0 Run) On the stumps, it is kept out.
Topics mentioned in this article