Story Progress
Back to home
Rohan Bopanna's Omission From Davis Cup Team Due To Pullout vs Spain: AITA
Rohan Bopanna's opting out of the World Group Play-off tie in September 2016 did not go down well with the All India Tennis Association (AITA)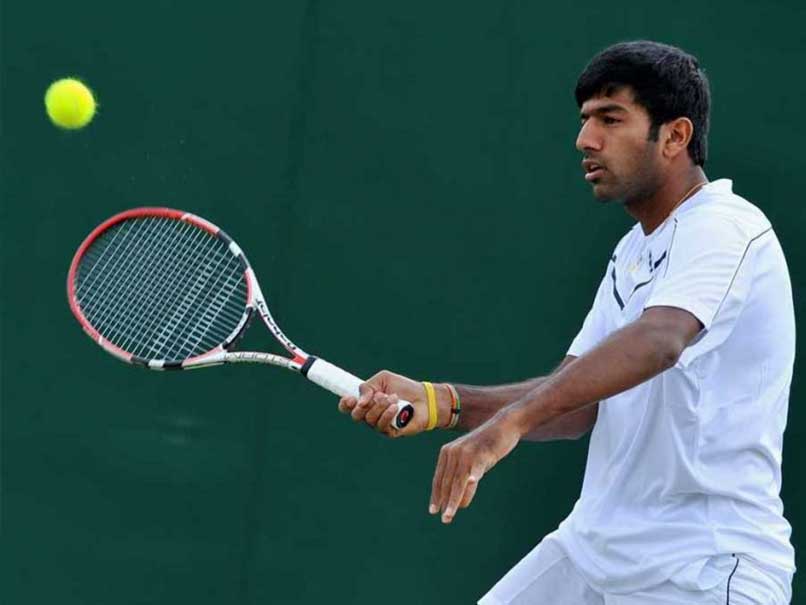 AITA sources accused Rohan Bopanna of feigning injury during the Spain tie.
© PTI
Highlights
Rohan Bopanna was axed from Davis Cup team due to his pullout vs Spain

AITA soures have made the claim to PTI

The governing body accused Bopanna of feigning injury during the tie
The reason behind Rohan Bopanna's recent axing from India's Davis Cup team was due to his pullout from the Indian team during World Group Play-off tie vs Spain in September 2016, All Indian Tennis Association (AITA) sources have said.
AITA believe that Bopanna had feigned an injury to pull out of the tie, and he was subsequently dropped from the team in order to send a strong message to the players.
Bopanna had posted a video on his Instagram account on September 18, the final day of the tie, in which he was seen enjoying a dance with his friends in a bar in Bangalore the previous night.
"We have not closed our eyes. If a player does not have that special feeling to play for the country, he does not deserve to be in the team. It was a crucial tie and we expect players to put up their hands and get ready for the challenge," an AITA insider, privy to the matter, told PTI.
The selection committee Chairman SP Misra insisted that Bopanna's pull out was not discussed at the meeting to pick team for New Zealand but said they had instructions to choose three singles players and a doubles specialist.
Bopanna (28) is higher-ranked than Leander Paes (59) but the veteran player was preferred over the former.
However, AITA Secretary General Hironmoy Chatterjee did drop a hint that Bopanna's giving a miss to the Spain tie was an issue.
"All ex Davis Cup players are selectors. They discussed all matters including the past results against New Zealand and Rohan opting out of the Spain tie. After detailed discussion they have selected the team. I feel all concerned should honour and accept their decision," Chatterjee told PTI without elaborating much.
Bopanna expresses surprise
Bopanna defended himself, saying he indeed was injured and was not fit to play a five-setter if required.
"I am surprised somebody will think like that. Right after my mixed doubles at the US Open when I went to the physios there, they said some fluids were there and my knee was swollen so I had to take 10-day off. I gave an advance notice that I need to take 10-day off," he said.
Asked about the video of him dancing that he had posted, Bopanna said it did not mean he was fit to play a competitive match.
"For me to do one sprint of 100 metres, yes, I can do it but if I have to constantly serve and volley for five sets, it's not possible. I never said, I could not run, I could not walk, I could not jump. I was not 100 per cent fit. As a tennis player that is where I am looking at it. Who knows if they call me to play singles like they did in Chandigarh? So I am looking at it as overall picture. They need to understand the player," explained Bopanna.
Bopanna further questioned AITA's selection criteria.
"We need to check what are the norms to pick teams and not just for the Davis Cup. If there is system, I don't think Indian tennis will have any issue. We need to ask the Federation what the norms are?
"I am not feigning injury. I was very clear that I was injured. Even last time to play against New Zealand, I took two 12-hour flights. That's my first priority to play for India. I did not go home. They are qualified physios and when they tell you something, you need to respect them."
Asked if playing with Leander Paes, with whom he was forced to play at the Rio Olympics, was an issue and if that influenced his decision in any way? Bopanna said, "It was not at all a factor.
"You are first one saying something like that. I feel sad that some people think so low. I have been the highest-ranked tennis player, if they think I am the first choice to play, I am ready to go ahead and play but those things don't really make a difference. The physios asked me to rest and I respect that."
Misra said Bopanna can always come back since Leander won't be there for long.
"Rohan is a great player and ranking was not the sole criteria to select the players. If that was the case, Yuki (Bhambri) would not have been there. Going by the current form it was an unanimous decision to have Leander and Saketh (Myneni).
"There were directions from the Executive Committee to have three singles players. There were only two factors: that how well Leander and Saketh played against the Olympic gold medallist during the Spain tie and that Saketh and Rohan had not done well against New Zealand. It does not bar Rohan from coming back to the side. He can comeback in future, Leander won't be around for long," Misra said.
However, Bopanna made it clear that he did not like the fact that he was dropped for the tie against New Zealand.
"At the end of the day we have to put best team forward instead of (looking at) who has so many years left. That's not the aspect they are looking at. Spain had so many players ranked higher than all of us but they sent their best team out there to play a Play-off.
Promoted
"These are the examples you take from world class athletes and teams, who are winning titles. We can't look at small and petty issues. If am picked or not, the whole team has to come together and that's what is going to make a difference," concluded Bopanna.
(With inputs from PTI)
Topics mentioned in this article