Story Progress
Back to home
Mahesh Bhupathi's Conduct Unbecoming of Davis Cup Captain: Leander Paes
India's Davis Cup captain Mahesh Bhupathi opted for Rohan Bopanna instead of Leander Paes for the doubles tie against Uzbekistan.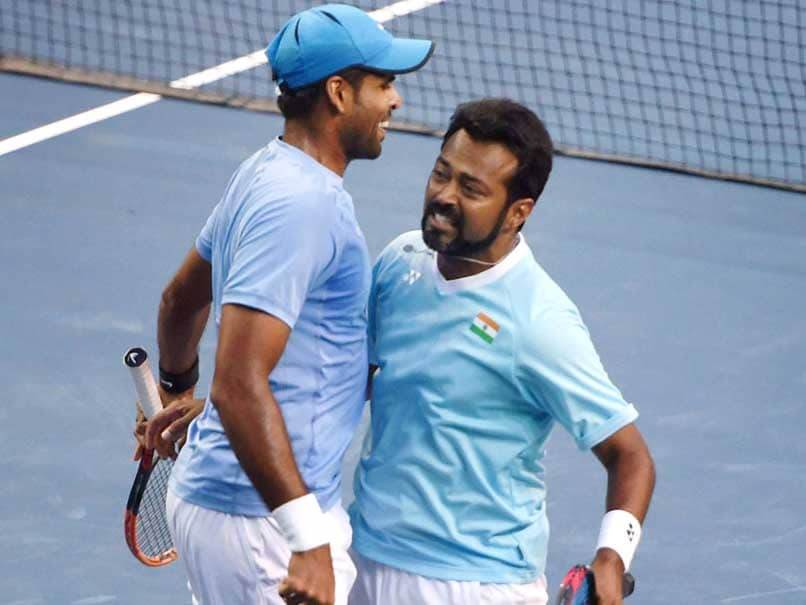 Leander Paes (R) is livid with India's Davis Cup captain Mahesh Bhupathi
© PTI
Highlights
Mahesh Bhupathi had some harsh words for Leander Paes on Sunday

Leander Paes struck back with a statement later in the evening

The drama unfolded after India's win over Uzbekistan in Davis Cup
New Delhi:
Livid at Mahesh Bhupathi for making their private conversation public, Leander Paes said his former partner's conduct was unbecoming of a Davis Cup captain. Bhupathi in a Facebook post said he did not have a personal agenda in leaving out Paes as claimed by him and that he had never promised Paes a place in the playing squad. "That a private exchange has been made public just points to the kind of conduct that I find unbecoming of a Davis Cup Captain," Paes said in a statement.
In his three-point statement, 43-year old Paes said the main criteria for selection was indeed form even as Bhupathi claimed that form was not sole criteria.
"The main criteria for selection was form. That's clearly mentioned in the exchange. This was not followed when it came to final selection," he said.
Paes further wrote, "I was never categorically told that I would not be playing. But it was apparent that the decision was made before I arrived in Bengaluru. This is what I found unnecessary and disrespectful."
April 9, 2017
The winner of 18 Grand Slam titles said he would soon come out with a detailed response to Bhupathi's claims.
Promoted
"As for the long post on social media by Mahesh belittling my contribution to Davis Cup, I can give a detailed rebuttal pointing out just how one-sided and convoluted his arguments are.
"I may do so in the near future but as far as the fans out there are concerned, they just have to examine who won what for our country when representing the flag. Talk is cheap, history books, however, don't lie," he concluded.
Topics mentioned in this article