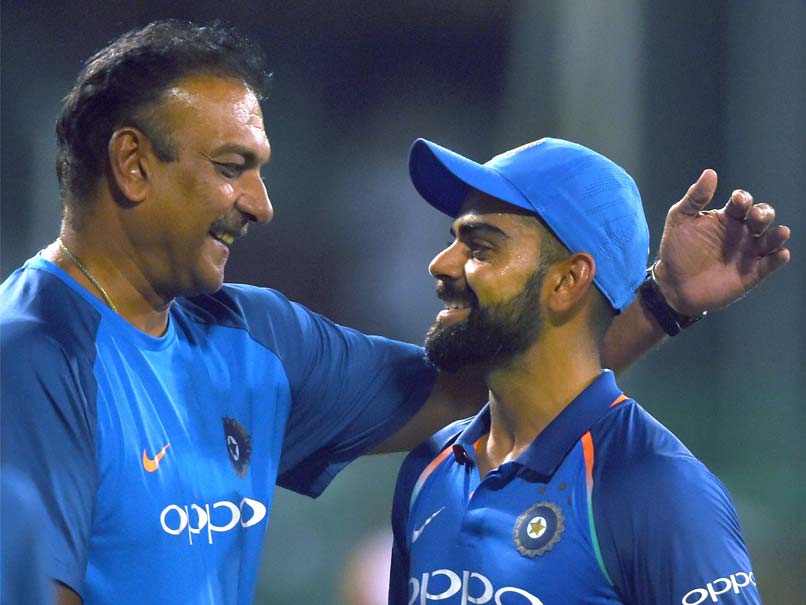 India had won the preceding Test series 3-0 before this 5-0 whitewash in the ODIs.
© AFP
Virat Kohli's earlier thoughts of a 'more challenging' contest in ODIs did not materialise as Sri Lanka hardly gave a fight to the Indians but the visiting captain Virat Kohli on Sunday expressed happiness at winning the series 5 -0. India had won the preceding Test series 3-0 before this 5-0 whitewash in the ODIs. Kohli termed the ODI contest a complete series despite India walloping the Lankans in all the matches. "It's quite amazing to have won the series 5-0. We always thought the shorter format is going to be much more challenging. The youngsters and the spunk on the field has worked for us. All round, it's been a complete series for us," said Kohli after the match.
"We've been playing some good cricket. We did not win three games on the trot in the shorter format before this, and now we have six in a row including the West Indies series," he added.
Kohli said the good show in Sri Lanka will boost the confidence of his side when they take on Australia in a five-match ODI series starting later this month.
"It will be a challenging series against Australia. We have been playing some good and consistent cricket for some time. So, this series win in Sri Lanka should boost the confidence the boys," said the Indian captain.
Sri Lanka captain Upul Tharanga said, "It is a very difficult time for us. We were not up to the standard.
"We have to improve all three departments, especially our batting. We couldn't get those big scores in all five games. We lost a few main players, but still I feel we didn't play to our standard.
"It was a good toss to win. We lost a few early wickets. Thirimanne and Mathews had a good partnership. At one stage we were looking for 260-270. Unfortunately we collapsed again."
Man-of-the-series Jasprit Bumrah said, "It's my first visit to Sri Lanka and I'm glad I did well. I was focussing on my preparation, I had time to rest before this series and it makes you hungry."
"It's always a dream to play Test cricket, but I'll wait for my chance," he said when asked about the prospects of making it to the Indian Test team.
Asked about getting tips from Lankan fast bowler Lasith Malinga, he said, "It's been a long journey with Malinga and I've learnt a lot. I just want to learn and become a better bowler."