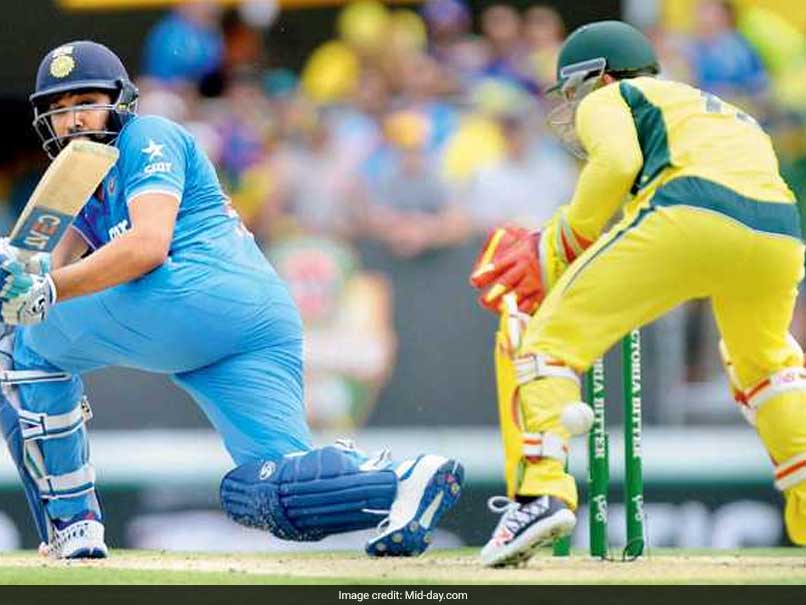 Rohit Sharma gets the ball past Australian wicketkeeper Matthew Wade during the Brisbane ODI last year.
© Mid-Day.com
With the Test series done and dusted and the white-ball segment of the tour days away, most of India's cricketers took the opportunity to make the most of an unplanned rest day yesterday.
For three, though, it was business as usual. Well, almost. Rohit Sharma, the newly appointed ODI vice-captain, KL Rahul, who is set to do what he can to make the No. 4 spot in one-day internationals his own, and Axar Patel, made the trip to the Pallekele International Stadium for a compact optional net session.
While Rahul, who had been in good nick, chose to challenge himself by ending his net session by batting with a stump, Rohit got down to the business of preparing himself for the ODIs, playing the paddle sweep, the conventional sweep and even the reverse sweep.
"It is something that the game demands these days," Rohit said about his sweeping drill. "You've got to be innovative and you've got to play different kind of shots to get maximum results. You keep learning every day, and I keep trying these things and learning about things I can do and things I cannot do. Every addition to your armory is good. What better place than coming here and doing it? That's what training sessions are all about. Every day is a learning day.
"Today, I got to learn something playing those sweeps and reverse-sweeps when someone like Lasith Malinga comes and bowls to you. Every day you enter the field, you go on to learn something new."
In 10 years of international cricket Rohit has established himself as a giant in coloured clothes, but Test success has been less forthcoming. The Mumbai batsman, however, chose not to linger on that.
"Test cricket is over now, I am just thinking about the ODIs," said Rohit. "Nobody likes to sit out. But again, it all depends on the team dynamics. You've got to accept the fact and move forward. That's what I have been doing. I've kept working on my skills, my ability, wherever I need to work on and see where I can improve as a cricketer."
(This story has not been edited by NDTV staff and is auto-generated from a syndicated feed.)