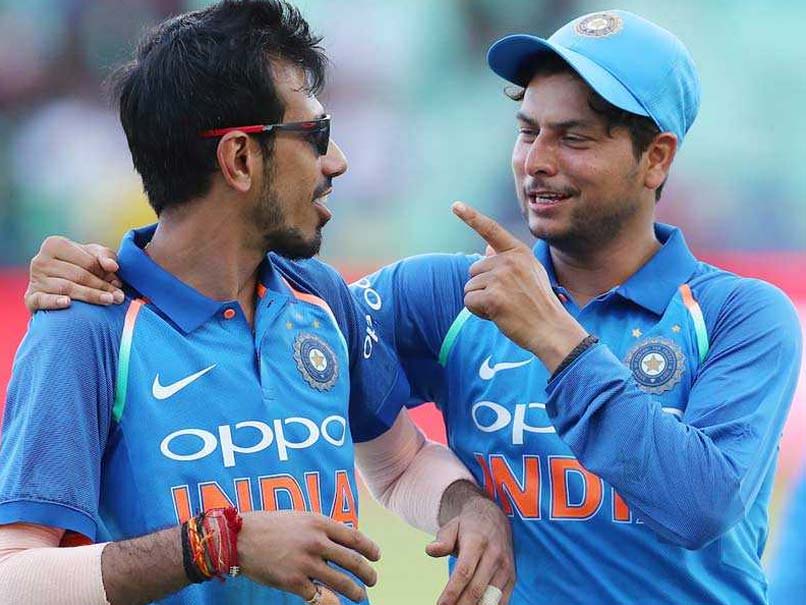 Kuldeep Yadav and Yuzvendra Chahal took 33 wickets between them in the ODI series vs South Africa.
© BCCI
At a time when the entire world is lavishing praise on India's run-machine Virat Kohli, Sachin Tendulkar took the opportunity to speak about the positive impact made by India's wrist spinning duo -- Yuzvendra Chahal and Kuldeep Yadav. While Kohli went about breaking one record after another in South Africa, Chahal and Kuldeep quietly went about their business, dismantling the South African batting order. Tendulkar feels that Chahal and Kuldeep will play a major role in India's performance in overseas conditions as the cricket world is "yet to figure out" a method to counter the two young wrist spinners.
"When it comes to batting, we speak about the number of runs scored but we are also winning matches because during those middle overs where the two wrist spinners (Kuldeep and Chahal) are bowling which is obviously heart-warming because one did not get to see wrist spinners much few months back," Tendulkar said at "The Huddle", an event conducted by 'The Hindu'.
"I think they have been bowling well in tandem. I think it is fantastic because that is something which the rest of the world is yet to figure out how to play them," said the legendary batsman.
Kuldeep and Chahal had a sensational ODI series in South Africa, ending up as the top two wicket-takers in the six-match series. Kuldeep topped the list with 17 wickets in six matches while Chahal ended the series, just a wicket behind his spin partner.
"They (rival teams) are trying to figure out what are the right options to score runs against them. What is the right option to survive. What are the options to - how do we block and those kind of things . But before they figure out we should try and win as many matches," he added.
Tendulkar spoke about the importance of wrist spinners and their ability to make an impact even in docile spinning conditions.
"I firmly believed that the wrist spinners can add lot of value as they are not dependant on the surface. It is about what you do in the air and you have varieties bowling leg-spinners as well as googlies. Of course, during our days, bowling doosras by off spinners was common," he said.
"But in a longer format game (50 overs), you cannot do all these things. You got to know how to tackle those two bowlers in between," he said.
Tendulkar fondly recalled how he had tweeted about Kuldeep being a bright prospect after watching bowl his first three balls in his debut Test against Australia at Dharamsala.
"I think those two bowlers - Chahal and Kuldeep - are going to be key factors. In fact, when Kuldeep made his debut and bowled the first few deliveries in Dharamsala, I posted a message saying that he has got a bright future and that is something which can help us go and perform well abroad," he added.
(With PTI Inputs)