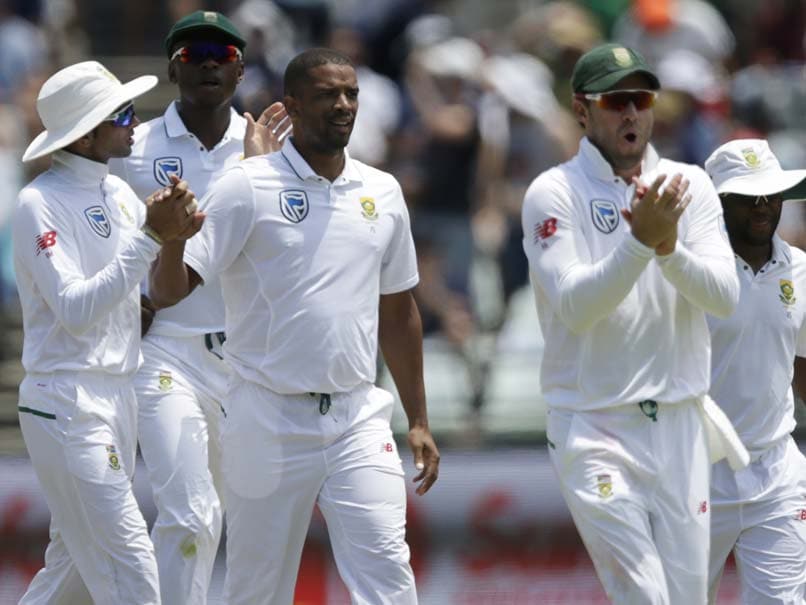 We want to win all three matches, said South African pacer Vernon Philander.
© AFP
Ahead of the third Test against India, South African pacer Vernon Philander said that they would not lower their guard in the final Test as they are eyeing a whitewash against a beleaguered Indian side. With the three-match Test series already in the bag, Philander said that his team would want nothing less than a 3-0 series win. "It is just another game of cricket for us, but we do want to win each and every single game we play. So, it doesn't matter that the Test series has already been won, we want to win all three matches," said Philander.
"The emphasis is on preparation, and doing it well today and tomorrow. We want to win this Test as well.
"There are no dead rubber games for us. We want to prepare as well as we can and be ready for Wednesday. We want to regain the no.1 Test ranking and so we want to win each and every single Test. There are no dead rubbers when we play," he added.
A green-top is expected at the Wanderers, in keeping with the tradition here. More importantly it will be vastly different than the Centurion pitch.
"I haven't looked at the pitch yet, but normally there is pace and bounce at the Wanderers. Our roles always differ on different types of surfaces. I play with understanding of my role in the side. Last game I had to keep it tight from one end. So I haven't looked at this one yet, but my role will change if conditions present themselves," Philander said.
"It helps you understand the role you play. You want to keep it as tight as possible and want to bowl them out as cheaply as possible. That's the aim of every cricket game and the role of every bowler in a four-pronged attack is different. You deliver what's required of you," he added.
There is a lot of talk about South Africa playing with an extra batsman but Philander said there were slim chances of an all-seam attack, leaving spinner Keshav Maharaj out.
"Playing an extra batsman won't change things where I bat at no.7 or 8. I still have to contribute with bat and ball, and it won't make any massive difference to me as a player. I see myself as an all-rounder, and the rest is down to selectors and team management," he said.
"You always have to put pressure on yourself and have a sense of pride in what you do. It is a big responsibility to bat at no.7 and you have to take on the challenge. It worked well in England but at home conditions are different. I enjoy this challenge," he said.
Philander heaped praise on spinner Maharaj, describing him as a strike bowler.
"Keshav Maharaj has done a massive job for us. Not only in this series but previously as well. He keeps it tight but make no mistake he is a strike bowler for us. He picks up vital wickets at key times," he said.
"When you come to the Wanderers, seamers are mainly the attackers here. Obviously I cannot answer whether we are playing without a spinner here. But it will be a good wicket and a good Test coming up."
Talking about Centurion debutant Lungi Ngidi, Philander said, "He is a phenomenal talent. He has pace and bounce, the way he went about his business, and the manner in which he stayed calm, it was all good to see.
"He asked a lot of question off Morne Morkel and me at mid-on/mid-off. It was wonderful to see that we have so many bowlers pumping in the pipeline as well. He is a wonderful talent and long may this trend continue."
Indian coach Ravi Shastri had earlier said that coming to South Africa 10 days earlier would have helped the visitors in their preparation for the series.
When asked about this, Philander said, "I am sure their management team has sat down with their players and asked what suits them better.
"I am sure they have had this discussion within their side. There is always difference in how two teams play (in same conditions) and we prepare as best as we can.
"Camping here 10 days earlier might have helped them a little bit, but that's unfortunately their call to make. As far as result is concerned, we played the better cricket and deserve the results at the end of the day."
(With PTI Inputs)