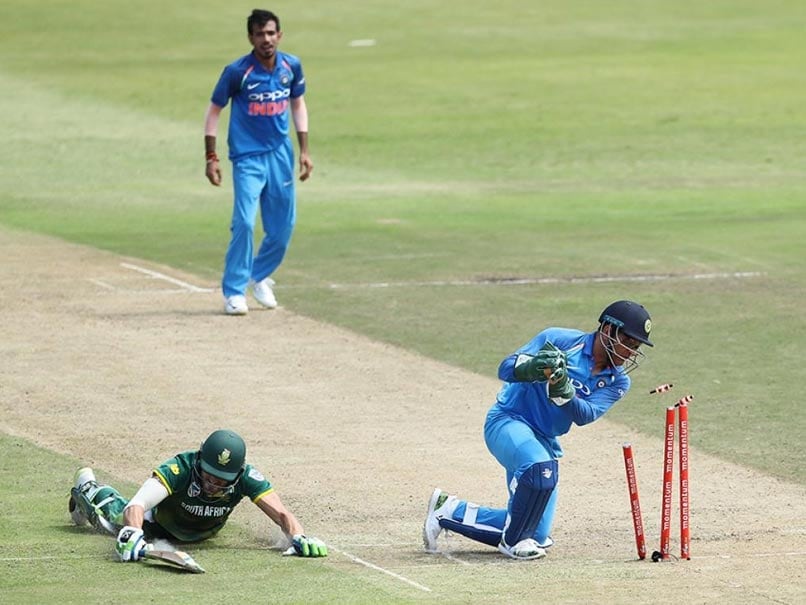 Chahal and Kuldeep have shared 30 wickets between them in the series so far.
© AFP
Wristies Yuzvendra Chahal and Kuldeep Yadav played vital roles in India's first-ever series win on South African soil. The duo have shared 30 wickets between them in the series so far. Former India cricketer Atul Wassan feels Mahendra Singh Dhoni is the man behind Chahal and Yadav's success in the series against South Africa. "I think half of the wickets should go to Mahendra Singh Dhoni. He is just amazing behind the stumps. Before every ball was bowled, he knows what a batsman going to do. These guys should bow down and touch his feet. These guys not experienced and Dhoni was doing the homework for them. Dhoni should be credited for this," Wassan told NDTV.
Kuldeep and Chahal wreaked havoc as the South Africans were skittled for 201 in 42.2 overs after India had posted 274 for seven. Kuldeep accounted for four South African wickets while Chahal picked two as the hosts batsmen struggled on a slow track in Port Elizabeth.
"I heard Dhoni saying 'Ye ab idhar niklega. Ye abb idhar marega'. And the same thing was happening. Chahal and Kuldeep were following Dhoni's instructions and those were working for India," Wassan added.
Dhoni, who has been criticised for his lack of runs, received support from Wassan. The former India captain managed just 69 runs in the first five ODIs of the series so far.
"If people can criticise Dhoni for not getting runs, they should probably look at this factor also," Wassan said.
No Indian men's side, since its first tour in South Africa back in 1992, has ever won a series across any format. They did win a one-off T20 match in 2006 -- their first-ever shortest format but it was a single match event.
The team under Kohli achieved which neither Mohammed Azharuddin, Sachin Tendulkar, Sourav Ganguly, Rahul Dravid nor Mahendra Singh Dhoni could ever accomplish -- win a full-fledged series in the Rainbow Nation.