Story Progress
Back to home
India vs South Africa, Highlights: India Win 5th Match To Claim Maiden ODI Series Victory In SA
Highlights, India vs South Africa, 5th ODI: India beat South Africa by 73 runs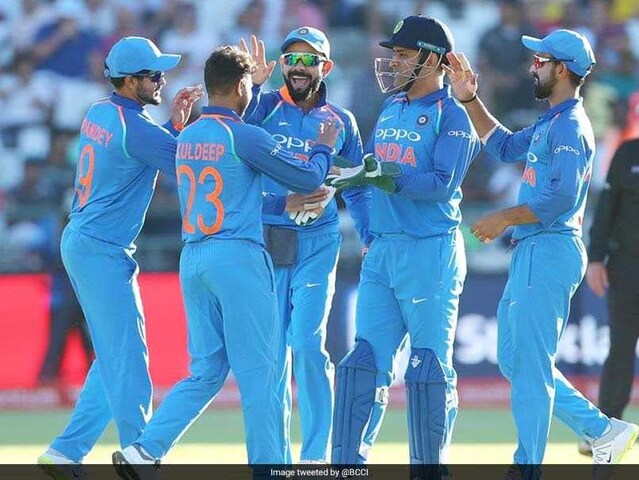 Highlights, India vs South Africa, 5th ODI: India beat South Africa by 73 runs
© Twitter
India scripted history on Tuesday after they won their first series in South Africa beating them by 73 runs. Kuldeep Yadav was the star performer for the Indian team as he took 4 wickets to derail South Africa's chase of 275 runs. Hashim Amla scored a fighting 71 runs but it went in vain as the visitors were too strong for the hosts. India's Rohit Sharma hit a fine century to help India post a modest total of 274/7 in the 50 overs. He was ably supported by skipper Virat Kohli (36) and Shreyas Iyer (30) in the middle. Lungisani Ngidi stood out for the hosts as he took 4 wickets for 51 runs. (Scorecard)
Earlier, India rode on a fine century from opener Rohit. After a cautious start, India's Shikhar Dhawan went on the offensive with some fine boundaries but fell in the 8th over after getting caught by Andile Phehlukwayo for 34 runs. After his dismissal, Rohit upped the ante and played some exquisite shots to help India continue the momentum built by Dhawan. Skipper Virat too looked in good touch but was unlucky to have been at the receiving end of a mix-up with Rohit. He was run-out for 36 runs by JP Duminy. Ajinkya Rahane (8) was the next to follow Kohli after another confusion between the wickets. Despite losing wickets in quick succession, Rohit carried on showing his batting prowess and went on to score his 17th ODI ton, hitting 10 boundaries and 4 sixes in the run-up to his century. South African bowlers Andile Phehlukwayo, Tabraiz Shamsi and Morne Morkel were all economical for the hosts. Lungisani Ngidi was the star bowler as he dismissed Rohit Sharma, Shreyas Iyer and Hardik Pandya in quick succession.
Catch all the live action and updates of India vs South Africa 5th ODI straight from Port Elizabeth
00:02 IST: Thank you for tuning in to our live match updates. We will be back with our live coverage for the sixth and final ODI on Friday to be played at the SuperSport Park, Centurion.
00:00 IST: India beat South Africa by 73 runs to win the 6-match ODI series 4-1.
23:59 IST: OUT! The last wicket falls as Morne Morkel is dismissed LBW.
23:55 IST: OUT! Tabraiz Shamsi departs for a duck. Kuldeep Yadav takes his second successive wicket. South Africa are nine down now
23:54 IST: OUT! Klaasen departs as South Africa lose their 8th wicket. The hosts' last hopre fades away. India are two wickets away from a win. South Africa need 78 runs to win
23:51 IST: OUT! Rabada departs as South Africa lose their 7th wicket. Rabada's impatience leads to a wrong choice of shot and leads to his dismissal. South Africa need 79 runs in 52 balls
23:44 IST: Excellent over by Bumrah. Only 3 runs off it. South Africa need 83 runs off the final ten overs
23:39 IST: A good bouncer by Pandya hits Rabada on his helmet. As a precautionary measure, Rabada is being attended by the physio.
23:36 IST: Rabada opens his account after 10 balls. South Africa need 87 runs from 68 balls
23:33 IST: SIX! Another maximum from Klaasen.16 off that over. South Africa 187/6 in 38 overs, need 88 runs in 72 balls to win
23:31 IST: SIX! That's a massive six. Klaasen transfers his weight to the shot and beautifully times it. South Africa 177/6
23:25 IST: WICKET! Kuldeep Yadav castles Phehlukwayo for a duck. South Africa 168/6, need 107 off 87 balls
23:15 IST: BIG WICKET! Direct throw from Hardik Pandya. Brilliant work from him. South Africa lose fifth wicket, Hashim Amla is run out for 71 runs. South Africa 166/5, need 109 off 93 balls
23:13 IST: FOUR! What a shot from Amla. The South African punches the ball towards deep extra cover for a boundary. South Africa 165/4, need 110 more runs to win.
23:07 IST: DRINKS! South Africa 160/4 in 33 overs, need 115 more runs to win.
23:05 IST: FOUR! A good shot. Amla plays a good shot towards the offside. South Africa 160/4
23:02 IST: Bhuvneshwar Kumar is back into the Indian attack.
23:01 IST: 150 up for South Africa in 31.3 overs
23:00 IST: Chahal is off the field. He is getting treatment on his left hand.
22:58 IST: A good over for the hosts. Aggressive batting by Amla putting the pressure on the bowler. Nine runs off it. South Africa 148/4
22:55 IST: FOUR! Beautifully struck by Klaasen. Quicker delivery and pushed towards the leg side.
22:50 IST: FIFTY for Hashim Amla! Amla hits his 35th ODI fifty, first of this series. South Africa 134/4
22:42 IST: Heinrich Klaasen is the new batsman.
22:41 IST: OUT! Chahal strikes as David Miller departs for 36 runs. Hosts lose their 4th wicket. Miller gets deceived by the turn off Chahal and gets clean bowled. South Africa 127/4 in 26.4 overs
22:38 IST: FOUR! Hashim Amla picked the right one to sweep. A welcome boundary for the hosts. South Africa 127/3
22:35 IST: DROPPED! Rahane puts down Amla on 38 runs.
22:30 IST: 35 balls since the last boundary. India have restricted the hosts. Another catch dropped, this was a tough one to take. The ball didn't quite carry after Amla played a needless shot. 50-run partnership up between Amla and Miller. South Africa 118/3
22:25 IST: Miller now has 2500 ODI runs
22:25 IST: Kuldeep Yadav replaced by Hardik Pandya.
22:19 IST: Good stop by Chahal. The ball came back like a rocket. He is getting checked by the Indian physio after getting hit by Miller's shot.
22:14 IST: 100 up for South Africa in the 21st over
22:06 IST: SIX! Chahal plays into Miller's hands and pitches it for the batsman . A maximum for Miller. South Africa 93/3
22:00 IST: Kohli and Dhoni take a review. LBW decision reviewed. India have lost their review. Miller survives on 16 runs. South Africa 85/3 in 16.4 overs
21:58 IST: Yuzvendra Chahal is the new bowler.
21:54 IST: FOUR! A good sweep shot by Miller. Miller picked up the delivery well. South Africa 82/3
21:49 IST: FOUR! A confident shot by Miller on the legside. Drifts outside the off stump and guides it towards the boundary. South Africa 71/3
21:48 IST: South Africa need 208 more runs to win.
21:48 IST: David Miller is the new batsman for the hosts.
21:43 IST: OUT! Needless shot give India's Hardik Pandya his second wicket in as many overs. AB de Villiers departs for 6 runs. A nick off Pandya's ball and an easy catch for Dhoni. South Africa 65/3 in 13 overs
21:40 IST: Its 22 balls since the last boundary. Good disciplined bowling by the visitors.
21:37 IST: Chinaman Kuldeep Yadav is the new bowler. ABD is off the mark with a single.
21:35 IST: AB de Villiers is the new man in. A wicket and 3 runs off the last over bowled by Hardik Pandya. South Africa 55/2 in 11 overs
21:34 IST: OUT! Hardik Pandya strikes as Duminy departs for a single run. Gets caught at the slip by Rohit Sharma. South Africa 55/2 in 10.5 overs
21:31 IST: Dhoni seems to have hurt his finger. He is taping it up as a preventive measure.
21:26 IST: OUT! Hosts lose their first wicket as Markram departs for 32. A leading edge and the Indian skipper Virat Kohli takes an easy catch off Bumrah's delivery. Jean-Paul Duminy is the new batsman. South Africa 52/1 in 9.4 overs
9.4. WICKET | Markram (32) get's a leading edge and is caught by Virat at midoff off the bowling of Bumrah. SA 52/1 #SAvIND #MomentumODI

— Cricket South Africa (@OfficialCSA) February 13, 2018
21:22 IST: FOUR! Sheer power. Punched towards the offside and hit it on the up off Bhuvi's delivery. Markram looking solid. 10 runs off the 9th over. South Africa 50/0
21:20 IST: FOUR! A good shot to get a boundary. A sweet drive towards the legside. This is the best opening partnership for the hosts in this ODI series. Previous best was 43 runs.
21:20 IST: The hosts have got off to an ideal start. They need 234 more runs to win off 251 balls.
21:14 IST: SIX! Markram hits the first maximum. The short boundary there on the leg side. Picks it up really well. South Africa 38/0
21:11 IST: FOUR! Markram hits a boundary off Bhuvi's delivery. Smallest of gaps and the skipper squeezed it through. The bowler isn't happy with Bumrah out there. South Africa 31/0
21:08 IST: DROPPED! Iyer drops Markram on 10 off Bumrah's delivery in the 6th over. Lucky escape for the Proteas skipper. Iyer will be disappointed with that effort. Appeared to be a simple catch. South Africa 27/0
21:07 IST: Bhuvi shows his footballing skills there. Saves one run. Good flick again by Amla on the legside.
21:05 IST: Markram gives him some room, Markram takes two runs on the offside. Didn't get the elevation he'd have looked for. South Africa 21/0
21:04 IST: Good change of pace by Bhuvi. He knew Markram was charging down so he tweaks his delivery. South Africa 17/0
21:02 IST: Good over by Bumrah. Only two runs off it. South Africa 17/0
21:01 IST: Some good running between the wickets by these two. Taking lessons from the Indian fiasco when Rahane and Virat were run-out.
20:56 IST: FOUR! Markram off the mark in a classy way. Good position to push the ball towards the offside boundary. South Africa 13/0
20:54 IST: FOUR! Talk about balance. Amla pushes the ball and puts his weight to the ball for a boundary. South Africa 9/0 in 2 overs
20:52 IST: Jasprit Bumrah takes the ball for India and bowls a full toss to begin with.
20:49 IST: FOUR! First runs off the bat for Amla. A beautiful shot towards the offside. The ball races towards the boundary for a four. South Africa 5/0
20:46 IST: Aiden Markram and Hashim Amla are the two openers. Bhuvneshwar Kumar begins the proceedings for India.
20:45 IST: And we are back with the South African chase.
20:07 IST: And that's a wrap for the first innings. India post 274/7 in their 50 overs. An excellent last over by Rabada. A good bowling display by the hosts restricted the visitors to a decent total. Please stay tuned for the South African chase.
20:06 IST: Final over being bowled by Rabada.
20:05 IST: A good bowling performance by Ngidi. Finished his 9 overs with figures of 4/51
20:01 IST: OUT! A superb catch by SA skipper Markram. Dhoni departs as Ngidi takes his fourth of the night. He has been terrific with the ball. India 267/7
20:00 IST: The penultimate over bowled by Ngidi. First boundary for Dhoni. These are crucial runs for India. India 265/7
19:58 IST: FOUR! A boundary to end the over. Bhuvi punches it towards the long on boundary. India 261/6 in 48 overs
19:54 IST: Kagiso Rabada returns. Bowls a good first delivery. Dhoni hasn't hit a boundary yet. He needs to get going if India want to reach 270-280. Really good bowling by Rabada. Putting the batsmen on the backfoot. Excellent death bowling by the hosts. India 255/6
19:51 IST: FOUR! A welcome boundary for Bhuvi. No slip helps the batsman's cause and the races towards the boundary. Eight runs off the over for India. India 248/6
19:51 IST: Final 4 overs remaining. Lungisani Ngidi has been excellent in his second spell. His fiery two overs reduced India's chances of reaching a good total. Dhoni is clearly struggling to connect the ball with the bat. He is batting on 6 runs off 12 deliveries. India 248/6
19:50 IST: Dhoni needs 42 more runs to be the 12th man to reach 10,000 runs. He will be the fourth Indian to reach the landmark after Sachin Tendulkar, Rahul Dravid and Sourav Ganguly. India 246/6
19:47 IST: Just three fielders on the onside. Morkel is maintaining his line and length and not giving any room to the Indian batting duo of MS Dhoni and Bhuvneshwar Kumar.
19:46 IST: Final five overs left. Last six overs SA have picked 3 wickets and gave away 21 runs
19:45 IST: Last four overs has seen India score a measly ten runs and lost three wickets in the process. India 240/6 in 45 overs
19:42 IST: OUT! India lose their 6th wicket as Shreyas Iyer departs after a gritty 30 runs. Lungisani Ngidi takes his third wicket. Credit to the South African bowlers for taking wickets in quick succession. India 238/6
19:38 IST: If the hosts are able to restrict India within 270 runs, South Africa can pat themselves on the back considering the start India had got.
19:36 IST: Dhoni is the new batsman. Iyer looks in good touch. Final 7 overs left now. India 236/5
19:33 IST: OUT! Back-to-back wickets for Ngidi. First to depart was Rohit Sharma for 115 runs and the next to fall was Hardik Pandya. Both edged to the wicketkeeper Heinrich Klaasen. India 236/5
19:27 IST: Its clear that Shryas Iyer is going for the kill in the final 8 overs. With wickets in hand, he has all the right to do so. India 236/3
19:20 IST: Ngidi returns for the hosts.
19:18 IST: Two runs for Rohit. Put it in the gap for a double. Iyer also playing well to support Rohit. India 219/3
19:15 IST: FOUR! A beautiful shot by Rohit. Well-eexcuted lofted drive by him towards the long off reguon. Seven off the over.  India 215/3 in 39 overs
19:14 IST: Andile Phehlukwayo has been economical in this match. Another mix-up by Rohit but this time there's no new run-out victim. India 211/3
19:08 IST: Rohit Sharma is ranked 4th on the ICC ODI batsmen rankings
19:06 IST: CENTURY! Rohit Sharma scores his 17th ODI century. This innings was long due for him. This will surely boost his confidence a great deal. He has played some good-looking shots and has played the short deliveries well. He hit 10 fours and 4 sixes in reaching his century off 106 balls. This is his first century on this ground. India 203/3 in 36 overs
19:04 IST: 200 comes up for India in 35.2 overs
19:02 IST: This is the highest score for India against South Africa on this ground. 179/9 in 1997 was the previous highest score of India.
19:00 IST: Rohit is now more vocal before taking a run.
18:57 IST: DROPPED. Rohit dropped on 96 runs. Tabraiz Shamsi drops the catch. A poor shot to play but a lucky escape for Rohit. Will this dropped catch prove crucial? India 193/3
18:56 IST: FOUR! Deliberately played by Rohit. Opened the face of the bat at the last moment. Good shot.
18:54 IST: Iyer takes a double. Careful running between the wickets now after two quick dismissals. India 187/3
18:51 IST: DRINKS
18:50 IST: Review taken as the hosts feel Rohit had nicked the ball. Rohit indicates to Iyer that the ball brushed past the thigh pad. South Africa lose their review. India 184/3
18:48 IST: Shreyas Iyer is the new batsman for India.
18:45 IST: WICKET! India lose their third wicket as another mix-up with Rohit Sharma costs Ajinkya Rahane his wicket. Morne Morkel throws the ball in quick-time and Rahane departs for 8 runs. India 180/3
18:42 IST: Rabada has been India's nemesis in this series especially Rohit.
18:41 IST: Kasigo Rabada replaces Morne Morkel.
18:32 IST: FOUR! A delicate lift over the keeper for a boundary. Quality shot by the Indian opener. Morkel under pressure now. India 169/2
18:32 IST: Morne Morkel is back into the attack. He is bowling his 7th over.
18:29 IST: Tabraiz Shamsi has bowled well. Rohit is playing well and is inching closer to his century. The projected score for India at the going run-rate is 286 runs. India 162/2
18:23 IST: Ajinkya Rahane is the new man in for the visitors after Kohli's departure.
18:19 IST: Wicket! Kohli departs for 36 runs after a crazy mix-up with Rohit Sharma. A good under-arm throw by JP Duminy. A much-needed breakthrough for the hosts. India 155/2
18:16 IST: Morne Morkel is brought back into the attack
18:14 IST: SIX! What a way to bring up the 100-run partnership. Rohit looks menacing with the ball. PUlled towards the on side for a maximum. India 148/1
18:11 IST: FOUR! Rohit sweeps it towards the square leg boundary for a boundary off Duminy's delivery. India 139/1
18:07 IST: NOT OUT! Review taken for a stumping. Its not a no-ball first. Aleem Dar is the third umpire. Kohli's bat is on the line. And the decision goes in favour of the batsman. Kohli survives on 28 runs. India 130/1 in 22.2 overs
18:01 IST: SIX! Awful delivery. Rohit had all the time in the world to hit a maximum. A massive six for the half-centurion and an equally poor balling display by Duminy. He is now on 60. India 127/1
17:55 IST: Virat Kohli is looking uncomfortable. His left shoulder is bothering him. He was seen massaging his left shoulder. India 114/1
17:53 IST: Good start for Tabraiz Shamsi. Only two runs off his over. India 113/1
17:51 IST: Fifty up for Rohit Sharma. His 35th ODI fifty. Took 50 balls to reach his half-century. He has played well today after a disappointing run of form prior to this match. India 113/1
17:50 IST: Tabraiz Shamsi is the new bowler for the hosts. He will bowl from the Duckpond pavilion.
17:47 IST: FOUR! Back-to-back boundaries for Rohit. He makes batting look simple and effortless when he is on song. India 108/1
17:46 IST: Jean-Paul Duminy is the new bowler.
17:44 IST: Drinks break.
17:40 IST: FOUR! Rohit hits another sublime shot. 50-tun partnership up between these two now. India 98/1
17:37 IST: Another couple of runs for India. Kohli and Rohit look set in the middle. They have kept the scoreboard ticking. India 94/1
17:35 IST: South Africa need a wicket. The hosts know they can't give India room to build partnerships.
17:33 IST: 42-run partnership between these two since Dhawan's dismissal. India 90/1
17:31 IST: FOUR! What a shot. Two men at the deep but they had no chance. Beautifully played by Rohit. Poor delivery by Ngidi. India 88/1
17:26 IST: India have continued scoring at the same rate when Dhawan was at the crease. Rohit is looking to regain his form while Kohli is taking some time to settle in. India 81/1
17:19 IST: FOUR! Andile Phehlukwayo bowls a poor delivery. Loose delivery and the ball rushes towards the offside boundary. A good shot by Kohli. India 76/1
17:15 IST: SIX! What a shot. A slow pitch, bowl just came to the bat sweetly for Rohit. Poor bowling by Ngidi. Played into the batsman's hands. India 69/1
17:13 IST: Markram brings Lungi Ngidi into the attack.
17:10 IST: Kohli gets off the mark with a single on the leg side. India 60/1
17:05 IST: FOUR! Perfectly timed shot by Rohit Sharma. Outside the off stump and the correct treatment meted out to Morkel. India 56/1
17:01 IST: OUT! Rabada strikes and sends Dhawan packing for 34 runs. A difficult catch by Andile Phehlukway at the deep square leg. A good innings comes to an end, gave India the perfect start. Virat Kohli is the new batsman. India 48/0
WICKET | The plan for the Proteas works as Dhawan (34) pulls and is caught by Phehlukwayo at bacjward square leg. India 48/1 #SAvIND #MomentumODI pic.twitter.com/hrKamS5ZPP

— Cricket South Africa (@OfficialCSA) February 13, 2018
17:00 IST: FOUR! No third man and Dhawan knew it exactly. Opens the face and gets it through the gully area.
16:57 IST: FOUR! Gets the width and hits a boundary. Three fours already in the over. 13 off the previous over and 13 off this over too. Good two overs for India. India 43/0 in 7 overs
16:56 IST: FOUR! Second-time lucky. Dhawan survives as the ball evades Klaasen's gloves. India 38/0
16:55 IST: FOUR! Good shot. Nicely played, Dhawan in perfect control of the shot. Not a bad ball but Dhawan stands strong and drives Morkel's delivery to the boundary. India 38/0
ZAC joins the St George's Park band to support the Proteas #ZACisBack #ProteaFire pic.twitter.com/Pv14qNe4lA

— Cricket South Africa (@OfficialCSA) February 13, 2018
16:52 IST: SIX! Tremendous shot. Gets some energy, runs at Rabada and hits a maximum. Took the gamble, found the middle and found the stands. India 30/0 in 6 overs
16:50 IST: FOUR! Back-to-back boundaries for India. Now, Dhawan slams it towards the long on boundary off Rabada's delivery. India 22/0
16:50 IST: FOUR! Rohit drives the ball towards the mid off region for a boundary. However, Morne Morkel looks dangerous with the ball, only one bad delivery ruined his third maiden over. India 21/0 
16:45 IST: FOUR! Lucky shot. The ball just nips away from skipper Aiden Markram. Dhawan survives a scare. India 13/0 in 4 overs
16:43 IST: FOUR! Dhawan pulls a short one. Hits it to the short boundary. Plays it beautifully. The wind will play a huge role in this match. India 9/0
16:42 IST: Back-to-back maidens for Morne Morkel. Superb bowling display by him. India 5/0 in 3 overs
16:40 IST: Quite some movement off the ball on this pitch.
16:38 IST: FOUR! Dhawan plays an exquisite shot. Driven towards the offside region. A brilliant shot to open his run account. India 5/0 in 2 overs
16:37 IST: India open their run account with Rohit taking a single off Rabada on the onside. Indi 1/0
16:36 IST: Kagiso Rabada comes into the attack. A peach of a delivery to Rohit Sharma. Rohit has a  long inning due in this series. 
16:34 IST: First over up. Good seam movement by Morkel, didn't trouble Dhawan much. Maiden over by Morkel. India 0/0 in 1 over
16:34 IST: MS Dhoni is 46 runs away from 10,000 ODI runs
16:31 IST: Morkel to Dhawan, first delivery sees the batsman leave the ball drifting towards the wicket keeper. India 0/0
16:30 IST: Shikhar Dhawan and Rohit Sharma are out in the middle. South Africa's Morne Morkel begins the proceedings for the hosts.
16:26 IST: We are moments away from the match to commence.
16:25 IST: TRIVIA! Of the total 15 ODIs played here, 235 runs is the average score for team batting first
16:00 IST: South Africa have won the toss and have decided to field first.
15:50 IST:India have relied heavily on Virat Kohli and Shikhar Dhawan in this ODI series. Ajinkya Rahane will be gunning to make a contribution today.
.@ajinkyarahane88 warming up for the 5th ODI with a few hits before start of play #TeamIndia #SAvIND pic.twitter.com/36t3Nb2Ieb

— BCCI (@BCCI) February 13, 2018
15:45 IST: Forecasts say there is a slight chance of rain. Fingers crossed that we get a full game today.
15:40 IST: Hello and welcome to the live blog of the all-important fifth ODI in Port Elizabeth. India are a win away from claiming their maiden ODI series win in South Africa, and Virat Kohli and his team will be hoping to get the job done today. 
At Johannesburg, the dual rain intervention affected India's momentum with both the bat and ball. More importantly, it reduced the target sufficiently that, despite AB de Villiers' relative early dismissal, the home batsmen didn't have much trouble getting past. The T20-mode of the second innings, coupled with the best batting surface of the series, allowed David Miller and Heinrich Klaasen to attack the Yuzvendra Chahal and Kuldeep Yadav to take the game away from India.
The dropped catch and castling Miller off a no ball didn't help India's cause either. Yet, a rain-truncated innings is hardly enough evidence that South Africa have learnt how to contend with the wrist spin of Chahal and Kuldeep.
Additionally, Bhuvneshwar Kumar and Jasprit Bumrah were not used to great effect as Virat Kohli chose to rely on the spinners, even when they were unable to respond to the Proteas' attack.
In this light, India's team selection will come into focus in Port Elizabeth. There are still question marks about the fitness of Kedar Jadhav, who suffered a hamstring injury in Cape Town and missed the previous game.
Albeit a part-timer, in his absence, India lose a reliable bowling alternative particularly if Hardik Pandya takes some stick and cannot complete his quota of overs.
Jadhav is adept at bowling slow spin, and mixing it up well with Chahal and Kuldeep. India do not have many fall-back options in Jadhav's absence -- Rohit Sharma last bowled an ODI over at Perth in January 2016.
Shreyas Iyer is known to practice leg break and had bowled an over against Sri Lanka in his debut series.
Neither of them provides a reliable option like Jadhav does. Kohli himself is the other contender, but he bowls seam-up.
Ajinkya Rahane has scored 11 and 8 since making a comeback 79 at no.4. Pandya's forgettable tour with the bat (since the first Test in early January) continues, with scores of 14 and 9 in his last two outings.
MS Dhoni's 42 not out (off 43 balls) was the only saving grace for this shaky middle-order as India struggled to finish well at Johannesburg.
The series' score-line has conveniently hid the fact that India have a top-heavy batting order, despite the poor form of Rohit Sharma, who has scored 40 runs in the first four ODIs and boasts a gradually sinking ODI average of 11.45 in 12 matches on South African soil.
Kohli (393 runs) and Shikhar Dhawan (271 runs) have scored nearly thrice the number of runs put together by the remaining batsmen (239) and it ought to be a cause of major worry for the Indian think-tank.
This fact will not go overlooked and South Africa will be keen to exploit the Indian line-up's frailty and dismiss Kohli and Dhawan cheaply to gain an early advantage.
It remains to be seen what bowling combination the hosts will go in with. On a hard and bouncy Wanderers' wicket, they had dropped a full-time spinner altogether, relying solely on JP Duminy to do that job.
St. George's Park though has a history of aiding spinners and in the last two ODIs played here, the Proteas' spinners have been in prominence. In January 2017, Imran Tahir took 3-26 against Sri Lanka.
In October 2016, Tabraiz Shamsi picked up 3-36 against Australia while South Africa also picked a second spinner in Aaron Phangiso who took 2-17.
South Africa have lost 11 out of 32 matches played at this ground. Six of those losses have come in the last decade as Port Elizabeth hosts at least one ODI every home summer.
India's record here is nothing to write about either. They have lost all 5 ODIs played here since 1992.
Four of those defeats came against South Africa, while the Men in Blue even managed to lose to Kenya here during the one-day triangular as part of their 2001-02 tour.
In fact, in five previous ODI outings in Port Elizabeth, India have never scored 200 runs here as 176 against South Africa in October 2001 is their highest total yet.
Once again on this trip, India will have to fight dubious past performances and erase a lop-sided record, only this time in a bid to carve out a fresh piece of history.
Squads:
India: Virat Kohli (capt), Shikhar Dhawan, Rohit Sharma, Ajinkya Rahane, Shreyas Iyer, Manish Pandey, Dinesh Karthik, Kedar Jadhav, MS Dhoni (wk), Hardik Pandya, Yuzvendra Chahal, Kuldeep Yadav, Axar Patel, Bhuvneshwar Kumar, Jasprit Bumrah, Mohammed Shami, Shardul Thakur.
South Africa: Aiden Markram (capt), Hashim Amla, JP Duminy, Imran Tahir, David Miller, Morne Morkel, Chris Morris, Lungisani Ngidi, Andile Phehlukwayo, Kagiso Rabada, Tabraiz Shamsi, Khayelihle Zondo, Farhaan Behardien, Heinrich Klaasen (wk), AB de Villiers.