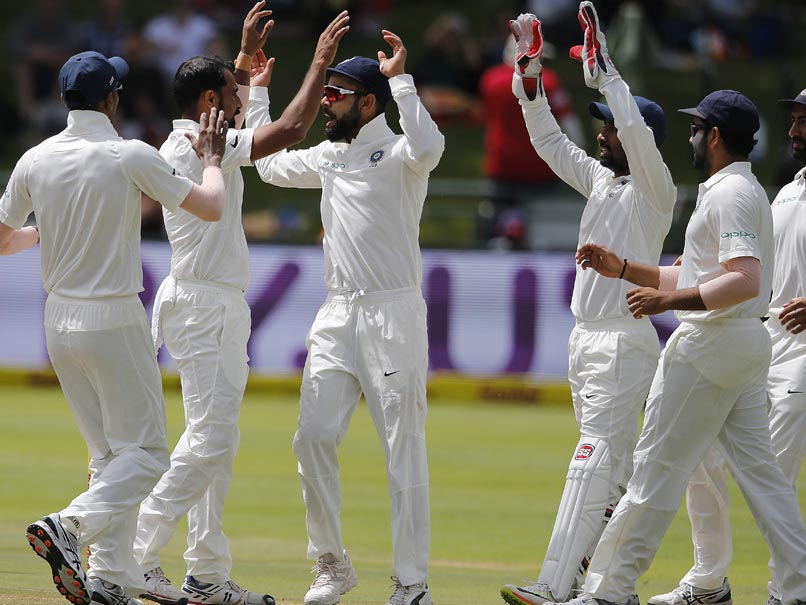 Highlights, India vs South Africa, 2nd Test: South Africa posted 269/6 at the end of day 1
© AFP
India showed their resilience with the ball after they took three wickets in quick succession in the last session to peg back the hosts on the first day of the second Test in Centurion on Saturday. South Africa ended the first day's play with 269 runs for the loss of six wickets. The first session saw the Indian pacers slog it off to take wickets. The Proteas openers Dean Elgar and Markram frustrated the bowlers throughout. However, in the second session, Ravichandran Ashwin finally got the breakthrough India were looking for. He sent back Elgar to the pavilion. Elgar departed for 31 runs off 83 balls hitting four boundaries in the process. He was caught at silly point by Murali Vijay in the 30th over. Ashwin also got the crucial wicket of Markram who looked primed to reach his third Test hundred. He fell short of 6 runs and was caught behind by the wicket keeper Parthiv Patel for 94 runs in the 48th over. At a pacers' friendly wicket, it was Ashwin's spin that gave the visitors the breakthrough they needed. SCORECARD
Jasprit Bumrah, Ishant Sharma, Mohammed Shami and Hardik Pandya failed to take any wickets in the first two sessions. Post tea in the final session of the first day, Ishant took the prized wicket of AB De Villiers. De Villiers couldn't gauge the delivery and ended up edging it back to his own wicket. Hashim Amla also continued his fine form at Centurion by hitting his 26th Test fifty. He ultimately fell prey to a brilliant throw by Hardik Pandya and was run out on 82 runs.
India made the most of the new ball after they struck double blows to the hosts after Quinton de Kock was caught by Kohli at first slip. When it looked like it was slipping away for India, they responded by taking three wickets in quick succession. Vernon Philander was the sixth player to depart for the hosts as he tried to take a single oblivious to the fact that he was surrounded by the Indian fielders.
Highlights between India vs South Africa, 2nd Test, Day 1, straight from Centurion
20:51 IST- Please tune in for the second day live match updates tomorrow.
20:50 IST: Day 1 Stumps | South Africa 269/6 in 90 overs (Aiden Markram 94, Hashim Amla 82, R Ashwin 3/90)
After a decent two session, the third session belonged to India. At one stage when South Africa 199/3 and looked set for a huge total, the visitors fought back taking three wickets in quick succession. Day 2 will surely have a lot to offer for the fans and India will look to wrap up the South African innings in the first session on Sunday.
20:27 IST: India must be commended for their grit and perseverance. Despite the onslaught of runs by the hosts, India stood ground and kept their composure to ensure they fought back into the game. This match now looks in balance. South Africa 256/6
20:19 IST- OUT! Philander is run out. Second run out in the space of five overs. There was no run but Philander departs for a duck. South Africa in trouble now after losing their sixth wicket. South Africa 251/6 after 83 overs
20:17 IST- Average score at Centurion on Day 1 in Tests is 263/6
20:12 IST- OUT! de Kock departs for 0. Ashwin strikes again. Got the odd ball to turn. Skipper takes the catch. A good reflex catch by captain Kohli. South Africa 250/5 in 81.1 overs
20:09 IST- OUT! Amla departs for 82 runs. Pandya scored a direct hit. Brilliant by Pandya. Poor call by Du Plessis. This wicket will certainly prep the visiting team. South Africa 246/4 in 80.5 overs
20:03 IST- Its been a hard toil for the Indian bowlers. Once they take the new ball, hopefully their fortunes might change. If India manage to get one or two wickets in the final ten overs of the day's play, we have a good Test match in our hands. South Africa 242/3
19:53 IST- Second new ball to be made available in the next 3 overs. The pacers have been fairly decent but they couldn't take wickets. South African batsmen have batted really well especially Amla and Markram. South Africa 239/3
19:51 IST- Play resumes.
19:47 IST- Drinks break
Amla looks set for a hundred. He is batting well and is ably supported by skipper Faf Du Plessis. South Africa 239/3
19:26 IST- The last ten overs saw South Africa put together 33 runs for the loss of one wicket. South Africa 226/3
19:15 IST- Amla is upping the ante after his fifty. He's played some fine shots especially on the off side. After Markram, Amla is leading the South African charge against the Indians. South Africa 218/3
18:59 IST- Fifty up for Hashim Amla. A boundary to bring up his half-century. This is his 36th Test fifty. Also, 200 up for the hosts in 63.4 overs. South Africa 203/3
18:51 IST- OUT! Clean bowled by Ishant Sharma. AB De Villiers departs for 20 runs. ABD tries to force it on the offside, gets an inside edge and he stumps are rattled. South Africa 199/3 in 62.4 overs
18:50 IST- 50-run partnership up between Amla and De Villiers. South Africa 198/2
18:31 IST- FOUR! Hammered for four by Amla. Lose one by Bumrah after the tea break. Punches it away to the square of the wicket. South Africa 186/2
18:30 IST- And we are back after the tea break. Session 3, Day 1 begins. The final session of the day begins.
18:12 IST-  Tea, Day 1 | South Africa 182/2 in 56 overs (Amla 35*, AB De Villiers 16*, R Ashwin 2/53)
It is a hot and humid day. The Indians are definitely drained but they have not dropped their shoulders even a bit. The pacers have maintained their line and length but neither of them has succeeded in taking a wicket other than Ashwin. Pandya has the knack of picking wickets but it has eluded him. India will want to take another wicket as soon as they get done with the tea break.
18:05 IST- Hardik Pandya reintroduced to the attack from the pavilion end but to no avail. South Africa 175/2
17:59 IST- India need to apply pressure on the hosts. They need to break this partnership now. As we approach tea, a wicket for the visitors could put them back in the game. South Africa 172/2
17:49 IST- Amla dropped on 14 by Hardik Pandya and 30 by Parthiv Patel. Both chances were difficult though. Will this haunt India later, we need to wait and watch. South Africa 166/2
17:34 IST- OUT! Big blow. Markram departs. Change of angle from Ashwin has done the trick. Decision reviewed. Caught behind for Markram. A brilliant innings comes to an end. He departs for 94 runs. Misses on ton by 6 runs. South Africa 148/2 after 47.3 overs
17:28 IST- Partnership of 63 runs from 101 balls. Amla and Markram have steadied their ship after Elgar's departure. South Africa 148/1
Score Update | SA 145/1
Markram 93
Amla 19#ProteaFire #FreedomSeries #SAvIND pic.twitter.com/5wrYyUSYdD

— Cricket South Africa (@OfficialCSA) January 13, 2018
17:12 IST- DRINKS. Time to regroup and strategise for both the teams. South Africa 140/1 in 43 overs
17:10 IST- FOUR! Markram is utilising his skills to hit the poor deliveries. Just pushes the ball to the offside. He has now reached 83 off 133 balls. Markram has played some exquisite shots. His wagon wheel suggests he has cored all over the park. He has played some intelligent cricket today. South Africa 135/1
16:59 IST- Amla is taking on Ashwin now with a boundary. He seems to be growing in confidence. Pandya had a chance, tough one though, to take Amla's catch on 14. South Africa 126/1
16:45 IST- 100 up for South Africa in the 35th over. Amla gets to the team's 100 with a superb drive to the boundary. The host have shown resilience throughout their first innings. Markram will look to convert his fifty into a hundred. South Africa 101/1
16:35 IST- FOUR! Poor delivery by Ishant. Too straight. Markram gives it the treatment it deserved. He has been wonderful in this innings. If he stays like this, South Africa could end up posting a huge total. He has been strong on the leg side throughout his innings. South Africa 92/1
16:21 IST- OUT! Elgar departs for a gritty 31. Murali Vijay takes a good catch at silly point. Finally, India get the breakthrough. Danger man Hashim Amla is next. South Africa 85/1
16:13 IST- FOUR to end the over with. Straight drive over the bowler's head for a four. Elgar is now bating on 30. South Africa 83/0
16:10 IST- Day 1, Session 2 begins
And we are back with the live updates. Ashwin begins the proceedings.
15:31 IST- Lunch. Good first session for South Africa after Markram's fifty. Elgar, with his 26, also played a good knock for the hosts. India will look to regroup at the lunch break. South Africa 78/0 after 27 overs. (Markram 51*, Elgar 26*, Ishant 0/12)
15:24 IST- FIFTY! Markram shows his class after his fifty. This is his 2nd Test fifty. Looked in control right from the outset. 50 runs off 81 balls with 9 fours. South Africa 72/0
15:17 IST- NOT OUT! Big appeal for caught behind off Ashwin's ball. Decision reviewed. Good relex catch by Parthiv Patel behind the stumps. Elgar, batting on 20, awaits his fate. No edge. India lose their review. South Africa 61/0
Extra bounce in Centurion on show....hardly anything hitting the stumps today. But no lateral movement must make bowlers target the stumps more...perhaps, bowl the Indian length. Fuller. #SAvIND pic.twitter.com/ZirWhoImGi

— Aakash Chopra (@cricketaakash) January 13, 2018
15:12 IST- Lose delivery by Bumrah and gets the necessary treatment by Markram. Ball races away to the boundary. It was a half-volley down the leg side. South Africa 60/0
15:06 IST- FOUR! Markram is very strong on the leg side. With the boundary, its 50 up for the hosts. Two boundaries off Bumrah's over. South Africa 55/0 in 21 overs
15:00 IST- R Ashwin is brought into the attack. After pacers failed to get a breakthrough, Kohli called on the spinner for wicket-taking duties.
14:45 IST- The wicket is not as green as Cape Town was in the first Test. However, there's little grass on it here at Centurion. Last 10 overs, South Africa has scored 25 runs for the loss of no wickets. Couple of slips and a gully for Sharma but still no breakthrough for the visitors. South Africa 37/0
14:37 IST- South Africa have weathered the initial storm by the Indian pacers. The first hour has seen the hosts play well, leave the off stump deliveries and tried no fancy shots. South Africa 36/0
14:24 IST- Hardik Pandya comes into bowl for India. India need a breakthrough as both South Africa batsmen look set. South Africa 35/0
A great crowd at SuperSport Park enjoying the 2nd Sunfoil Test. Relatively good start from SA with the score on 34/0
Markram 24
Elgar 9#SAvIND #ProteaFire #FreedomSeries pic.twitter.com/mkv1vEcUn5

— Cricket South Africa (@OfficialCSA) January 13, 2018
14:17 IST- FOUR! Shami is getting hammered with two boundaries off his over. Some good looking shots by Markram. South Africa 31/0
14:08 IST- Decent start for the hosts. They seem to have a laid a foundation. Both Elgar and Markram have been solid with the latter scoring more runs. South Africa 19/0
14:04 IST- Ishant Sharma is the new bowler for India. A superb delivery in his first over that carried well to the keeper. A good first over by Ishant, gives away only a single run. South Africa 16/0
13:56 IST- South Africans have played well until now. Leaving balls outside the off stump and not trying to force any shot. Markram making good use of height to play short balls. South Africa 14/0 in 6 overs
13:45 IST- FOUR! Beautiful shot. Punched towards the offside boundary. Gets right on top of the ball. Races towards the boundary for Markram. Back-to-back boundaries for him. Terrific shot driven through the mid wicket. Ishant Sharma loses the chase as the ball reaches the boundary. Good over for the Proteas. South Africa 12/0
13:42 IST- South Africa finally begin to score runs. Four runs from Bumrah's over. South Africa 4/0
Staggered by the exclusion of Bhuvaneswar. Staggered.

— Harsha Bhogle (@bhogleharsha) January 13, 2018
13:39 IST- First runs on the board for the hosts. Elgar off the mark with a single.
13:37 IST- Mohammed Shami takes the ball for the visitors from the pavilion end. He gets good bounce in his first over. Shami varying with his pace and Markram playing cautiously. He is getting the balls smartly away from the batsman. A good first over for Shami. No runs from the first two overs.
South Africa 0/0
13:34 IST- Bumrah maintaining his line and length in his first over. Elgar has been careful. No runs off the first over. South Africa 0/0
13:30 IST- Match begins
Both South African openers at the crease. Markram and Elgar are the two openers for the hosts. Indian pacer Jasprit Bumrah begins the proceedings for the visitors.
13:25 IST- National Anthems being played of both the teams. Its almost time now.
13:15 IST: Team Changes:
INDIA: Wriddhiman Saha is out with a hamstring niggle. Parthiv replaces him.
KL replaces Shikhar Dhawan.
Ishant Sharma replaces Bhuvneshwar Kumar
South Africa:
Lungi Ngidi makes debut
13:13 IST: Playing XIs:
India: Murali Vijay, Lokesh Rahul, Cheteshwar Pujara, Virat Kohli(c), Rohit Sharma, Parthiv Patel(w), Hardik Pandya, Ravichandran Ashwin, Mohammed Shami, Jasprit Bumrah, Ishant Sharma
South Africa: Dean Elgar, Aiden Markram, Hashim Amla, AB de Villiers, Faf du Plessis(c), Quinton de Kock(w), Vernon Philander, Keshav Maharaj, Kagiso Rabada, Lungisani Ngidi, Morne Morkel
13:00 IST: TOSS: South Africa captains Faf Du Pessis wins toss and opts to bat against India in Centurion.
Toss update: South Africa have won the toss and elected to bat first in the 2nd Test. Three changes for #TeamIndia. KL Rahul, Ishant Sharma and Parthiv Patel are in the Playing XI #SAvIND #FreedomSeries pic.twitter.com/kbj1louaSU

— BCCI (@BCCI) January 13, 2018
12:30 IST: Hello and welcome to the Live coverage from the opening day of the second Test between India and South Africa in Centurion.
All set for the 2nd Test. #TeamIndia #SAvsIND pic.twitter.com/yw4Op5pC6q

— BCCI (@BCCI) January 13, 2018
If Kohli wins the toss, opting to bowl will be obvious option. Doing so will not only shield the batsmen from the early onslaught of the hosts' pacemen but also allow the visiting bowlers to run into the opposition with full steam. Seamers Bhuvneshwar Kumar, Jasprit Bumrah, Mohammed Shami and Hardik Pandya, alongwith lone spinner Ravichandran Ashwin bundled out the hosts for 130 in the second innings at Newlands. South Africa will depend upon Dean Elgar, Hashim Amla, AB de Villiers and Faf du Plessis to score the bulk of runs.