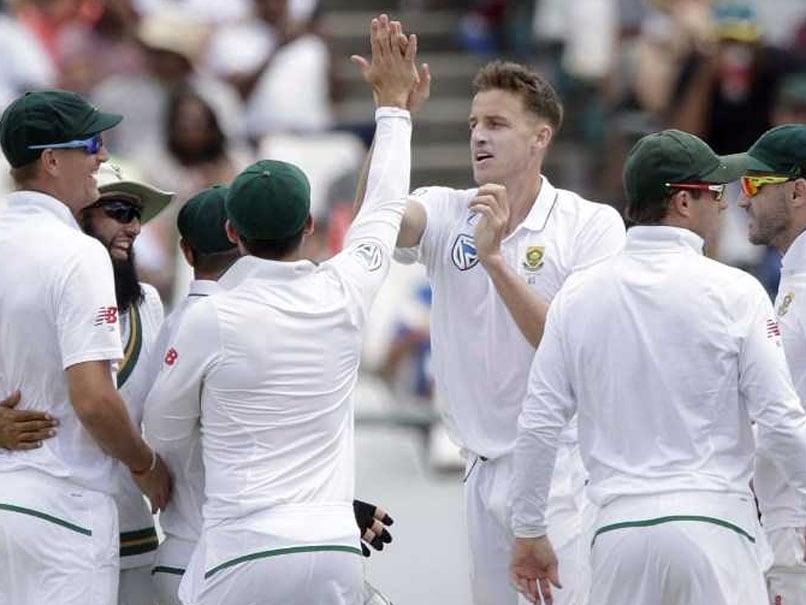 South Africa take 1-0 series lead as they beat India by 72 runs.
© AFP
Vernon Philander starred with the ball as South Africa beat India by 72 runs to take a 1-0 lead in the three-match Test series at Cape Town on Sunday. Philander, who ended the match with nine wickets, registered his career-best Test bowling figures. Hosts, after being bowled out for 130 in the second innings at lunch on Day 4, bowled brilliantly that helped them to come back in the Test match. Shikhar Dhawan and Murali Vijay took India off to a decent start but were put on the back foot, courtesy some great seam bowling from the Proteas. The hosts picked up wickets at regular intervals that never really allowed the Indians to get off the hook. However, the visitors looked threatening as Ravichandran Ashwin and Bhuvneshwar Kumar stitched together a 49-run eighth-wicket partnership and brought India closer to the total before Philander struck once again and broke the partnership by dismissing Ashwin. Following which, Mohammad Shami and Jasprit Bumrah were dismissed in quick succession. Ashwin top-scored for India as the visitors were bowled out for 135 in their second innings. (Scorecard)
Highlights of India vs South Africa, 1st Test, Day 4 straight from Newlands, Cape Town
20:25 IST: Thank you for joining us for the live blog. Do tune back in when India face South Africa for the second Test, starting January 13.
20:19 IST: And this is it! Philander takes his sixth wicket as he dismisses Jasprit Bumrah. South Africa win by 72 runs and take 1-0 lead in the three-match Test series. Philander also recorded his career-best figures in Test.
20:18 IST: Out! That is the fifth wicket for Philander. Forced Shami to poke at the ball as the Indian edges the ball to du Plessis in the slips.
20:15 IST: Mohammad Shami, the new man in, gets off the mark with a lofted on-drive off Philander.
20:14 IST: WICKET! Vernon Philander gives South Africa a much-needed breakthrough. Trying to drive Philander, Ashwin nicked the ball back to de Kock who was standing close to the stumps.
20:10 IST: The 41* run stand between Ashwin and Bhuvneshwar is the second highest stand for India in this Test. Hardik Pandya and Bhuvneshwar stitched together a 99-run partnership during India's first innings.
20:04 IST: Four! Maharaj bowls a flat ball outside off and Bhuvneshwar punches it off the back-foot through covers. Beautiful shot from the Indian pacer.
20:02 IST: Four! Back of a length delivery from Philander and Ashwin punches it off the back foot through backward point.
19:58 IST: India 114/7, need 94 runs to win. Can Ashwin and Bhuvneshwar take the visitors over the line?
19:55 IST: Review lost. Maharaj angles the ball in and hits Ashwin straight on the pads, huge appeal for LBW but the on-field umpire turns down the appeal. However, South Africa take a review but the ball missed the leg-stump and they lose a review.
19:51 IST: Four! Philander bowls his stock delivery, a delivery going away from the batsman, Ashwin pokes at the ball with soft hands, edges and the ball runs past Faf at slips. Could have been Ashwin's dismissal but the ball dropped just in front of Faf. Close chance for the Proteas.
19:49 IST: Four! Philander strays on the pads, too full, Ashiwn welcomes back Philander with a boundary through deep mid-wicket. India need 101 runs to win.
19:48 IST: Vernon Philander is back in the attack.
19:47 IST: Maiden over for Maharaj.
19:44 IST: Keshav Maharaj is introduced in the bowling attack.
19:43 IST: Four! Pitched up delivery from Rabada, Ashwin onto the front foot, drives the ball straight down the ground for a boundary. Sweet timing of the ball. 100 comes up for India as well.
19:35 IST: Morkel and Rabada are not allowing the Indian batsmen to score runs freely.
19:29 IST: Four! Morne Morkel strays on the pads, Ashwin guides the ball for a boundary through backward square leg.
19:26 IST: Bhuvneshwar and Ashwin currently dealing in singles and doubles. Boundaries have dried up for the visitors.
19:22 IST: Two runs off the Morne Morkel over. Rabada introduced in the attack.
19:18 IST: Morne Morkel is starting the proceedings for South Africa after tea.
19:15 IST: Welcome back to the last session of day four.
It's Tea time at Newlands. What a session of Test match cricket. India are 82/7 needing 126 runs to win. The Proteas need 3 wickets to take a 1-0 lead. See you in 20 minutes #SAvIND

— Cricket South Africa (@OfficialCSA) January 8, 2018
18:55 IST: OUT! Last ball before the session and Saha falls prey to Kagiso Rabada. Saha fails to connect to an in-swinging delivery, gets rapped on the pads and the on-field umpire raises his finger. India opt for the review but lose as DRS showed that the ball would've brushed the leg-stump. South Africa need three wickets to win.
18:53 IST: Wriddhiman and Ashwin are being careful in their approach. But the South African attack are creating chances. Rabada bowling the last over before tea.
18:43 IST: Four! Philander bowls straight and full, Wriddhiman Saha flicks it over mid-wicket for a much needed boundary.
18:40 IST: South African bowlers are creating wicket taking chances. What a performance from the bowlers.
18:37 IST: Ravichandran Ashwin is the new man in.
18:35 IST: OUT! Fullish delivery swinging away outside off stump, Pandya (1) tries to push hard and away from the body, gets a thick edge and de Villiers was quick as he moved to his right to take a magnificent catch. India in trouble as South Africa need four wickets to win.
18:33 IST: What an over from Philander. Gives one run and takes a crucial wicket of Rohit. India 77/5, need 131 runs to win.
18:30 IST: Hardik Pandya is the new man in.
18:29 IST: OUT! Philander is getting his rhythm back. A length ball from Philander, Rohit looking to connect the ball away from the body, manages to drag the ball back onto the wickets as the middle stump is out of the ground.
18:27 IST: Four! Full delivery outside off stump, Saha crashes it through cover for a much needed boundary.
18:25 IST: Rohit survives! Rohit, on the front foot, looking to pull the ball, gets done by a Rabada bouncer as the ball takes an top edge and flies to Keshav Maharaj at deep square leg but he makes a mess of it as he lost the ball in the sun. Rabada in not impressed.
18:20 IST: OUT! Vernon Philander gets the big wicket of danger man Virat Kohli. Shuffled across the stumps, wanted the work the ball on the on-side, Kohli misses it and gets rapped on the knee rolls. Plumb in front of the wicket. Kohli departs for 20. India need 137 to win.
18:14 IST: Four! Rabada drifts into the pads, too full, Kohli glances the ball for a boundary down the long leg.
18:13 IST: Kagiso Rabada brought back in the attack.
18:12 IST: 20 overs have been bowled. Morkel and Philander seem to be tired as they are not firing in any wicket-taking delivery.
18:04 IST: Decent over from the pacer, concedes one run. Rohit and Kohli are playing carefully at the moment and taking India ahead in chase.
18:00 IST: Philander comes back in the attack.
17:58 IST: Four! Full delivery, Kohli leans in and beautifully drives Morkel for a boundary. It seems Kohli is getting into the rhythm.
17:45 IST: Drinks are on the field.
17:40 IST: Four! Rabada strays on the pads, Kohli manages to edge the ball for a boundary.
17:38 IST: Rohit Sharma is the new man in.
17:37 IST: OUT! Morne Morkel bowls a length delivery close to off stump, Pujara trying to defend, edges and Quinton de Kock takes a good catch. India are three down. South Africa are clawing back in the game.
17:32 IST: Pujara survives! Kohli plays a Rabada delivery with soft hands and calls for a quick single, Pujara, who was running towards the danger end, survived as Dean Elgar missed his mark by inches.
17:30 IST: Four! Short and wide from Rabada, Kohli guides the ball past gully to get off the mark with a boundary.
17:25 IST: Excellent start from Rabada, concedes only one run in his first over.
17:22 IST: Kagiso Rabada, right-arm fast, comes into the attack.
17:21 IST: Captain Virat Kohli is the new man in. He will be looking to amends after his poor performance in the first innings.
17:20 IST: OUT! Philander bowls his stock ball, the outswinger on a good length, Vijay looking to defend, gets an outside edge and AB de Villiers, at slips, takes an brilliant catch by diving low to his left. Murali Vijay at last ran out of luck. India lose both openers.
17:15 IST: Cheteshwar Pujara is the new man in.
17:14 IST: OUT! Short delivery from Morkel, Dhawan takes his eyes off, the ball brushes the handle-glove and Chris Morris at gully takes a comfortable catch. South Africa finally gets the first breakthrough. Extra bounce from Morkel caught Dhawan off-guard.
17:08 IST: SAFE! Murali Vijay is riding his luck. Given out for an outside edge off Philander, takes a DRS immediately after the umpire rules him out. Ultra-edge shows the that noise came from the bat hitting the pad and not the ball taking an outside edge. Must be frustrating for Philander.
Shout for wicket, Vijay again wastes no time and goes for a review, he's spot on the decision is overturned. India 28/0 #SAvIND

— Cricket South Africa (@OfficialCSA) January 8, 2018
17:06 IST: Four! Good length delivery just outside off stump from Philander, the ball moves away and takes an outside of Vijay's bat as the ball goes past the gully.
17:02 IST: Four! Morkel is leaking runs. Bowls on the pads, Dhawan plays very fine and beats the long leg as the ball rolls away to the boundary.
16:56 IST: Four! Dhawan looking to defend, leans forward, gets surprised by a bit of extra bounce as he edges the ball past the third slip to collect a boundary.
16:52 IST: Four! Over-pitched delivery from Morkel, Vijay gets in position early and caresses the ball through covers for the first boundary of the Indian second innings.
16:47 IST: SAFE! Murali Vijay shuffles across the stumps to guide an in-swinging delivery off Philander on the on-side, misses the ball and gets rapped on the pads. South Africa appeal in unison, on-field umpire raises the finger and Philander celebrate the wicket but India go for the review. Hawk-eye shows the ball bounced too much and missed the stumps. Umpire Richard Kettleborough over turns the decision and rules Vijay not out. Very food DRS review by India.
16:44 IST: Good, tight bowling from Morkel to start the proceedings with, concedes only one run.
16:40 IST: Morne Morkel, right-arm fast, comes into the attack
16:37 IST: Big appeal for leg before. But the umpire rules it in favour of the batsman. Vijay has the presence of mind to steal a single. India are away.
16:36 IST: Philander to start things off for South Africa with the new ball. Vijay to take strike.
16:35 IST: Welcome back in the post-lunch session. Both the Indian openers are out there in the middle. Shikhar Dhawan and Murali Vijay would look to give India a good start in chase of 208.
16:00 IST: India need 208 runs to win the first Test match and take a 1-0 lead in the three-match Test series.
15:57 IST: Wicket: de Villiers goes for the big one but finds the man at the deep. Bumrah gets another one and India have bowled out South Africa for 130. Just the kind of start India needed on the fourth day. Lunch has been taken at Newlands, Cape Town.
15:51 IST: Dale Steyn is the new batsman for South Africa.
15:50 IST: Wicket! Short from Bhuvneshwar and Morkel unable to get out of the way, gives an easy to Saha. South Africa 130 for 9, lead by 207 runs.
15:48 IST: Just as we speak, de Villiers takes the aerial route and deposits Bumrah into the stands. Add six to the total.
15:45 IST: Bumrah to continue. de Villiers would look to open up a bit now. Runs are important here. A lead in excess of 250 would not be easy here.
15:42 IST: Morne Morkel is the new man in for South Africa.
15:40 IST: Wicket: Bhuvneshwar gets it to move away and Maharaj pokes at that outside off-stump, gets a thin outside edge and Saha makes no mistake.
15:38 IST: Four! Short and wide from Bhuvneshwar, Maharaj looking to slash, gets a thick outside edge as the ball rushes away to the third-man boundary.
15:37 IST: Bhuvneshwar Kumar comes in the bowling attack.
15:34 IST: Four! Short delivery from Hardik Pandya, Maharaj, on front foot, pulls it handsomely over mid-wicket.
15:31 IST: Full toss from Bumrah and de Villiers couldn't get the ball away. Missed out on a perfect opportunity.
15:29 IST: Four! Overpitched outside off, de Villiers gets forward and slams the ball wide of cover for a much needed boundary.
15:23 IST: South Africa have scored 26 runs in last 10 overs and lost four wickets.
15:18 IST: Huge LBW appeal from Shami but the on-field umpire turns down the appeal. Shami is convinced that the ball was hitting the wickets and Kohli takes the review. India lose a review as the ball was missing the leg stump by miles. Bad call from the visitors.
15:17 IST: Keshav Maharj is the new batsman in.
15:14 IST: OUT! Beautiful incoming delivery from Shami, beats the inside edge, raps on the pads and the on-field umpire raises the finger. Philander, in question, takes the review and loses it as the ball is hitting the wicket. Philander has to go for a duck. India on top of the Proteas.
15:11 IST: Philander and de Villiers are playing carefully now. And Indian bowlers are on fire.
15:05 IST: Dhawan saves a certain boundary. Full delivery from Shami, de Villiers drives it beautifully, Dhawan gets across and dives to his right to stop it.
14:57 IST: Vernon Philander is the new batsman for South Africa.
14:56 IST: Wicket: Another one bites the dust. de Kock gets an inside edge and Saha behind the stumps makes no mistake. Bumrah strikes again for India. The umpire was not sure but Kohli was convinced. Went for the review straight away. Replay suggest he got an inside edge. South Africa are in trouble now. 92 for 6, lead by 169 runs.
14:55 IST: Four! Outside edge and de Kock will get a boundary.
14:50 IST: Four! Short from Pandya and de Kock goes for the cut, gets a top edge and it flies off over the slip cordon.
14:48 IST: Hardik Pandya replaces Shami. That's a bit surprising. May be one more over from Shami to de Kock would have been good.
14:47 IST: A huge mix up between de Villiers and de Kock and a direct hit would have seen de Kock take the long walk back to the dressing room.
14:45 IST: Quinton de Kock is the new batsman.
14:44 IST: Wicket: That was an absolute jaffa from Bumrah. Pitched on and around off stump and then straightened, a bit of extra bounce and takes du Plessis's gloves on the way to the keeper. India have got off to a great start today. Not so for South Africa.
14:39 IST: Former India captain Sachin Tendulkar doesn't think any different.
14:37 IST: Shami is in the middle of a very good spell. This is the important partnership. If India can get rid of one of these two players, de Villiers or du Plessis, it would be India's session. The game would be wide open.
14:35 IST: Good testing over from Bumrah comes to an end. Just one coming from it.
14:33 IST: That was a beauty from Bumrah. Squared de Villiers up altogether and it missed the bat as well. Too good a ball to take a wicket.
14:32 IST: First change of the morning. Jasprit Bumrah comes on, replaces Bhuvneshwar.
14:30 IST: Faf du Plessis is the new man in for South Africa.
14:29 IST: Wicket: Rabada's struggle comes to an end. Edges one straight to second slip where Kohli takes an easy catch. Shami picks up his second wicket of the morning. Just the start India wanted.
14:27 IST: Shami finds the edge again but falls short of gully. Rabada survives.
14:25 IST: Four! Pitched up and de Villiers worked it through his legs for a boundary. First of the morning.
14:23 IST: A big mix up between Rabada and De Villiers and Vijay throws at the wrong end. Rabada was struggling at the non-strikers end but Vijay picked the wrong man. De Villiers is quick and he would have possibly made his ground even if that would have hit the stumps.
14:21 IST: Edged and didn't carry. De Villiers playing with soft hands and it was well short of Kohli at second slip. Moral victory for Bhuvneshwar.
14:20 IST: Good probing over from Shami comes to an end.
14:18 IST: Another one from Shami beats the bat. Rabada living dangerously here.
14:17 IST: Good ball from Shami. Rabada had no clue about that one. Beats the bat and through to the keeper.
14:15 IST: South Africa 67 for 3, lead by 144 runs.
14:11 IST: AB de Villiers is the new man in for South Africa.
14:09 IST: Wicket! This is a big wicket for India. Amla going for the cut and it flies off to gully where Rohit Sharma takes a very good low catch. Amla wasn't going anywhere and the on field umpires referred it upstairs. The soft signal was out and the third umpire didn't have enough evidence to rule it in favour of the batsman since the soft signal was out. Shami gets the early breakthrough.
14:06 IST: Short from Shami and Rabada goes for the hook. Gets it away for a single.
14:04 IST: Mohammed Shami to start from the other end. Kagiso Rabada on strike.
14:04 IST: Bhuvneshwar starts off with a maiden. South Africa 65 for 2, lead by 142 runs.
14:00 IST: So players are out in the field. Bhuvneshwar Kumar to start the proceedings. Hashim Amla to take strike.
13:55 IST: Sunil Gavaskar believes that if India can restrict South Africa for less than 300, they will be pretty much in the game. Anything more than that would be difficult to chase down on the final day of the Test match.
13:50 IST: For India the first session will be very important. The visitors would look to strike early or else South Africa would run away with the match.
13:40 IST: "I had a pretty good day. First Test match, wanted to bat a lot and got the opportunity to help our team out from a difficult siuation. It always feels good and feels proud as well. From the situation we came in. Credit goes to Bhuvi as well. We almost got a hundred run partnership," says Hardik Pandya before the start of play.
13:33 IST: The sun is out and we will have extended sessions today to make up for the lost time yesterday. 98 overs to be bowled in the day.
13:30 IST: Hello and welcome to the 4th day's play between India and South Africa. The weather has cleared out and we are all set for some action. 
On day one, South Africa were bowled out for 286 runs in the first innings with Bhuvneshwar taking 4-87. India were reduced to 28/3 at stumps.
On day two, India finished with 209 runs in their first innings, surrendering a 77-run lead. South Africa were 65/2 at stumps with an overall lead of 142 runs. Hardik Pandya single-handedly kept his side in contention with 93 runs off 95 balls and then took 2-17 as well.
Dale Steyn, on his comeback to Test cricket, suffered a heartbreaking heel injury whilst bowling during the Indian first innings. He has been ruled out of the remainder of this Test, and the series as a result.