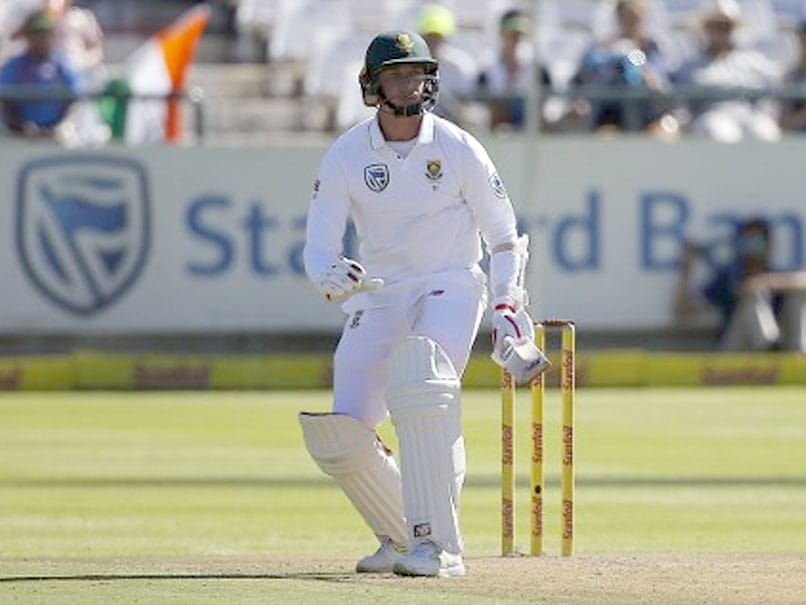 Dale Steyn came out to bat in South Africa's 2nd innings despite carrying a heel injury.
© AFP
South African pace spearhead Dale Steyn's injury was probably the only bit of bad news for the home team as they halted India with a big 72-run win in the 1st Test at Newlands, Cape Town, on Monday. An injury to his left heel while bowling, which had stopped him mid-over, wasn't enough to stop him from coming in to bat at No. 11 when his side looked in a fair amount of trouble in their second innings. One of the moments of the Test was Steyn limping out to bat, as he made an attempt to add to the rather modest-looking South African total.
The 34-year-old's comeback from injury in the series had been ruined by another injury but he was unwilling to let go of any chance to be a part of the action.
"... I figured, at that point, we probably needed another 20 runs just to feel a little bit more safe. I figured, if I go out there, I could block," Steyn told Cricket South Africa's official website.
The fast bowler will be on crutches for the next few days to avoid putting any pressure on his injured left heel.
He had drawn massive applause from spectators for each of his blocks during the five-minute unbeaten stay at the crease which ended when AB de Villiers' wicket became the last to fall for the hosts.
"It was not that bad but there was no running involved. It's not quite a Graeme Smith walking out with a broken hand moment, but I'll claim it anyway," the fiery speedster laughed recalling the iconic vigil by Smith against Australia in 2009.
Smith, the then South African captain, had walked out to bat at No. 11, hoping to survive 8.2 overs against the Aussies despite being injected with his own blood to mend a broken right hand. He could not stop an Australian win but found all-round admiration for his tenacity.
Steyn had injured himself on the second day of the match, which the home team won by 72 runs, when he landed awkwardly after delivering a ball. But he refused to stay in the dugout when the Proteas found themselves in a spot of bother at 130/9 in the second innings.
Skipper Faf du Plessis later said that Steyn had padded up to bat even before the matter could be discussed with him.
"We said if by any chance AB is still there, Dale can just go and just stand there and hopefully AB can smash a few sixes. The plan wasn't to get him to bat and injure him more," du Plessis said after the game.
"He was padded up before we spoke about this to him. I feel incredibly bad for Dale. He worked for over a year. He was challenged through periods where he started and got injured again, and then started and got injured again."
Steyn is expected to recover in six weeks' time.
"Luckily it's not his shoulder again. The foot, or injury that he has, is something you probably can get over a lot quicker and we are looking forward to bringing him back in the fold when he's fit again," du Plessis said.
(With PTI Inputs)