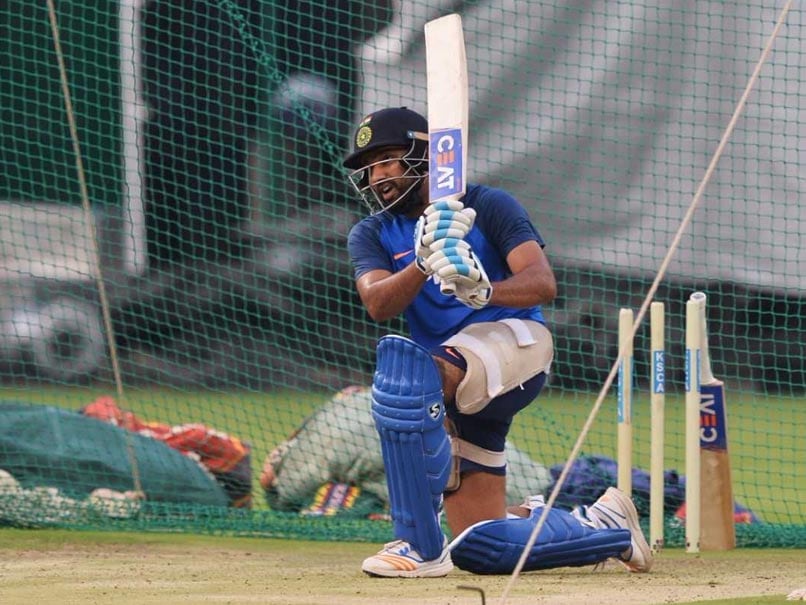 Being an integral part of the ODI, Rohit is itching to perform in the six-match series.
© AFP
Rohit Sharma was criticised for his dismal show in the Test series against South Africa. He scored only 78 runs in the two Tests he played in the series and following poor form, he was dropped from the third Test at Johannesburg. The right handed batsman made 11 and 10 in the opening Test and ended up scoring 10 and 47 in the second at Centurion . Despite his miserable run in the series, the right-handed batsman is confident of doing well in the One-day International (ODI) starting from Thursday.
"It's not that I don't try much in Test cricket. I give the same effort in all the formats that I play, but sometimes it comes and sometimes it doesn't. But that doesn't mean that you have to change things too much," said vice-captain Rohit ahead of the first ODI on Thursday.
Rohit smashed double hundred in ODIs and joint- fastest century in T20s in the home series against Sri Lanka last month, but runs deserted him in the first Two Tests in South Africa before he was dropped for the third Test.
"You've got to believe in yourself, you've come so far and played and got success. I've been in a difficult situation before many times, so for me it's all about taking it one game at a time and responding to situations.
"There will always be times when things are not going your way, and then when things are going your way, it is important for you to keep things going," he said.
Being an integral part of the ODI, he is itching to perform in the six-match series.
"I'm not going to talk about Test cricket so much because it's over now, and we have a big job at hand winning the ODI series here. Every batsman who will be taking part in this ODI series will have a huge role to play. I'm here to make an impact in the series."
Rohit said the visitors are keen to win a first-ever bilateral ODI series in South Africa. India need to win this series if they are to topple South Africa from the top spot in the ODI rankings.
"We are very keen to win this ODI series. But it is a long series; it is a six-match series. I think it's been a while since we played a six-match series. We cannot think too far ahead.
"It is important to do a lot of things right. There will be times when we will be put under pressure but as a team we have shown that we can absorb that pressure and come back, he said.
At the same time we have shown that if we put pressure back on the opposition they tend to crumble. We are going to try to use it to our advantage."
The last time India played an ODI series in South Africa (in 2013), they lost three-match series 2-0. Rohit said the top-order will have to come good and reverse the form from last tour.
"There are two things into it. The first thing is when we came last time, our guys were inexperienced and had hardly played in overseas conditions. It does matter because the lengths that you bowl in India and the lengths that you bowl overseas are slightly different.
"Now all these bowlers have enough experience and they've got the job done in Test series as well. They created history by taking all 60 wickets in the Test series. Our bowling has shown enough courage and it is a plus for the bowling unit. So it will be a different ball game this time around."
When asked about India's poor record in ODIs at Durban, Rohit said, I don't think these things matter because so many things change. The teams have changed. The generations have changed. It's a 50-over game, so you get time. Even if the first 10 overs go bad, you can always come back.
"We can't give up on the situation. Whoever comes into bat must remember that the team has to be kept in the game.
These small things are important as opposed to the past records."
(With PTI inputs)