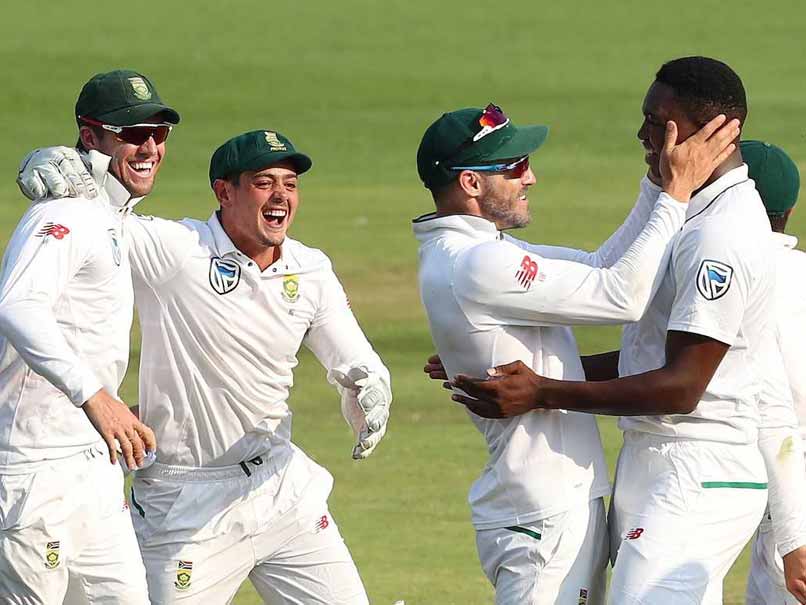 Faf du Plessis congratulates Lungi Ngidi on taking his maiden Test wicket.
© BCCI
Young South African pacer Lungi Ngidi, who made his Test debut against India, said that it is a dream come true moment for him as he made his debut in front of his home crowd. Ngidi was instrumental in reducing India to 183 for five at stumps on Day 2. He not only affected the run-out of Cheteshwar Pujara but also picked his maiden Test wicket in the form of Parthiv Patel. "Test debut was a dream of mine and I am happy it came true on my home ground. I actually had goosebumps," said Ngidi on Sunday.
"I was talking to Vernon (Philander) in terms of game plans on how to get that wicket. Listening to someone with so much knowledge, and it planned out exactly the way he was telling me. It made me really happy and I now believe that I can perform at this level," he said.
"I stuck to my lengths. We keep it as basic as possible. Being hypercritical, I think I could have done a little bit better, but I'll take it," he added.
Ngidi ran out Pujara with a direct throw from mid-on as the Indian batsman went for a non-existent run.
"I didn't think he was going to run. As soon as he hit it and he took off, I wasn't even looking at him. I was trying to figure out which angle the ball was going at. When I got there I slipped a bit, but then I saw he was halfway down the wicket so I took my chance and I got him," Ngidi said.
Ngidi, egged on by his home crowd, had an interesting duel with India skipper Virat Kohli before he scalped Patel in his second spell.
"In my first spell I hit the pad a few times, so I thought that was a vulnerable area for him (Kohli). He kept shifting across and getting more into my bowling line, so I thought maybe shoot one into the stumps.
"I nearly got him. I thought I had him. I thought he had hit the ground. When I saw that edge, I kind of dropped a bit, but I knew I had to get back on the ball," said Ngidi. The pacer said South Africa are pleased with their effort today having reduced India to 183 for five in reply to their first innings total of 335.
"To have them five down at the end of the day, we'll take that position any day. Having seen day one we knew it was going to be tough. We saw when our batsmen were batting, the Indian bowlers were pretty quick but there wasn't a lot of bounce. We knew already it wasn't what we thought it was going to be," Ngidi said.
Ngidi pointed out that the hosts never expected such kind of low and slow Centurion wicket will be on offer for the ongoing match.
"On a typical Centurion pitch, there will definitely be a lot more bounce. Seeing how the wickets fell is a good representation of how it is not a Centurion pitch.
"Usually at Centurion, the wickets are caught behind. The slips come into play a lot, and that hasn't happened which tells you then and there that it's not a typical Centurion pitch," he said.
"I still think our bowlers have done pretty well on it. We've hit the wicket pretty hard and been able to get a bit of carry through. All in all, it's not what we were thinking we were going to get."
(With PTI Inputs)