Story Progress
Back to home
India vs South Africa, 2nd Test: After Cheteshwar Pujara's Run-Out, Twitterati Question Kohli's 'Intent' Comment
During a press conference Virat Kohli had said, "At the same time, we need to have intent because the kind of bowling attack they have."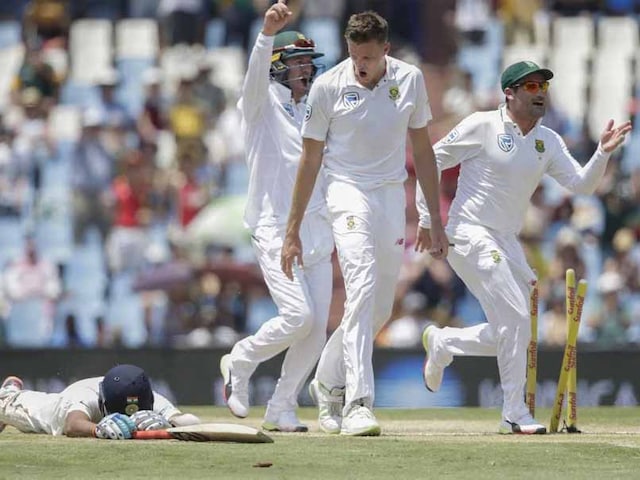 Morne Morkel celebrates after Cheteshwar Pujara is run-out.
© AFP
Highlights
Pujara was run-out for a duck in the second Test

Twitterati trolled Kohli for his 'intent' comment

South Africa are 1-0 up in the three-match Test series
Cheteshwar Pujara failed to open his account on the second day of the second Test against South Africa on Sunday. Coming into bat after KL Rahul departed, Pujara, looking to get off the mark quickly, guided a ball towards Lungi Ngidi at mid-on and took off for a run. A little misunderstanding with his partner, Murali Vijay, at the other end, saw Pujara falling short of the crease by miles as Ngidi took a shy at the stumps and the bails were dislodged. Following Pujara's dismissal, Twitter started trolling the batsman and also captain Virat Kohli for his 'intent' comment.
During a press conference Kohli had said, "At the same time, we need to have intent because the kind of bowling attack they have - especially on these pitches they get extra bounce and they get extra pace off the wicket - you can't be in a zone of not having intent and see off 35-40 overs."
"You can't just stand there and take whatever is coming your way and not have intent at all," Kohli had further added.
Here is what Twitter had to say about the unlikely Pujara run-out:
Peak intent has been achieved. Excellent.

— Srinath (@srinathsripath) January 14, 2018
Rahul plays a needless shot and gets out.
Pujara takes a needless run and is run out.
But, importantly, they showed 'intent'.#SAvIND

— Vinayakk (@vinayakkm) January 14, 2018
Just a bit on that Pujara run out, if u have to go for a run, u just go, if u don't have to, u say a clear and loud no (which u must have heard from Kohli 2 or 3 times already). Yes and no, Yes and no is not INTENT, it's MISJUDGEMENT. U can make jokes though, I myself will.

— Abhishek (@Sajjanlaunda) January 14, 2018
Too much intent got Pujara.#SAvsIND

— Gaurav Sethi (@BoredCricket) January 14, 2018
Kohli wanted INTENT, pujara hits it straight to mid-on is run out by 2 meters. #INDvSA

— Gav Joshi (@Gampa_cricket) January 14, 2018
Cause and Effect:

Cause: Need more intent, need to play positive cricket and look to score runs all the time - Kohli

Effect: Pujara committing harakiri

— Srini Mama (@SriniMama16) January 14, 2018
Ahead of the second Test, Kohli had spoken about the importance of keeping the bowler under pressure. "You might get out but it's important to keep coming at the bowler and making them feel, 'if you make an error I am going to score," Kohli had said.
This is also Pujara's fifth involvement in last six run-out dismissals of Indians in Test cricket. With this run-out, Pujara (5) has the record of most run-out dismissal in Test cricket since 2012.
Topics mentioned in this article