Story Progress
Back to home
India To Stay On Top Of ICC Test Rankings Even If South Africa Sweep Series
South Africa can, at best, share top spot with India.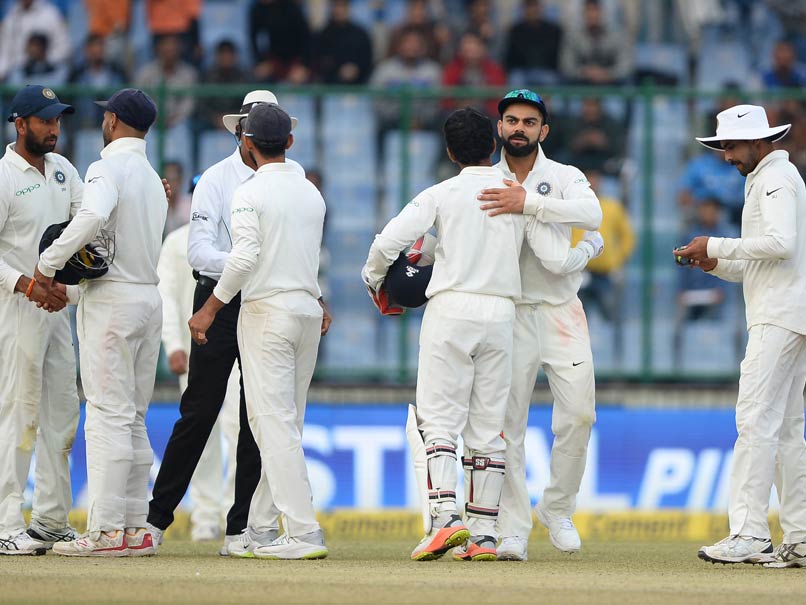 Indian team captain Virat Kohli (2R) hugs with a teammate in this file image
© AFP
Highlights
No threat to India's No.1 status even if South Africa sweep Tests

Faf du Plessis's side is presently 13 points behind Virat Kohli's team

If India win all the 3 Tests, then they will move to 128 points
India will maintain their numero uno status in the ICC Test Rankings irrespective of how the series against South Africa pans out, but the Proteas will join the visitors at the top if they win all the three matches. Faf du Plessis's side is presently 13 points behind Virat Kohli's team, which is sitting on top of the table on 124 points. However, both the sides will finish on 118 points if the South Africa side makes a clean sweep of the series which starts in Cape Town on January 5, the International Cricket Council said in a statement. Even in that scenario, India will be ranked above South Africa when the points are calculated beyond the decimal point. In such a situation, India will be on 118.47 points, while South Africa will be on 117.53.
On the other side of the coin, if India win all the three Tests of the series, then they will move to 128 points while South Africa will slip to 107 points.
Meanwhile, Australia have been guaranteed third place in after leading the series 3-0 with the fifth and final Test to begin in Sydney on Thursday. However, England will have to win the Test to avoid finishing in fifth place. If Australia win the series 4-0, then they will finish third on 104 points and England will end on fifth with 99 points, while a 3-1 series win for Australia will mean they will finish third on 102 points and England in fourth on 101 points.
In the rankings for Test batsmen, second-rankedIndia captain Viratwill aim to break the 900-point mark for the first time in his career. The in-form right-hander is presently on 893 points and a solid performance will potentially see him join the select group of players with a rating of 900 or more, which in ranking terms is an indication of a player's quality, as to achieve it a player has to be among the very best over a protracted period.
Promoted
Cheteshwar Pujara is 20 points behind Kohli in third place, while Hashim Amla of South Africa is the other player who features in the top 10, in seventh position.

Among the bowlers, South Africa's Kagiso Rabada is breathing down number-one ranked James Anderson's neck. Second-ranked Rabada is nine points behind Anderson and depending on how the two bowlers perform in the coming days, there could potentially be a change at the top of the order.
(With PTI inputs)
Topics mentioned in this article