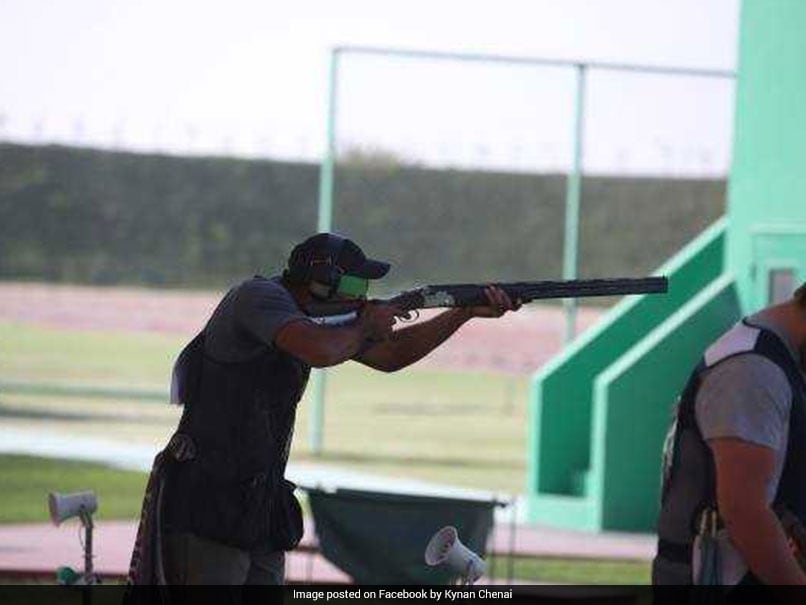 Kynan Chenai, fresh from an Asian Championship Bronze last month, shot 49.
© Facebook
Indian men's trap team, including Kynan Chenai, raised hopes of a medal after they grabbed the fourth place in the qualification rounds on the opening day of the ISSF World Shotgun Championship in Moscow. Chenai, fresh from an Asian Championship Bronze last month, shot 49 while Zoravar Sandhu and Birendeep Sodhi also shot scores of 47 and 46 respectively out of 50, to take India to fourth in the Team competition, a point behind second and third placed Croatia and Kuwait respectively. Semi-finalists and final team standings will be determined after three more rounds or 125 shots on Saturday. Finals are on Sunday.
At the Fox Lodge shooting range, Chenai had two rounds of 25 and 24 to be placed 15th on count-back, but replication of today's form could see him earn a top six berth, which would be the first step towards a medal for the close to 150 Trap shooters in the fray.
In women's Trap, Rajeshwari Kumari was the best placed Indian with a score of 45 putting her in 22nd place. Shreyasi Singh was in 41st place with 42 while Seema Tomar was 54th with 40.
The Junior Women's Trap team actually scored over their seniors, when Saumya Gupta shot 45 to finish day one of qualifying in fourth place.
Manisha Keer was 22nd having shot 39 while N Nivetha was placed 24th after shooting 39 as well. This meant that the junior women were in fourth place in the Team competition to their senior's in 11th place.
In the Junior Men's Trap, Lakshay Sheoran shot 47 to be in seventh place individually with three more rounds to go. Akash Saharan shot 46 and was in 12th position, while Manavaditya Singh Rathore shot 43 to be in 27th place and their efforts meant that the Junior Men's Trap team was also placed fourth overall and within striking distance of a medal.
Tomorrow will see both the Women's Trap Finals while the Men's Trap will be decided on Sunday.
Topics mentioned in this article
Shooting