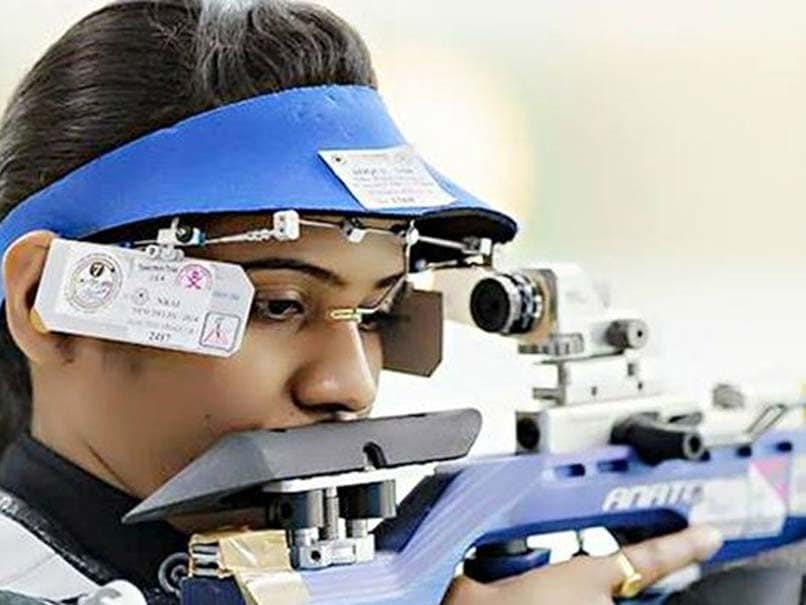 Pooja Ghatkar claimed a bronze in the 10-metre Air Rifle event
© Facebook
Indian shooter Pooja Ghatkar claimed a bronze in the 10-metre Air Rifle event of the ISSF Shooting World Cup in New Delhi. Pune girl Pooja aggregated 228.8 points, to be third behind the Chinese duo of after China's Mengyao Shi, who won the gold medal with 252.1 points and Dong Lijie, who finished second with 248.9. This is the best performance by the 28-year old at this level. She has not finished better than 4th in any World Cup before this.
China's Mengyao Shi won the gold medal with a score of 252.1, setting a new world record in the event. Mengyao's compatriot Dong Lijie bagged the silver with a score of 248.9 on day one of the competitions.
Ghatkar, who had missed out on a Rio Olympic Games quota place by a whisker last year, said she was looking ahead having buried that chapter.
Ghatkar, who started the final with a 10.4, was consistent with her scores barring a couple of blips and was placed second with 104.6 at the end of first competition stage.
Even as the Indian kept producing good high scores, Lijie proved to be a tough competitor, while Mengayo extended her lead at the top.
Mentored by Olympic bronze-medallist Gagan Narang, Ghatkar managed a fine 10.8 and 10.7 in her 19th and 21st shots to assure herself of a medal.
In the course of her campaign, Ghatkar faced an obstacle as the blinder of her gun fell and she had to shoot her final few shots with an eye closed, a remarkable achievement.
Helping her overcome the obstacle were the tips from Narang on the eve of the event.
In the qualification, Ghatkar finished in second position with 418.0 behind eventual champion Mengayo (418.6) and ahead of the Lijie (417.7).
Moments after scripting her biggest win, Ghatkar attributed her success to Narang and said he played a major role in shaping her career.
Narang was in the audience as the 27-year-old Ghatkar claimed the bronze medal in women's 10m air rifle event on the first day of the ISSF World Cup on Friday.
After two final appearances in the past, this was her maiden medal in a World Cup and Narang, as the mentor, played his role to perfection.
"I haven't planned anything but Gagan Narang played a big role and supported me both mentally and technically. Mental and technique wise he helped me a lot. Yesterday evening we were speaking and whatever points he told me I put them to use today and it helped me," Ghatkar, a former Asian champion, said after the medal ceremony.
Ghatkar, who lost her father at a very young age, shot 228.8 in the final to finish third on the podium at the Dr Karni Singh Shooting Range.
Ghatkar, who had missed out on a Rio Olympic Games quota place by a whisker last year, said she was looking ahead having buried that chapter.
"Of course everyone wants a better medal," she said, adding, "I am quite happy but not that much. Actually, my blinder got torn or fell and I had to close my eyes and shoot through the final, that was a little bit difficult for me. I guess after 15th or 16th shot it happened. Thank God I was able to do something because there was no time," she said about a technical glitch which she overcame in a composed manner.
The blinder of her gun fell and she had to shoot her final few shots, including the 19th and 21st when she logged a high 10.8 and 10.7, with one eye closed.
Ghatkar suffered a heartbreak when she narrowly missed the bus to Rio, and said she has been eyeing this event since its announcement.
"I really dreamt of getting a medal in Delhi World Cup when it was announced last year."
Narang, who was by her side as she walked out the range following the medal ceremony, was a happy man. In a lighter vein, he said Ghatkar almost "blackmailed" him into coaching her some months ago.
"When she asked me she kind of almost blackmailed me to coach her, I found that she was struggling with her matches, she was shooting good scores in qualification but not in competition and finals. So we thought of figuring it out, tactically we were quite on the mark this time," said Narang.
"As far as the blinder falling off is concerned, I think she improvised quite well and that's what the main quality of a shooter is. Because qualification is a different ball game, you have enough time but here in the finals quick decision, quick thinking is needed, that's going to make or break you," the 2012 London Games bronze medal winner said.
Narang has been coaching rifle shooters at his Gun For Glory Academy at the Shiv Chatrapati Sports Complex in Balewadi, Pune.
He had recently said he would like to help budding shooters overcome obstacles and realise their dreams.
"I am already giving back to shooting sports through Gun For Glory. We are sixth year in the running. What better way of giving back to sports than providing training and infrastructure to kids who want to become champions of tomorrow. I am helping them to dream big. I am helping them to overcome obstacles that I faced as a young shooter."
(With PTI Inputs)
(This story has not been edited by NDTV staff and is auto-generated from a syndicated feed.)
Topics mentioned in this article
Shooting