Story Progress
Back to home
India vs New Zealand Live Score, Over 46 to 50 Latest Cricket Score, Updates
Live Updates of Today Match between New Zealand vs India from Eden Park, Auckland. Check commentary and full scoreboard of the match.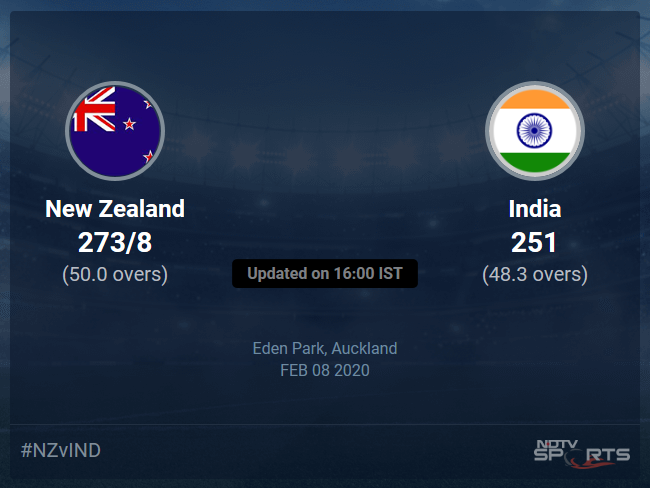 IND vs NZ Latest Score
Follow the New Zealand vs India, 2020 live cricket score on Sports.NDTV.com. After 48.3 overs, India, chasing a target of 274, are 251. Get live score, ball by ball commentary and much more. Keep track of New Zealand vs India, 2020 today match between New Zealand and India. Everything related to New Zealand and India match will be available on Sports.NDTV.com. Stay updated with New Zealand vs India live score. Do check for New Zealand vs India scorecard. You can get scorecard updates, match related facts. Get quick live updates with ads, Sports.NDTV.com, which is the perfect destination for live cricket score.
That ends a nerve-wracking game. A fine way to end your Saturday evening, eh? There is one more match left in this series. We head back to Mount Maunganui where the 5th T20I was played. The third and final ODI will be played on Tuesday, 11th February, 2020 at 3 pm local (0200 GMT). ADIOS! TAKE CARE!
New Zealand skipper, Tom Latham, says that it's a great victory today. Mentions that in the last match the batsmen won them the game and today the bowlers did the job. Tells that it's always a funny wicket and sometimes 270 looks like 290 if you pick early wickets so he was okay with the total. Adds that the way his bowlers kept picking wickets throughout was really pleasing but he was never satisfied till the last wicket went down. On Luke Ronchi coming out to field, Latham replies that it was just about juggling as Tim Southee was not feeling well. Praises Kyle Jamieson for his debut game. States that winning 3-0 will be great but he wants to keep his fingers crossed.
Indian skipper, Virat Kohli, starts by saying that it's been two pretty good games and it's good to watch for the fans. Is happy with the way they finished after the top order flopped. Admits they gave away too many runs at the backend of the first innings. Praises the batting efforts of Jadeja, Saini and Iyer. States that it's a big revelation for them to see the kind of fightback shown by the lower order. Tells that they have nothing to lose now and can play expressive cricket that they are known to play and might hand out chances to some fringe players. Shares that there were no messages sent to Saini and Jadeja and they were following their instincts as Kohli feels that sometimes it confuses the minds of the batsmen. Also adds that the team wanted them to take their own decisions. Is pleased with the fightback shown by the lower order which also gives confidence to the middle and top order batsmen.
KYLE JAMIESON IS THE MAN OF THE MATCH! The debutant says that it's a bit of a high at the moment and he is trying to sink in the feeling. Tells that it was nice to contribute with the bat and the ball. On the batting plans, it was just to try and stay there till the end. Adds that he felt relieved after getting a wicket in his first over. On the difference that international cricket brings, Kyle mentions that it's quite high intensity with a big crowd watching.
Coming to the bowling. Who lost their nerves more? Guess, India. They had the innings under control but just could not hit the yorker mark consistently at the death. Chahal took a 3-fer while Thakur got a couple. New Zealand were well on top till the 31st over but they nearly found a way to snatch defeat from the jaws of victory. All bowlers contributed but the ones who did most of the damage were Kyle Jamieson and Tim Southee. The debutant took the first wicket and also broke the 8th wicket stand to get rid of Saini, ending India's hopes while Southee dismissed Kohli and Jadhav, not allowing the middle order to fire. Please stay tuned for the presentation.
Nothing is over till it is really over. Jadeja and Saini proved that. Navdeep Saini proved to be the surprise package, as initially he took his time but then started to cut loose. He took on Colin de Grandhomme in the 44th over, smashing the bowler for three boundaries and getting India back in the run chase. Jadeja and Saini added 76 for the 8th wicket and almost took India home.
Surely 274 was not a big target on a small ground for the Indians. But it did seem like the pitch got a bit on the slower side. The visitors lost their openers cheaply and then when the floodlights took full effect, batting looked to be getting difficult. The middle order was blown away and all of a sudden, the tourists found themselves 153/7, needing 121 from 113 balls.
Let us start from how it all began. New Zealand started brilliantly after being asked to bat first and were 142/1 in the 27th over before collapsing to 197/8 in the 42nd. But Ross Taylor found an able partner in debutant Kyle Jamieson as the duo added an unbeaten 76 for the 9th wicket in 51 balls, taking the team total close to 275.
How did this match reach here? We were all looking at New Zealand 200 all out. Naah... debutant Kyle Jamieson had a different say. And then, with India reeling at 153/7, we thought it was game over. But Saini and Jadeja fought almost till the end - nearly taking their team over the line.
Phew! We get another humdinger. New Zealand and India games. Will they cease causing heart attacks? But what a game. A match of the fightbacks.
48.3 overs (0 Run) OUT! Jadeja holes out. NEW ZEALAND TAKE THE SERIES! Neesham fails to land his attempted yorker and it's a low full toss outside off. Jadeja lines up for a big shot over long off but fails to pump it over the fielder. It falls straight down de Grandhomme's throat in the deep and NEW ZEALAND WIN BY 22 RUNS!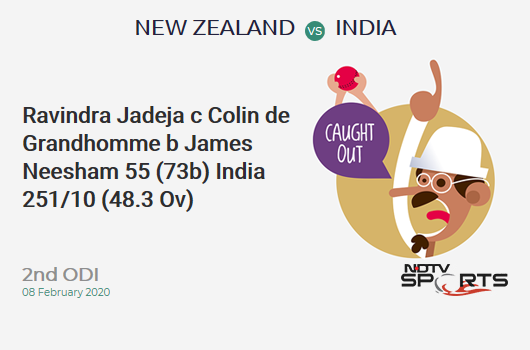 48.2 overs (0 Run) That's flirting with the tramline! A full toss this time by Neesham, outside off, Jadeja swings his bat across the line but misses.
48.1 overs (0 Run) Mishit! Neesham fires in a very full ball outside off, Jadeja winds up for a big shot but it takes the toe end of his bat and rolls in front of the keeper.
47.6 overs (0 Run) A yorker around leg, Bumrah digs it out on the leg side. 23 needed off 12 balls and Jadeja should take it on himself now to finish this match.
Jasprit Bumrah is the last man in.
47.5 overs (1 Run) OUT! Chahal is found short! A total mix-up but Jadeja is not at fault at all. Full and wide outside off, Jadeja squeezes this through the covers. He takes the single and is happy with it. There is a slight misfield and Chahal senses that opportunity to come back for the second. But Jadeja puts his hand out and clearly yells NO. Chahal does not hear that and is halfway down the track. He has to return and by that time, Neesham returns a good throw to Latham who whips the bails off. The square leg umpire does not even refer it upstairs. Replays show that it was a close call but Chahal was short. He smiles.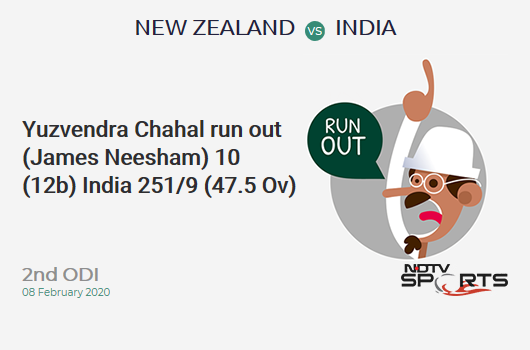 47.4 overs (2 Runs) Too full in length on middle, Jadeja drives it straight back and Bennett fails to stop it in his followthrough. They complete a single and Chahal shows good awareness in turning for the second in time. They have gathered two in total.
47.4 overs (1 Run) Wide! Bennett senses the batsman moving back to create room and bowls it way wide outside off. It's also outside the tramline as Jadeja reaches out and misses. The umpire stretches his arms.
47.3 overs (1 Run) Yet another very full ball by Bennett. It's right in the line of the stumps and Chahal goes hard at it. The ball takes the inner half and rolls through square leg for one.
47.2 overs (0 Run) Swing and a miss! Bennett offers width outside off, Chahal throws his bat at it but misses.
47.1 overs (0 Run) Spears in a very full ball on middle, Chahal defends it back to the bowler. That's more the line and length they should be bowling, particularly to the tail-enders.
46.6 overs (1 Run) The batsman has flicked the ball off his pads. One run added to the total. 28 needed off 18 balls.
46.5 overs (4 Runs) FOUR! Jamieson is not smart with his plans here. Bangs in a short ball outside off, Chahal picks it and cleverly tries to ramp it down to third man. The ball flies off the outside edge down to third man for a boundary. India are smelling a come from behind victory!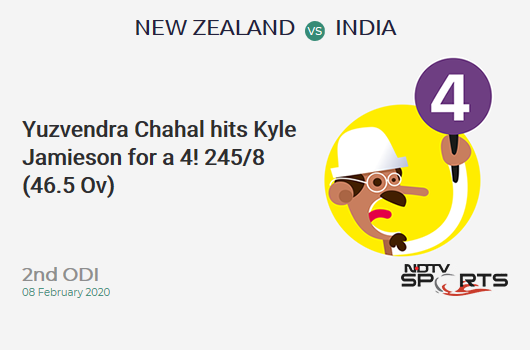 46.4 overs (2 Runs) What a shot and what a stop in the deep! Short in length and outside off, Chahal plays a controlled pull shot over mid-wicket. It's destined to go to the fence but Chapman comes haring across to his left, dives full length and pulls it back just before the fencing. Saves two.
46.3 overs (1 Run) Smart bowling by Jamieson! He follows the batsman down the leg side with a short of a length ball. Jadeja fails to work it away and is hit on the thigh pad. They collect a leg bye.
46.2 overs (2 Runs) Great running between the wickets yet again! A smart shot as well. Jamieson lands it on a length close to off, Jadeja helps it with gentle hands to mid-wicket and scampers back for the second run as the bowler himself gives the chase. Jamieson slides near the edge of the circle to field the ball and then has a shy at the bowler's end. But no harm done. FIFTY FOR JADEJA! Sir brandishes his bat like a sword to celebrate it. The job is still not done though.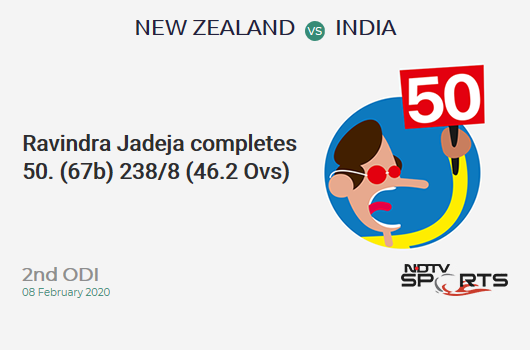 46.1 overs (2 Runs) Short in length around middle, Jadeja turns it through square leg and rushes back for the second run. Good running between the wickets once again.
45.6 overs (1 Run) Full and wide outside off, squeezed through the covers for one more.
45.5 overs (1 Run) ANOTHER RUN OUT MISSED. Full and outside off, Chahal drives it towards mid off and takes off for the single. Colin de Grandhomme charges to the ball and has a shy at the bowler's end. Misses. Had he hit, Chahal was a goner. The fielder from mid-wicket misses the throw while backup and there are more runs available as fine leg has to get to the ball. Jadeja charges back for the overthrow but Chahal has backed up too far and cannot return!
45.4 overs (1 Run) Landed outside off, tapped towards point for a run.
45.3 overs (1 Run) RUN OUT MISSED! Jadeja was a goner. Taylor fumbles under pressure. A length ball outside off, Chahal taps it towards point and sets off for a single. Jadeja knows it is a suicidal call and gives up halfway. But Taylor, in a hurry to release the ball, fumbles and misfires a bad throw. Well away even from the man who has come to backup the throw at the striker's end.
45.2 overs (0 Run) A length ball outside off, Chahal swings but misses.
45.1 overs (1 Run) A short ball, pulled to deep mid-wicket for a single.
Match Reports
Topics mentioned in this article