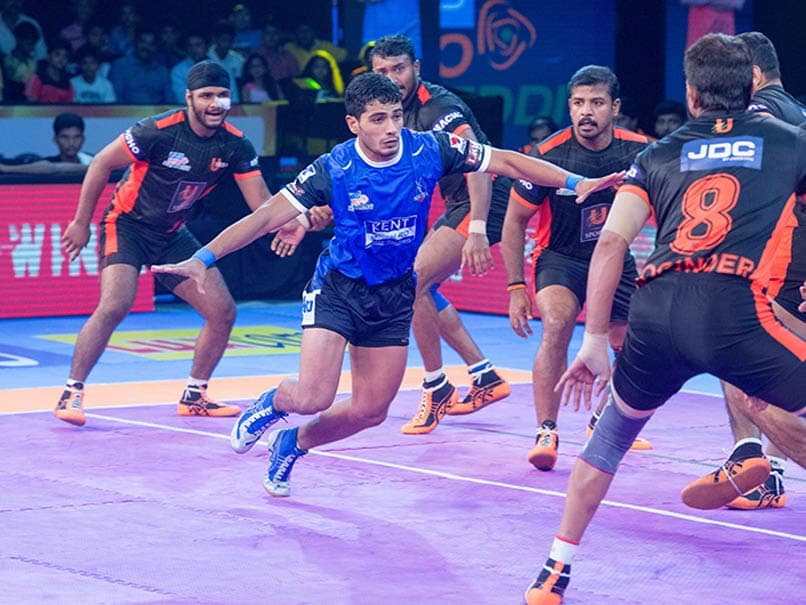 Action during the U Mumba-Haryana Steelers Pro Kabaddi League match.
© Vivo Pro Kabaddi League
Former champions U Mumba eked out a thrilling 29-28 win over debutants Haryana Steelers in the fifth edition of the Vivo Pro Kabaddi League (PKL), in Hyderabad on Sunday. Kashiling Adake (7 points) and captain Anup Kumar (6) starred for the Mumbai outfit, who lost their opening match against hosts Telugu Titans on Friday. Tacklers Surinder Singh (four) and Joginder Narwal (three) too, chipped in with valuable contributions for U Mumba. Vikash Khandola (6) and Wazir Singh (six) were the key raiders for Haryana, while Surender Nada (5) and Rakesh Kumar Singh (3) played a key role in defence.
Both teams traded raid points in the first minute to level the match 1-1. Adake scored with a two-point raid in the fourth minute as U Mumba led 4-3. The Haryana defence did a fine job in the early stages of the match as they trailed 6-7 after 11 minutes. Shabeer Bapu scored with a raid point in the 14th minute as U Mumba led 8-6.
Haryana leveled the game at 8-8 in the 15th minute with a raid point. In the next two minutes, Haryana scored two points to lead 10-8 but Anup Kumar scored with a raid and helped U Mumba avert an all out. Haryana ended the first half by inflicting the first all out of the match and led 15-11.
Haryana scored two points in three minutes to lead 17-12 after 23 minutes. U Mumba struggled in the first six minutes of the second half as they scored just one point and trailed 12-19. A super tackle was inflicted in the 27th minute by U Mumba as the reduced the deficit to five points. Adake scored three points with a super raid in the 29th minute as U Mumba trailed 18-19. Anup Kumar scored two points and helped his team inflict an all out as U Mumba led 22-20 in the 30th minute.
Haryana scored two quick points as they trailed by just one point after 34 minutes. With just over five minutes left on the clock, U Mumba got a tackle point to lead 26-24. A tackle and raid point in less than a minute ensured U Mumba led 28-24 after 37 minutes. U Mumba showed their experience against debutants Haryana and won 29-28 in the end.