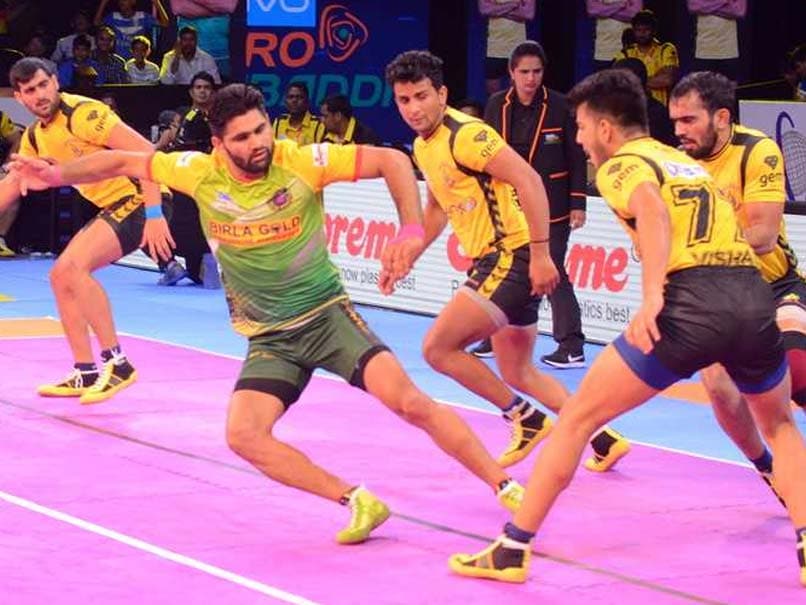 Pro Kabaddi League: Captain Pardeep Narwal helped Pirates beat to a win over Titans
© VIVO Pro Kabaddi League
Patna Pirates beat Telugu Titans 35-29 in a thrilling encounter in match 4 of the Vivo Pro Kabaddi League on Saturday. The game saw two top raiders of the league -- Pardeep Narwal and Rahul Chaudhari -- compete and it was Pirates captain Narwal who led his team to victory.  Pirates took a lead of 2-0 just four minutes into the game. In reply, the Titans leveled the match at 2-2 in the fifth minute. It was a close first half as Patna Pirates led 7-6 after 10 minutes. Telugu Titans scored three points in a minute to lead 10-7 after 14 minutes. 
Pardeep Narwal scored his fifth raid point in the 15th minute as Patna Pirates trailed 9-10. Rahul Chaudhari scored his sixth point of the match as Telugu Titans led 12-10 after 17 minutes. Patna Pirates tied the game at 12-12 in the 19th minute with a super tackle. In the last minute of the first half, Patna forced another super tackle to lead 15-14.
Telugu Titans inflicted an all out in the 24th minute as they led 19-16. Patna Pirates star man Pardeep Narwal struggled in the second half as they trailed 17-21 after 26 minutes. Monu Goyat scored two points for Patna Pirates in the 28th minute as they trailed 20-21. 
Nilesh Saluknke scored two points in the 31st minute as Telugu Titans led 24-21. Patna Pirates' defence did a good job as they didn't allow Rahul Chaudhari him to score crucial points. Pardeep Narwal scored his 8th raid point as Patna Pirates reduced the deficit to just one point in the 34th minute. Narwal scored three points with a brilliant super raid in the 35th minute to give Patna Pirates 27-25 lead. 
Patna Pirates inflicted an all out in the 36th minute to stretch their lead to 31-26. Patna's defence nullified Rahul Chaudhari completely in the second half as they led 33-26 after 38 minutes. Nilesh Salunke scored two points to give Telugu Titans a glimmer of hope as they trailed 28-33 in the 39th minute. But Pirates captain Pardeep Narwal scored two important points nearing the end of the game to register a 35-29 win.